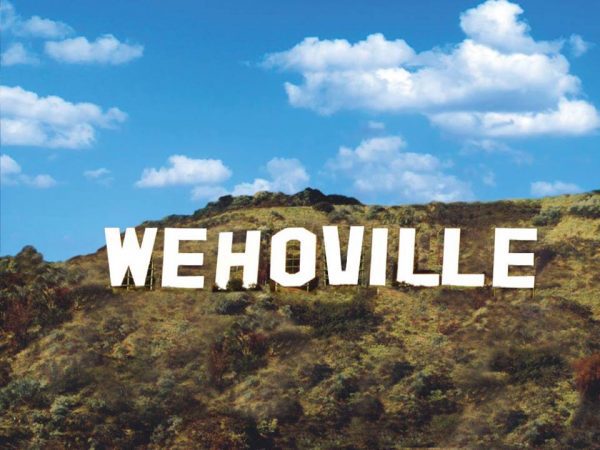 I am happy to announce that WEHOville has established a relationship with the Institute for Nonprofit News. That means we will be able to accept tax-deductible donations (yes, you can donate by clicking here) from foundations, organizations, local businesses and readers like you who want to support local journalism.  We are especially proud to qualify for a relationship with an organization like INN, whose many other members include CalMatters, Center for Investigative Reporting, KPBS, and Witness LA. And I'll add to that our recent membership in the California News Publishers Association.
If you are reading this, that alone is a sign of the support that I am happy to have found in West Hollywood. With the support of West Hollywood's residents and those in adjacent communities, WEHOville has been able to celebrate the people and institutions that make our city such a great place to live and also to call out the issues that must be addressed to keep it that way.
I launched WEHOville in September 2012, funding it with hundreds of thousands of dollars from my retirement account. While not a wise move from an investment perspective (I've never worked harder and made less money in my adult life), it has enriched my life in other ways. As someone who has lived in 11 cities thus far, it is West Hollywood that feels like home to me.
Since its launch, WEHOville has developed an audience that averaged 85,000 readers a month this summer according to Google Analytics (with a jump to 99,000 in September.) That is data we share with anyone, especially advertisers, given that local digital and print publishers today tend to lie about the size of their audience. That audience covers what we call Greater WeHo – the city itself and the adjacent communities that see themselves as a part of us.
But in this digital age, where Google and Facebook alone take 70% of digital advertising dollars, it's hard to keep alive a local news organization that depends solely on advertising revenue.  Thus, our connection with INN, which is a 501 c) 3 organization that can accept tax-deductible donations on our behalf.
Going forward, we will be governed by a board of directors whose initial three members are Ruth Williams, Jon Ponder and Gus Heully. In the weeks to come, we hope to recruit two more board members. You can find bios of Ruth, Jon, and Gus here.
Funding from readers like you and from foundations that support local news will allow WEHOville to continue its mission to report on what's happening in and around West Hollywood, without fear or favor.  As has always been the case, money will not influence our coverage of the news. Independence and integrity are a news organization's most valuable assets.
With your support, we will continue our reporting on the real identities of those who give money to candidates in the City Council election campaigns. We will continue to report on crime in West Hollywood, a city that claims to be the "safest place to live, work, and play" despite some evidence to the contrary. And we will continue to shine a bright light on City Hall, where WEHOville's reporting of "Deputygate" and the legal actions that followed have led to major changes. 
We will continue to investigate the actions of local non-profits like Christopher Street West, whose financial losses reported by WEHOville led to a significant management shakeup, and the Brotherhood, the HIV support group that WEHOville revealed was backed by a man indicted for laundering money for Mexican drug gangs. And we will investigate and write about painful incidents such as the deaths of black men in Ed Buck's apartment and the allegation of sexual abuse of a young member of the Gay Men's Chorus of Los Angeles by its executive director, which led other young members to come forward and also call out City Councilmember John Duran for his inappropriate behavior. 
We will track what our City Council members spend to travel to Venice, Italy, for an art show or to Austin, Tex., for a hipster arts and music festival and to Washington, D.C., or more glamorous cities to hobnob with political influentials. And we will take a deep look into the backgrounds and positions on local issues of all City Council candidates. As always, we will not endorse any individual candidate or ballot item. Our job is to give you the facts. You decide what to do with them.
We also see it as part of our mission to report on what is good (and often great) about the City of West Hollywood. That includes the city's exemplary programs to support the elderly, its efforts to address the homelessness crisis, and the innovative solutions City Hall staffers develop to deal with issues such as traffic, parking, affordable housing, and crime. When City Hall wants to speak to the residents of West Hollywood, whether to solicit your opinions or alert you to issues or upcoming events, we see it as our mission to help the city get that information in front of you.
And of course, we will continue to report on the individuals and businesses that make West Hollywood such a creative place to live.  There is our ongoing "The Grownups" series, which calls out residents over the age of 80 who have remained active in civic life. Our "WeHo@Work" series tells the stories of people behind those local businesses that are essential to make our city thrive. And this year I hope to revive the "Person of the Year" series to call out the person who has made the biggest impact on West Hollywood in the previous year. We also publish occasional profiles of local artists, and of the city's digital entrepreneurs, some of whom have created businesses worth millions of dollars but not gotten the attention they deserve.
What's Next?
If we are able to raise the money we need, I will hire additional staff or engage freelance writers to answer other questions that you, our readers, might have.  Here's a small sample:
— Who really owns West Hollywood? The list we have obtained from the Los Angeles County Assessor's Office includes hundreds and hundreds of limited liability companies, a structure that allows the owners to hide their identity. But there are ways of figuring out who is behind many of those LLCs.  It just takes a lot of digging to find out what properties Monte Overstreet, Morton La Kretz, and other major property owners have in their portfolios.
— Is it true, as rumored, that a small group of men living in the Valley is behind the large number of illicit Asian massage parlors in West Hollywood?  If so, who are they? Who are the women, many rumored to actually live in these establishments? And why has the city done so little about this issue?
— What creative solutions have other cities in the United States found to problems like homelessness, traffic congestion, high rents? Are there some that our city could test and implement?
— How is a relatively unknown local organization getting away with a scheme that, a former employee alleges, involves paying homeless people to take HIV tests and, if they test positive, kicking them back on the street. It is said to then profit from money from the state's AIDS Drug Assistance Program meant to subsidize the homeless person's medication, and by reselling the expensive medicine that is meant to keep that person alive.
—  How does the money the City of West Hollywood spends on various city programs and its staff compare with the spending by cities like ours?
— How is it that dozens of small film producers have been unable to get anyone to investigate a locally headquartered film marketing company that they say has taken thousands of dollars from each of them and given nothing in return?
There are many, many more stories on our list. And I am always open to suggestions of issues WEHOville should be covering. You can email me at Henry@WEHOville.com or call me at (323) 454-7707 with your ideas and tips. All of our communications will be confidential unless we mutually agree otherwise.
How to Donate
Now, if you would like to make a contribution, just click here.  (And know that we will publish each year a document that shows what we spent and how we spent it.) Here's hoping WEHOville will be able to celebrate the New Year with the funding we need to help you ensure West Hollywood is the city we want it to be.