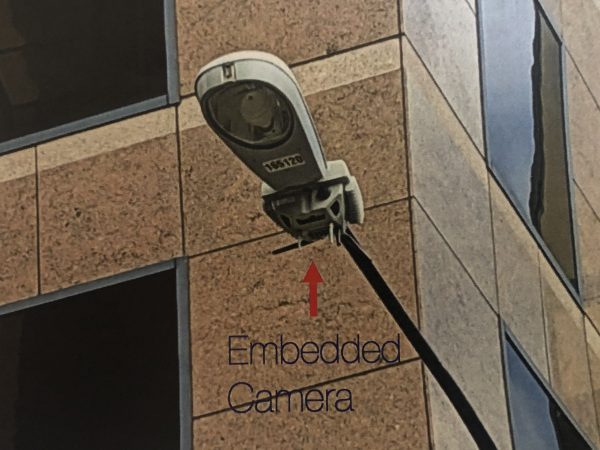 As the city's test of security cameras at five intersections on Santa Monica Boulevard comes to an end, city staffers are proposing that the cameras focus on sidewalks instead.
Francisco Contreras, the city's acting economic development director, told the Public Safety Commission that a year-long test of the cameras has shown that locating them at intersections doesn't help solve many crimes.  Currently, the cameras are located on Santa Monica Boulevard at its intersections with Robertson, San Vicente, La Cienega, Fairfax, and La Brea.
"Most of the crime is not happening at intersections … Most of the crime is happening along the sidewalks," Contreras said, citing the large number of car break-ins as an example.
However, Contreras said, the automated license plate reader installed at the intersection of Santa Monica and La Brea has proved useful to the Sheriff's Station, which can use them to track the direction of criminals. He said the Los Angeles Sheriff's Department recommends such readers be installed at four additional locations.
Those devices require fiber utility networks, Contreras said. Southern California Edison now has created such a network along Santa Monica Boulevard from Doheny to La Brea. However, there isn't a complete network along Sunset Boulevard, which means it isn't ready for such installations yet. The installation of a fiber network along La Cienega was completed this year, Contreras said.
Contreras said the city's Engineering Division is working on a pilot project to replace current street lights with more energy-efficient LEDs (light-emitting diodes) and that the City Council will be asked to authorize the installation of sidewalk cameras with many of those LED lights. Contreras said the city likely will only have to install a camera at every other light pole, given their reach.
Contreras said the test of the sidewalk cameras would cost an estimated $50,000 for 10 to 15 cameras. The pilot test would last three to six months. He said that City Hall also will recommend that access to the videos be limited to the Sheriff's Department, which would have to be approached by anyone seeking access to a video under the state's freedom of information laws.
Contreras said that another city initiative – the granting of rebates to residents who wanted to lease Ring devices – was not very successful. While the city gave out 160 rebate forms, few people used them to purchase the Ring device, which essentially is a camera that can be installed on one's front door to observe what is happening outside the door. Some decided not to use Ring because they live in apartment buildings and the doors to their homes don't face the street. Also, some property owners have declined to sign the waivers that tenants must receive to install the devices.
Commissioner Marcy Norton questioned why it is taking the city so long to permanently install safety cameras on West Hollywood's streets, given that the idea of doing so was brought up several years ago. Contreras said an issue was the time it took to negotiate with service providers like Verizon and with Southern California Edison to update its system.