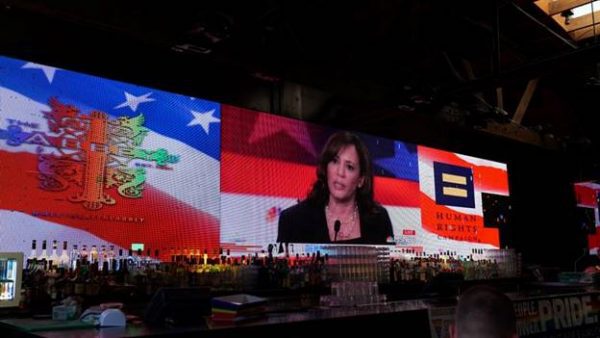 The Abbey at 682 N. Robertson Blvd. will be one of six sites in Los Angeles County where viewing parties are planned for tonight's 12-candidate Democratic presidential debate, the largest of the 2020 campaign.
In addition to the Abbey, the parties will be held at:
— Hyperion Public, 12969 Ventura Blvd., Studio City;
— Noypitz Bar & Grill, Little Tokyo Galleria, 333. S. Alameda St.
— Rusty's Surf Ranch, Santa Monica Pier;
— Wallis Annenberg Hall, Annenberg School of Communication and Journalism, USC; and
— 3402 Pico Blvd., Santa Monica.
The party at Hyperion Public is organized by supporters of former Texas Rep. Beto O'Rourke and the one at 3402 Pico Blvd. by Climate Leaders for Warren, which describes itself as "climate champions" that support Massachusetts Sen. Elizabeth Warren.
With the exception of the event at USC, all the other parties are organized by various Democratic clubs.
The debate sanctioned by the Democratic National Committee will begin at 5 p.m. and be televised by CNN, CNN International and CNN en Espanol.
The debate will be streamed — without requiring log-in to a cable provider — on CNN.com, NYTimes.com, across mobile devices via CNN's apps for iOS and Android, via CNNgo apps for Apple TV, Roku, Amazon Fire, Chromecast and Android TV and the CNN, CNN International, CNN Replay Facebook pages.
CNN anchors Erin Burnett and Anderson Cooper and New York Times national editor Marc Lacey will serve as moderators for the debate at Otterbein University in Westerville, Ohio.
Under rules set by the DNC, candidates needed to attain at least 2% in four separate Democratic National Committee-approved polls and receive contributions from at least 130,000 unique donors, including at least 400 donors from 20 different states.
The candidates' positions on the stage were determined by the average of the last 10 polls certified for qualification by the DNC with the highest polling candidates near the center.
Standing from left to right will be Hawaii Rep. Tulsi Gabbard; former hedge fund manager Tom Steyer; New Jersey Sen. Cory Booker; California Sen. Kamala Harris; Vermont Sen. Bernie Sanders; former Vice President Joe Biden; Warren; South Bend, Ind., Mayor Pete Buttigieg; entrepreneur Andrew Yang; O'Rourke; Minnesota Sen. Amy Klobuchar; and former Housing and Urban Development Secretary Julian Castro.
This will be the first debate to include Steyer, who announced his candidacy July 9 after ruling out a potential bid for the nomination in January. He failed to qualify for the Sept. 12 debate.
"Corporate money has corrupted our democracy and stripped Americans of our ability to determine our own future," Steyer said in the nearly four-minute video announcing his candidacy. "The only way for us to solve the urgent problems facing our country is to loosen the stranglehold that corporations have over our politicians and return political power to the American people."
The day Steyer declared his candidacy, Steve Guest, the Republican National Committee's rapid response director, said, "The only thing Steyer's campaign will do is light more of his money on fire as he joins the rest of the 2020 Democrat field in pushing policies that are way outside the mainstream."
Steyer has promised that if elected, he would ask Congress to approve an annual national referendum process, and establish an office within his administration to oversee and implement that process.
The proposal would call for the president, in consultation with both the House speaker and Senate majority leader, to put forward no more than two issues annually for the American people to vote on. The referendums would be non-binding but "would put tremendous pressure on Congress to act or ignore the clear will of the people," Benjamin Gerdes, the Steyer campaign's press secretary, told City News Service.
A constitutional amendment would be required to make a national referendum binding, which Steyer "is open to pursuing at some point down the road," Gerdes said.
Steyer has also proposed a term limit of 12 years in Congress, across both the House and Senate.