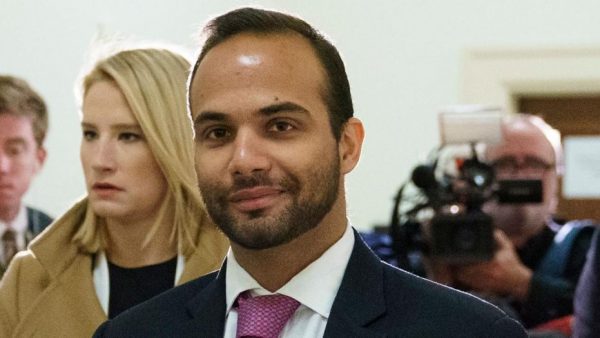 That group in front of Fiesta Cantina on Friday night won't be giving the key to the city to Stormy Daniels. This upcoming event will be a protest against the appearance of George Papadopoulos at an event hosted on the restaurant's rooftop by the Log Cabin Republicans.
The protest is scheduled for 6:30 to 8:30 p.m. in front of the Mexican restaurant and bar at 8865 Santa Monica Blvd. between San Vicente Boulevard and Larrabee. It is being organized by Robit Di Cecco and Scott Reader.
On a Facebook post announcing the event, Reader calls out the gay Republicans who constitute the Log Cabin Republican organization, saying that "by supporting Trump and Republicans, you are helping dismantle our equal rights, and helping them impose new rules and laws against us. Just shameful."
Papadopoulos was a major member of Donald Trump's 2016 presidential campaign team who pleaded guilty to making false statements to FBI agents relating to contacts he had with agents of the Russian government while working for the Trump campaign.
He is the author of a 2019 book titled "Deep State Target." "Deep State" is a term used by conspiracy theorists assert that there is collusion and cronyism in the US political system and a hidden government within the legitimately elected government.
The federal charges filed against Papadopoulos came from the Mueller investigation into allegations of Russian interference in the 2016 presidential election. Papadopoulos, who had been a member of the foreign policy advisory panel for Trump's election campaign, was sentenced to 14 days in prison, 12 months of supervised release, and 200 hours of community service and was fined $9,500.
Fiesta Cantina got pushback from some opponents of Trump for hosting another Log Cabin Republican event on its rooftop on May 24 that featured Sabo, the street artist who in 2017 bragged that he had defaced signs for the City of West Hollywood's WeHo Pedals bike share program with promotions of a new book by controversial right-wing propagandist Milo Yiannopoulos. Sabo describes his mission as "creatively kicking liberals in the teeth."
Fiesta Cantina's rooftop has been the home to a number of Log Cabin's monthly mixers over the years. The group also has staged events at V Wine Room, Lisa Vanderpump's Sur Lounge, and The Abbey in past years.