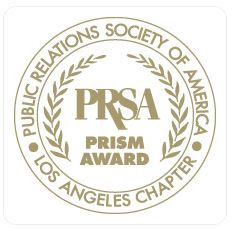 The City of West Hollywood was honored on Tuesday with two top awards recognizing distinction in communications by the Public Relations Society of America (PRSA) Los Angeles Chapter.
The awards were presented at PRSA's PRism Awards gala on Tuesday at the Taglyan Complex in Hollywood. The city
took home these honors while facing steep competition from several major public relations agencies, companies, and corporations.
"The City of West Hollywood continues to lead the way among municipal governments in its imaginative efforts to inform our community members in captivating ways," said West Hollywood Mayor John D'Amico. "These PRSA Awards are the equivalent of the Oscars for the public relations industry and I'm really proud of our Communications Department, which is so much like Meryl Streep."
PRSA-LA conferred its highest honor, the PRism Award, to the City of West Hollywood in two categories: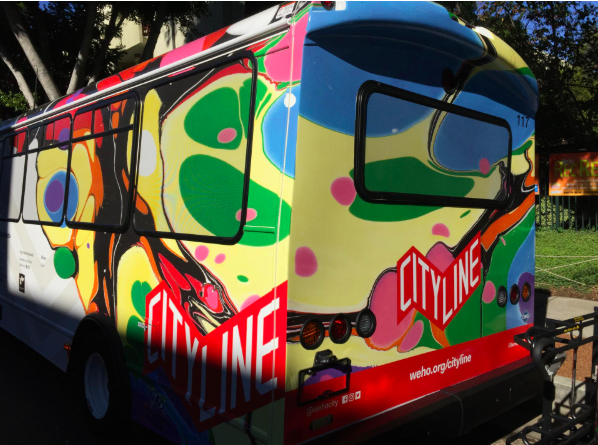 –The first PRism Award for Government Marketing recognizes the City of West Hollywood's free Cityline shuttle service for its branding initiative: New Transit Brand with Public Art. In 2018, the city debuted a new fleet of environmentally friendly Cityline vehicles featuring a sharp new logo and a fresh look featuring work from artists Ellierex, Kristin Farr, Casey Gray, Jim Houser, and Angie Wang. The branding initiative was a coordinated effort led by the city's Social Services Division, Arts Division, and Communications Department. Detailed information about Cityline, including links to schedules and maps, is available online at www.weho.org/cityline.
— The second PRism Award for Owned Media, Public Service Announcements recognizes the City of West Hollywood's WeHoTV video public service announcement, "Recreational Reefer Madness," which strikes a parody tone and uses a campy and old-timey newsreel style to inform and educate community members about laws regarding cannabis use.
In 2018, West Hollywood became one of the first cities in the state to permit adult-use (recreational) retail cannabis sales. "Recreational Reefer Madness" and the city's related "Weed Like You To Know" effort are meant to remind community members that adult-use cannabis is legal in West Hollywood, but that it can't be consumed everywhere. The 90-second "Recreational Reefer Madness" PSA is posted above.
PRSA is the largest public relations organization in the world, with more than 21,000 members nationwide. The Los Angeles chapter (PRSA-LA) is the fifth-largest in the country, with nearly 600 agency, in-house, and independent PR professionals across the Greater Los Angeles region. For additional information, please visit www.prsala.org.