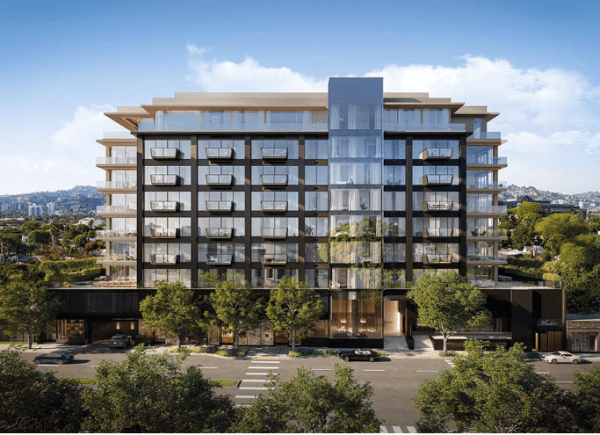 As evidence of its financial stability, the City of West Hollywood has boasted that it has $100 million in reserves. However, that money in the bank is only a little more than what it might cost to buy a condo at 8899 Beverly Blvd. The unit's rumored $85 million price would put WeHo in competition with New York City for ranking first in a listing of the "Most Expensive Condos in America."
A story in the Hollywood Reporter (First Look at Massive L.A. Penthouse Poised to Shatter Condo Sales Records) says that when it opens next year the 8899 Beverly building "will offer two penthouses expected to shatter sales records."
"On the unfinished building's top floor, a private elevator will open onto a sprawling open floor plan with 14-foot ceilings and, most notably, the 550 feet of specialized retractable glass for a wraparound deck with 180-degree views of the Hollywood Hills. While the plan is to split the floor into two massive units, the developers — Townscape Partners — have fielded inquiries about combining them into one 20,000-square-foot unit, which would be one of the largest single-floor penthouses in the world."
The Reporter reports that Townscape won't discuss pricing, but that real estate experts that it has consulted have estimated the 20,000 square foot condo could go for $85 million.
The 8899 Beverly project will feature 40 condos and eight townhouses along Rosewood Avenue to the rear. The condo, except for the one on the top floor, will average 2,800 square feet.
News about the possible price of that condo is likely to upset residents who have complained about skyrocketing real estate prices and rents. That is an issue across all of California, a state whose residents have pushed back hard against new development. However, the 8899 Beverly project has been controversial since 2012 when Townscape, backed by Angelo Gordon & Co., bought the building for $39 million and announced plans to convert it from office and retail use to a condo building.
Townscape's plans required nearly doubling the size of the 10-story building, which was constructed in 1962, 22 years before West Hollywood was incorporated as a city. The building already didn't comply with the city's General Plan, which was adopted in 2011, or the zoning for the area, which limits commercial buildings in the area to three stories and a smaller mass on the 1.7-acre lot. However, it was "grandfathered in" because it had been in existence before the city was incorporated.
Townscape was successful in getting the City Council to grant it an exception to zoning requirements for the property and allow it to double the size of the building. In exchange it offered almost $3.5 million in "public benefits," which included the construction of a small park on Bonner Drive near the intersection of Robertson and Beverly boulevards, contributing $2 million to the city's Affordable Housing Trust Fund, and improving landscaping along Beverly Boulevard and Rosewood Avenue.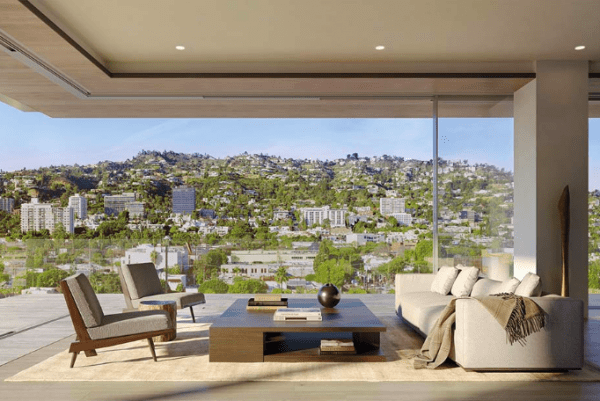 Townscape also agreed to include 15 apartment units for low- and moderate-income people in the project. Its initial plan was to isolate those units in a separate building that overlooked a swimming pool that only the condo owners could use. It backed away from that plan when it was condemned as an example of the "poor door" model that developers of upscale properties used to segregate inhabitants of required low-income units from their wealthy neighbors. When the 8899 Beverly building opens next year, the affluent tenants and those of moderate and low incomes will be able to use the same elevator and have access to the same swimming pool.
The City Council gave the project its approval in August 2015 in a 3-to-2 vote. Councilmembers John D'Amico (now serving as mayor) and Lauren Meister opposed the project. Councilmembers John Duran, John Heilman, and Lindsey Horvath voted for it.
Meister said that the cash Townscape proposed to pay the city for approval of the special zoning change "is sending the wrong message: 'You can buy a specific plan'." D'Amico agreed. "… We know that these people invested hundreds of thousands of dollars in the makeup of this Council," he said. Townscape and its managing partners, Tyler Siegel and John Irwin, had been among the largest contributors in City Council elections at the time, giving money not only to individual candidates but to independent campaign expenditure committees that supported John Heilman and to an unsuccessful campaign to fight a limit on City Council members terms.
WEHOville reported that in 2013 Townscape gave $2,500 to an independent expenditure committee formed to fight the City Council term limits movement. Except for small contributions from the Sunset Tower hotel and then-Councilmember Abbe Land, that committee got all of its $14,000 in funding from outside developers and the lobbyists and lawyers who represent them. Siegel, Irwin and family members also had donated $8,000 to Councilmember John Duran for his previous City Council race and for his unsuccessful race in 2014 for the 3rd District Seat on the L.A. County Board of Supervisors. Siegel also gave the maximum individual donation of $500 to Jeffrey Prang's Council campaign, as did Irwin. Jeff Haber, an attorney with Paul Hastings, which represented the partnership of Townscape and Angelo Gordon, made the maximum individual donation of $500 to each of the Council incumbents in two elections and $500 to Mayor John D'Amico in the 2011 election.