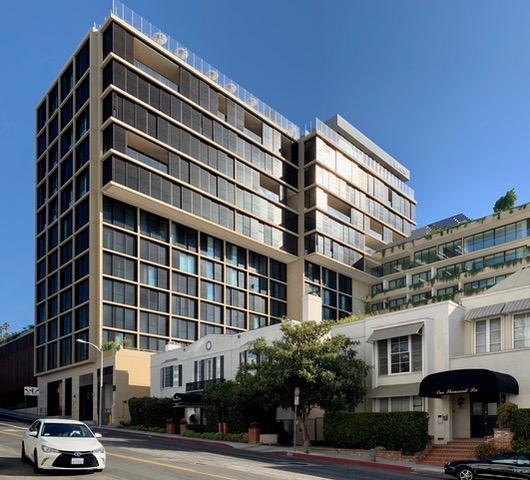 On a recent Sunday morning, 30-somethings Barb and Matt Newland from Seattle stood in front of the brand new West Hollywood Edition at 9040 Sunset Blvd. They were waiting for their rideshare to LAX, luggage in tow.
The couple had flown to L.A. for the weekend to see The Who at the Hollywood Bowl. Matt wore a souvenir concert tee. The legendary rock band's famous arrow logo floated on a red, white and blue target graphic.
What was it like to stay in the luxury hotel and residences?
Matt and Barb said it was pleasant but described the staff as overly attentive. "We were in the lobby just now," Barb explained, and "one staff member after another kept asking us if everything was all right, if we had a good stay, if they could do anything else for us … It was a little much."
I mentioned how the razing of the prior site and construction of the new, much taller building caused some local controversy. Barb had actually read about it on WEHOville that very morning. She said she gets it: "It's a neighborhood."
But Matt, who works in commercial real estate, is pro-development overall, saying the most important variable is "providing enough parking."
Michael, a reader who posted a comment on WEHOville, raised that very issue: "The down-side to this development is that all of the on-street parking on the north side of Harratt [the street behind Edition] has been taken away."
Still, Matt sees the development as a plus. It brings in visitors who experience culture and support businesses they wouldn't otherwise. During their stay, Barb and Matt walked down Sunset to visit a comedy club and Dialog Café.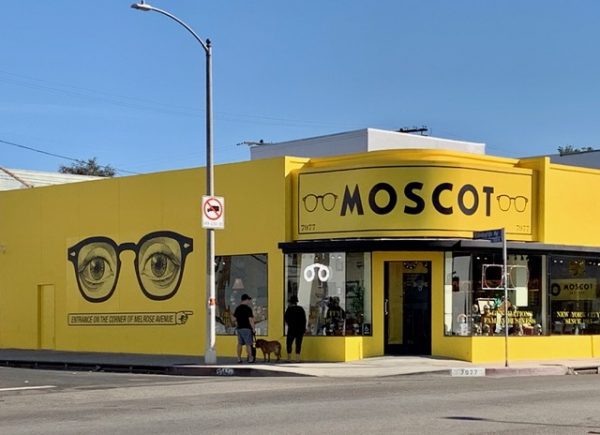 Melrose Has Vision
The L.A. Times broke the news on Oct. 16 that family-run eyewear brand Moscot opened its first West Coast retail store at 7977 Melrose Ave. (at Edinburgh).
According to reporter Max Berlinger, Moscot "first opened its doors in New York" more than a hundred years ago.
So why WeHo? CEO Harvey Moscot was drawn to the "creative energy" of the city and the brand has longstanding relationships with the entertainment industry.
And, as if to say "If you're a star, shop here," the Melrose store offers a VIP rear entrance for those "who prefer a discreet shopping experience."
Moscot has stores in the U.S., Canada, Italy, France, the U.K., Japan, China, and South Korea.
But perhaps West Hollywood is the only city where Moscot is located that has a branded, canary yellow selfie wall ready for snaps.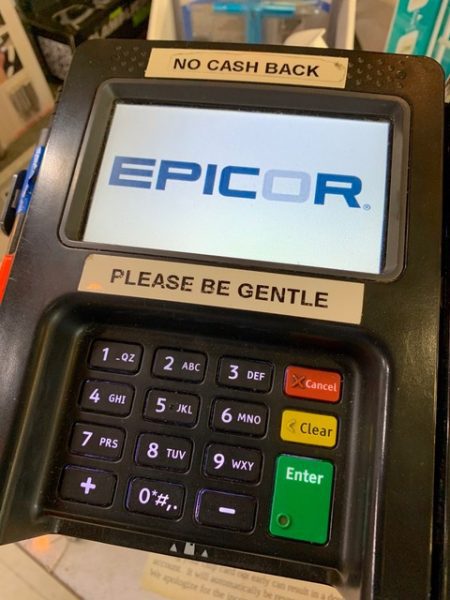 Koontz's Request and a Girl's Dream
Ever notice what the credit card machines at Koontz Hardware ask of you at the checkout register?
There it is in black-and-white, a little strip of paper taped above the pin pad: "Please be gentle."
Makes one wonder how roughly some customers must have pushed those buttons to warrant management's effort of printing out the request for a lighter touch.
The 20-something brunette who handed me my receipt said she had been thinking about getting the phrase emblazoned on a T-shirt. Her colleague covered her mouth and giggled.
I laughed, too, but said, "Be careful where you wear that."
'Sleep Culture' Now in WeHo
The Design District has a new furniture showroom for interiors professionals to peruse: Flou LA at 8784 Beverly Blvd.
The grand opening occurred last Wednesday evening, Oct. 16, in collaboration with Posner Fine Art and interior design resource Luxe.
Mayor John D'Amico and Flou president Massimiliano Messina attended, along with WeHo Chamber of Commerce board chair Nick Remedio. The Chamber welcomed Flou with a ribbon-cutting.
Chamber CEO Genevieve Morrill described the evening as "a wonderful gathering of Design District businesses, designers and West Hollywood leaders."
Flou joins the fellow Italian modern design brands the Diva Group, with its B&B Italia and Maxalto lines, and Flexform, all near the corner of Beverly and Robertson.
According to its website's About page Flou began producing beds in 1978, inspired by "the desire to introduce a new 'sleep culture'."
Available in more than 50 countries, and producing furniture such as sofas, armchairs, and wardrobes, Flou's showrooms are in Milan, New York, and now, WeHo.
Chrissy Teigen's Husband at Pavilions
John Legend has lent his celebrity profile to Napa Valley's Raymond Vineyards, and he's coming to WeHo on Oct. 28 to sell you some wine.
Laminated color posters taped to the checkout registers at Pavilion's announce the singer/entrepreneur will appear for just one hour, from 4:15 to 5:15 p.m.
Wine lovers will be able to taste the rosé, red blend and sparkling rosé wines bearing his imprimatur during the entire three-hour event from 4 to 7 p.m.
To find the crush of fans, and grapes, head to the supermarket's fancy new tasting bar ensconced between the alcohol and produce sections.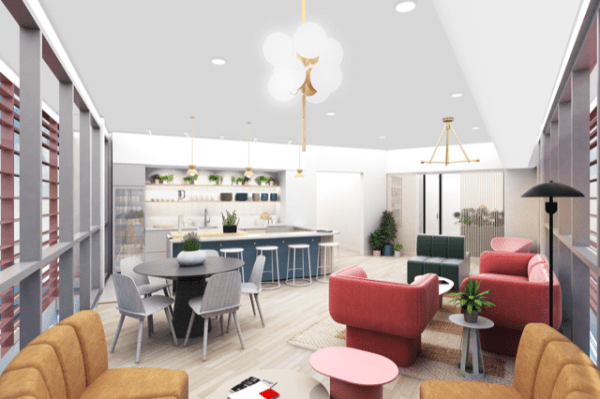 More Than a Garnish
On Thursday last week, Parsley Health opened its "L.A. flagship center" at 8550 Santa Monica Blvd., the same building housing Sprouts Farmers Market.
Per its website and press release with accompanying photos, it's clear Parsley aims to offer a new, softer and deeper relationship model of healthcare.
Let's talk biophilic design. Part of the green architecture movement, its waiting room leverages the concept using soft hues, pastel colors, natural light, and modern furnishings.
"Traditional healthcare settings are sterile, stark and cold. We're turning that paradigm on its head," said founder and CEO Dr. Robin Berzin.
Yet the difference consumers are likely to notice most is the cost.
For $150 per month, access to Parsley Health's doctors and "health coaches" is available only via membership (though "founding members" can save $400 off their first year). Lab and diagnostic fees are extra and can be submitted to standard insurance for reimbursement.
A member gets up to 10 visits with a healthcare "team" per year. Online messaging and telemedicine are included, meaning appointments may be completed virtually, avoiding travel to the Parsley facility.
So why would anyone want to partake of this new model?
Perhaps just like the famed healing properties of the herb itself, Parsley Health touts preventative care. Via regular, proactive conversations throughout the year, with advice on diet, exercise, and lifestyle, Dr. Berzin believes members will see their healthcare costs go down over time.
Chamber Mixer and Awards
Coming up on Wednesday, Oct. 30 at 6 p.m. is the WeHo Chamber of Commerce's monthly Mix & Mingle. Taking place at the newly renovated (but still very red) La Boheme at 8400 Santa Monica Blvd., the event is free for Chamber members and $20 for "future members," as the Chamber likes to say.
And Nov. 21 is the date of the Chamber's annual Creative Business Awards, this year honoring Jamie Adler of design firm Phyllis Morris with the 2019 Legacy Award. Always a swanky affair, the 1 Hotel perched atop Sunset and La Cienega (this year also a nominee) will provide its lobby, ballroom, and chef for the third year in a row.
Be sure to bring your credit card to enjoy the silent auction. In 2017, I saw a Michael Childers black-and-white portrait of Liza Minnelli go in a flash. Tickets always sell out. More info here.
Thai It, You'll Like It
Have you noticed? The restaurant located at 9043 Sunset Blvd. still serves Thai food, but it's no longer Talésai. It's now Night + Market and has gotten a fresh paint job and some new furniture.
According to its website, "Talésai has been re-envisioned." Perhaps anticipating some patron pushback, it "kept a handful of fan favorites" on the "classics" page of its new menu.
Still, the Talésai brand lives on in Studio City at 11744 Ventura Blvd.
According to Ventura Blvd., a local newspaper covering the San Fernando Valley, both restaurants are run by the "multi-generational Yenbamroong family."
"Talésai," the newspaper says, "opened on the Sunset Strip in 1982 and was the city's first mainstream Thai eatery—regularly drawing rock stars, celebrities, and chefs."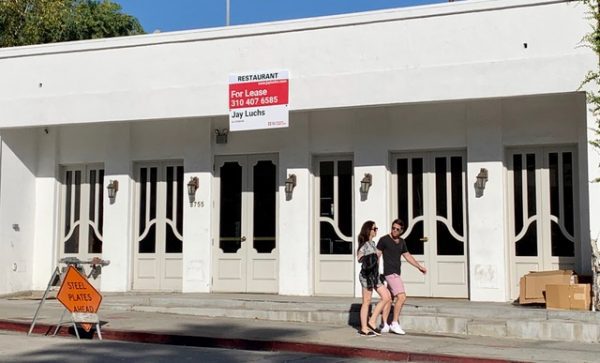 Lucky Number Seven?
Along the 8700 block of Melrose Avenue, nestled between San Vicente and Robertson, there are currently seven vacant retail storefronts. Design brands such as J. Robert Scott, and the short-lived French restaurant Le Relais de l'Entrecôte, have either left the area or gone out of business.
What's going on? Why are there so many empty stores on that block, and even elsewhere in the city?
"It's not always that the rent is too high," said commercial real estate broker Jay Luchs. A senior player with Newmark Knight Frank, readers may recognize his name as it regularly appears on numerous for lease signs around the city.
"Even if the spaces were free, retailers might not take them," he added. In the era of Amazon and online retail, there are many factors for a brand to consider when choosing a brick-and-mortar location, including taxes, insurance, and labor costs.
In addition, a property may be vacant due to what Luchs called the "vision" of the landlords. Many property owners are non-retailers or have simply inherited the real estate.
Still, Luchs said there is a lot of action going on behind the scenes. "Conversations are taking place." He expects three to four new brands will be in those currently empty spaces within a few months.