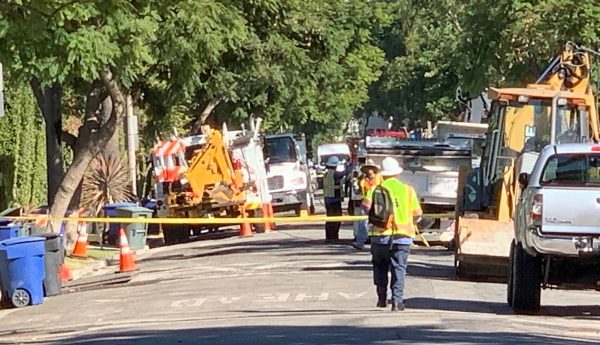 Residents of a group of homes along the 8800-8900 block of Rosewood Avenue in West Hollywood were asked to leave their homes this morning because of a gas leak.
The evacuation order put out around 9 a.m. by Southern California Gas & Electric affected residents of about a dozen homes east of Rosewood's intersection with North Almont Drive.  At 3 p.m., SoCal Gas & Electric announced that the leak had been stopped and that residents could return to their homes, escorted by company workers and hazardous materials officers from the L.A. County Fire Department.
The announcement said that repairs on the main line would continue for the several more hours, and that lines to individual homes might have to be inspected before service to them could be restored.
A spokesperson for SoCal Gas & Electric sais it believed the leak was caused by a contractor for another party doing work in the area. "We want to remind contractors, business owners and residents to 'call 8-1-1 before you dig' at construction sites or in the yard," the spokesperson said.
A natural gas leak can increase the risk of fire and explosion given that an electrical spark or a match flame can set it off. Natural gas usually can be detected because of a rotten egg smell that comes from something added to it by energy providers to make a leak easy to discover.
Natural gas emits a byproduct of carbon monoxide that reduces the oxygen around you. It can deprive the body of oxygen and cause asphyxia and possibly death.
Anyone who suspects a natural gas leak is advised to immediately stop what he or she is doing and go outside. Do not turn off or on any electrical switches, or unplug anything.