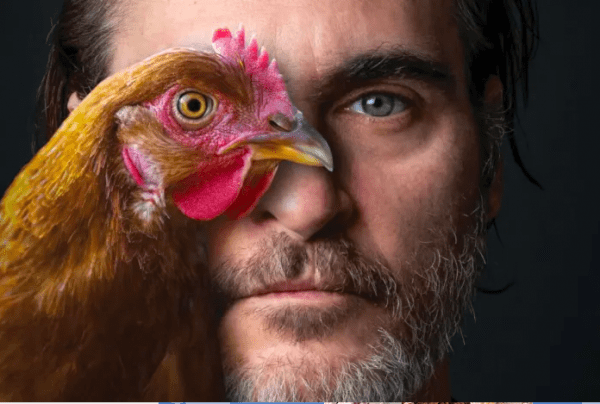 There's that animal on your plate (perhaps a piece of barbecued chicken). Then there's that animal at your feet (that would be Rover, hoping that you'll drop a piece of that animal from your plate). And then there's that animal sitting across the table from you, texting on his iPhone while you try to carry on a "first-date" conversation.
What's the difference between those animals? Nothing really, says Joaquin Phoenix in a billboard on Sunset Boulevard to promote PETA, the animal rights activist group, and decry what he calls "speciesism."
The billboard, which is on Sunset just west of Sweetzer Avenue, features an image of Phoenix with a chicken. "We Are All Animals," it says. "End Speciesism. Live Vegan."
Phoenix, who has been a vegan since the age of three, also is featured on a PETA billboard in New York City's Times Square.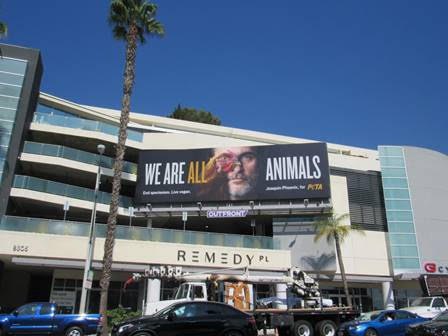 Phoenix, an Academy Award nominee, is the star of the recently released film "Joker." He has worked for PETA in the past and has been an advocate for the rights of dogs, fish, and sheep.
"Speciesism," according to a press release announcing the billboard, is "the damaging belief that—despite their extraordinary talents, abilities, and intelligence—all other animal species are inferior to humans."
The billboard may be a testament to the continued popularity of Sunset Boulevard, known for its billboards, which increasingly are dominated by promotions of Netflix shows. It also is appropriate for West Hollywood, which was the first city in the nation to ban the sale of fur products and whose City Council mandated that dog owners be described as "guardians" in city documents.