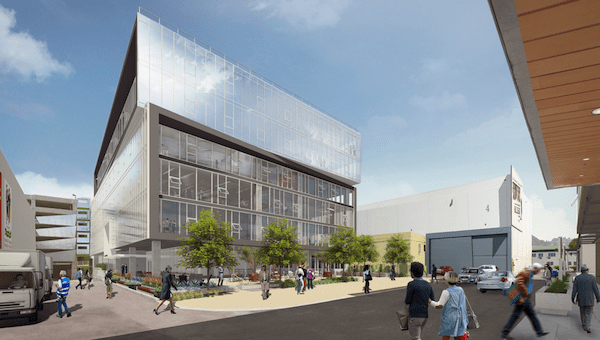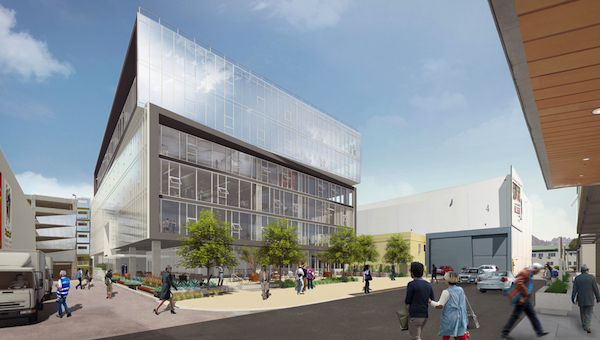 Live Nation's Ticketmaster will be the next major media-related company to find a home at The Lot in West Hollywood.
CoStar, the commercial real estate research firm, announced the deal struck between Ticketmaster and CIM Group, the real estate company that owns The Lot.  It described The Lot as "an area so popular with media firms that it's garnered one of lowest office vacancy rates in metropolitan Los Angeles."
Ticketmaster will occupy 98,000 square feet in The Lot's Courtyard Building at 1041 Formosa Ave. beginning in November.  It is relocating from its current offices in Hollywood.
According to CoStar, the Ticketmaster lease is the largest in terms of square footage so far this year in West Hollywood and adjacent Hollywood.  CoStar said it is one of the 20th largest leases in L.A County this year.
The Courtyard, which is the third and final structure of The Lot, is expected to be completed in February. Ticketmaster plans to relocate from the space it currently leases in Hollywood, which includes the property at 7060 Hollywood Boulevard.
The Lot currently is home to Oprah Winfrey's OWN Network, Will Ferrell's Funny or Die production company, and Showtime Networks.
CoStar reported that rent at The Lot is $4.52 per square foot, slightly lower than the average $4.81 per square foot office rent in West Hollywood.  West Hollywood has an office vacancy rate of 5.7%, one of the lowest in Los Angeles County.
A number of other commercial leases of note in West Hollywood, mentioned in a story published by the Commercial Observer, are at the Pacific Design Center.  It reports that Cedars-Sinai Medical Center will take over the entire 100,000 square foot floor at the PDC's Green Building by adding an additional 30,000 square feet to its current space and renewing its lease for another 15 years.  In March, Advanced Nutrients leased 13,500 square feet for 15 years in the Green Building. And Digital Brand Architects, a marketing firm, added 6,300 square feet to its current space at the Red Building.  Commercial Observer reports that the Red Building is fully leased.
That is evidence of the success of Charles Cohen, owner of the Pacific Design Center, to shift its focus away from the wholesale design and furnishing clients who once dominated the PDC to business with more of an entertainment and digital marketing focus. One of those tenants is Grindr, the world's largest gay sex app, which is headquartered on the Red Building's 14th floor. Grindr currently is owned by Bejing Kunlun Tech Company, which is being forced to sell it because of concerns that a Chinese-owned company has access to delicate personal information about its users, including their HIV status and sexual activities.