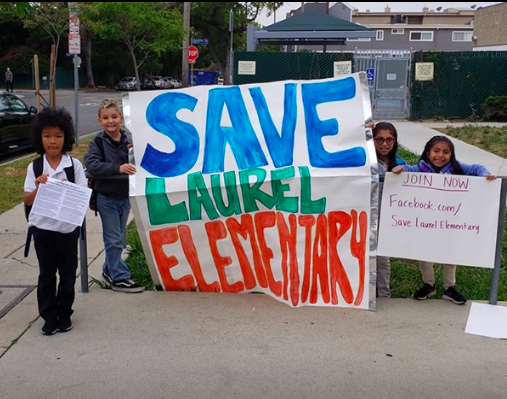 UPDATE: The Friday meeting referenced in this story has been postponed to Thursday, Nov. 7, at 8:30 a.m. at Laurel School.
A meeting planned for Friday morning at Laurel School may be contentious, with parents showing up to question Nick Melvoin's plans for the location of the new West Hollywood-Fairfax Academy middle school. Melvoin represents the 4th District, which includes West Hollywood, on the Los Angeles Unified School District Board of Education.
At issue is whether Melvoin will advocate that the WHFA middle school currently being considered for either the Fairfax High School campus or West Hollywood Community Day School at 1049 N. Fairfax Ave. should instead be integrated into the existing Laurel School. Laurel is a "span" school that serves students from pre-kindergarten through eighth grade. It is located on North Hayworth Avenue near Willoughby in West Hollywood. The administrators of Local District West, which includes West Hollywood, will be presenting to the Board of Education their recommendation and a plan for WHFA middle school.
Earlier this year, a group of parents of Laurel students protested a proposal to change Laurel into a middle school that would serve only students in sixth through eighth grades (children ages 11 to 14). Many of those parents stressed the importance to them of their children being able to remain at the same school from the time they enroll in kindergarten all the way through eighth grade. Those parents thought the middle school conversion was off the table with the announcement in June that Laurel would be designated as a magnet school with a focus on "cinematic arts and creative technologies. The only other dedicated public middle school option for students in the area is Bancroft Middle School on Las Palmas Avenue, just east of Highland Avenue and outside of West Hollywood's city limits.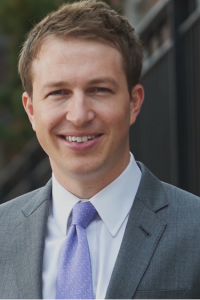 Principal Brian Wisniewski assured parents of children enrolled in Laurel in the current 2019/2020 school year that they will be able to stay there in the 2020/2021 school year. After that, admission to Laurel, which currently serves more than 300 students, could become competitive. Magnet schools focus on particular subjects and are open to students outside the school's traditional district. According to the Public School Review, 73% of Laurel's students are from racial or ethnic minorities, where income levels typically are lower. That percentage is an indication that the majority of Laurel's students come from families outside West Hollywood, which is predominately white. West Hollywood Elementary is the only public elementary school within the City of West Hollywood. It serves nearly 400 children in kindergarten through fifth grade at its campus on Hammond Street at Harratt. Public School Review reports that two-thirds of its students are white.
On Oct. 21, Melvoin outlined plans for the West Hollywood-Fairfax Academy (WHFA) at a public meeting and disclosed the Fairfax High and West Hollywood Community Day School location options. However, Steven Veninga, parent of a child at Laurel and an active opponent of the plan to convert it to a middle school, says rumors are coming from different places that Melvoin now wants to add WHFA to the Laurel campus and eliminate the pre-kindergarten through fifth-grade classes.
Veninga says he's heard that Melvoin has said that Laurel Principal Brian Wisniewski approached him saying he wanted Laurel to be a middle school campus and that only a handful of parents would oppose that. Veninga says that Wisniewski has denied that allegation. Veninga expects that to be a subject of Friday's meeting with Laurel parents.
Save Laurel, the parent group that has opposed transforming Laurel into a middle school, is asking that the meeting be postponed until it can gather more information about the issue. WEHOville has been unable to reach Wisniewski for a comment. Melvoin's office referred WEHOville to Justin Brown, who is president of the board of Friends of West Hollywood Elementary School and a member of the middle school committee that has been considering proposals for a dedicated middle school.
Brown said he was unaware of any new proposal to convert Laurel to a middle school or build the school near Laurel. Brown lives with his wife and three sons in West Hollywood, with two of his sons currently attending West Hollywood Elementary. An advocate for a new middle school, Brown said that he and other parents see it as offering a greater concentration on the needs of students ages 11 to 14, which are very different from those of younger children in kindergarten and elementary school classes. Brown said the scarcity of vacant land would make building the WHFA middle school in West Hollywood difficult.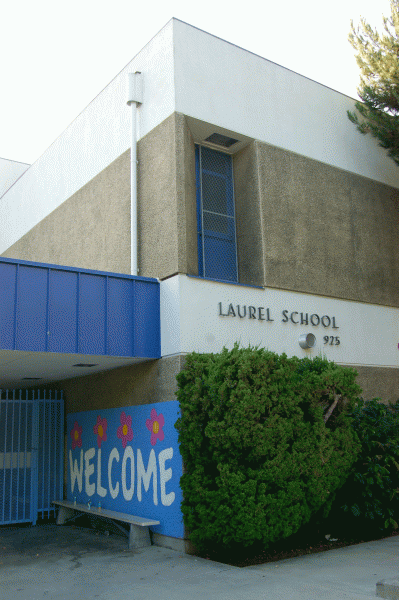 Veninga says he worries that even if the WHFA middle school is only located adjacent to Laurel, that will increase the chance that Laurel's status as a "span" school will end. He said that he and other parents also are concerned that school district funding that otherwise would have gone to Laurel instead will be diverted to the middle school. Veninga, noting the likely difference in the economic and ethnic status of the students at Laurel and those at an adjacent middle school, described it as segregation.
Children attending the six nearby elementary schools — Cheremoya, Gardner, Melrose, Rosewood, Wonderland, and West Hollywood – will be first in line for admittance to WHFA, followed by those students who live within those schools' service areas but don't attend them.
West Hollywood is home to very few children. Less than 1% (0.8%) of West Hollywood's 2016 population of 35,661 was aged five to nine according to the city's 2019 Community Study, much lower than the Los Angeles County average of 6.9%. Many parents in West Hollywood enroll their children in charter or private schools. Melvoin has said that only 5% to 15% of West Hollywood middle-schoolers attend LAUSD schools.
West Hollywood City Councilmember Lindsey Horvath stepped forward during the debate about converting Laurel to a middle school to support the parents who wanted to preserve its pre-kindergarten through eighth-grade status. She told WEHOville that creating a new middle school to serve West Hollywood students "is something that should bring us together as a community, not divide us. I've asked board member Melvoin to make sure that all West Hollywood parents are getting the same, complete set of facts so they have a fair chance to weigh in on the options available for their children. We should not be pitting families against each other. It's our young people who will lose in that fight."
In April, West Hollywood Mayor John D'Amico and City Councilmember Lauren Meister brought before the City Council a proposal that city staffers meet with participants in the Children's Roundtable to "explore the creation of a new middle-school pathway" as well as the possibility of a school serving students from kindergarten through 12th grade. The Roundtable is a group that meets monthly throughout the school year and includes school principals and educators and parents.
Local District West will submit the middle school plan to the Board of Education on Nov. 15 so that it can be placed on the Board's Dec. 3 agenda. The current plan is for WHFP to begin operating in the fall of 2020 with 125 sixth-grade students, five teachers, and an administrator. It will expand by 2022 to serve 360 students with two administrators and 16 teachers spanning sixth through eighth grades.
The meeting of the parents of Laurel students will take place at 8:30 a.m. at the school, which is at 925 N Hayworth Ave.