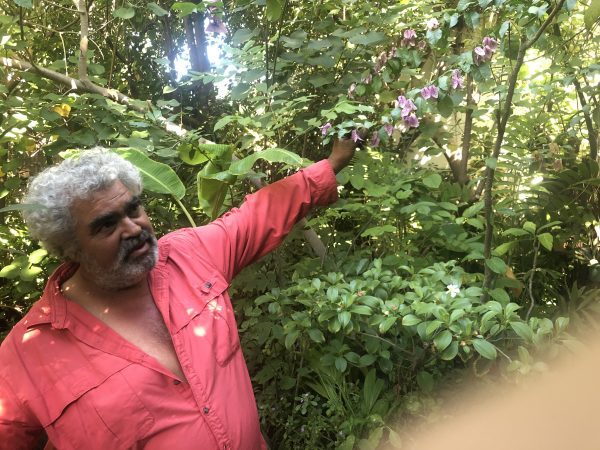 The West Hollywood City Council will consider Monday whether to take steps to require that new development projects include trees as part of an "urban forestry program."
Meanwhile, Leon Massoth continues to worry that the greenest and most densely planted lot in West Hollywood will be totally deforested and devegetated by its owner.
That lot, which is at 900 N. Fairfax Ave. at Willoughby, is home to Massoth's Xotx Tropico Nursery, which is as much a museum of flora from around the world as it is a place to stop and shop for a potted plant.
"In my nursery, you are surrounded by a vast collection of flora. Point at anything, and I'll tell you the story behind it," Massoth said in a story about his nursery by Maria Bertrand that was published in West Hollywood Magazine. "Every plant has a story. That is an Ohi'a Lehua, famous in the lore of Hawaii. This one is a loulou palm—only five exist in the wild. That's an aechmea tayoensis, a very rare plant from Ecuador." Massoth pointed to a beautiful tree with light purple flowers, Bertrand writes, and said: "Take a look at this, it's a giant tree passion flower that is extinct in the wild."
Then he stopped in front of a small palm tree and rubbed its leaves. "Herbie Hancock's wife brought the seed of this plant to me. It's from Ground Zero. It's a parasol tree, a symbol of survival. People bring me interesting seeds from all over because they know I have the ability to nurture them. Every seed, every plant, has a little trick. The seeds have revealed many of their tricks to me throughout the years."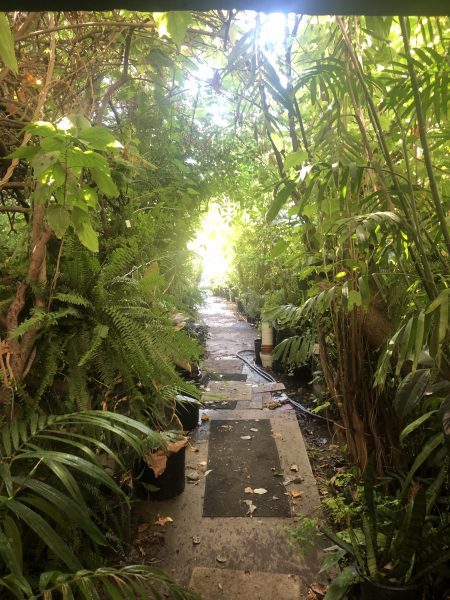 Massoth opened Xotx Tropica in 1988. He was following a passion he had had since the age of 12, when he made his first list of plants that he wanted to own. At the age of 17, he went to Central America to collect exotic plants.
"I have studied the flora of places all over the world, and I keep studying," he said. "The idea here was to bring the plants out of the botany books to 3D life."
Massoth said he became alarmed when a representative of 4D Development, the owner of the property, reached out recently to tell him that he had to move out by the end of December. "How can I move 30 plus years of horticulture by the end of December?" Massoth asked.
Massoth said he was told that 4D planned to construct a building with six condo units and a restaurant with 18 parking spaces on the lot. Then, Massoth said, another person came forward to say he was acquiring the property from 4D Development. Massoth couldn't recall the name of that man, who he said was unclear about whether he would let Xotx Tropica remain. WEHOville has reached out to David Pourbaba, CEO of 4D Development, but as of publication hasn't gotten a response.
When it comes to finding another location, Massoth said that the scarcity of land in West Hollywood is an issue. He said he has reached out to John Keho, the director of the city's Planning and Development Services Department, to see if he could recommend a place where Xotx Tropica could move. Keho had no suggestions.
Massoth wants to remain in West Hollywood, where he has lived since 1978. He sees WeHo as a center of artistry and creativity and wants to continue contributing to that. He once donated a rare tree from Madagascar to the post office on San Vicente Boulevard. He also is responsible for some of the trees that line the streets of West Hollywood.
"I lived next to a street planner, and he gave me his proposal list," Massoth said. "I spent over 100 hours analyzing the list, then I made a presentation in front of City Council with my own list and they listened to me. Now when you see a beautiful flowering tree in WeHo it likely came from my list."
Massoth not only sells plants from Xotx Tropica, he also is a landscape designer with a list of important clients. But it is finding and growing and preserving endangered plants from around the world that is his real passion.
On a walk through the nursery, he tells how he spent six months traveling by boat through Brazil in a search for exotic plants. In addition to South America, he has traveled to Africa and Hawaii to collect botanic exotica.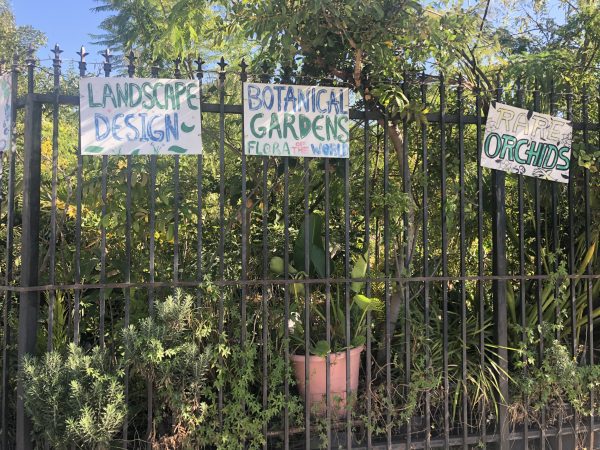 In 1990, on one of his many trips, Massoth got out of a stalled plane and went on a search that turned up two seeds that now are colorful Bougainvillea in the lot on Fairfax. He also discovered, in Australia, a Chrysophyllum imperiale, which is a Brazilian tropical tree that has been designated as an endangered species. In his hands it has thrived.
Friends have launched a Change.org petition urging the City Council to do something to protect Xotx Tropica. It is close to reaching its goal of 1,500 signatures.
"This little corner of green is crucial to maintain the 'web of life' that struggles to exist in our urban cities," says the petition. "Butterflies, bees, birds and many more organisms depend on this unique ecosystem continuing to function in the heart of our beloved city."
Massoth spoke out at last month's City Council meeting to ask for help, but to date hasn't heard from any elected officials.