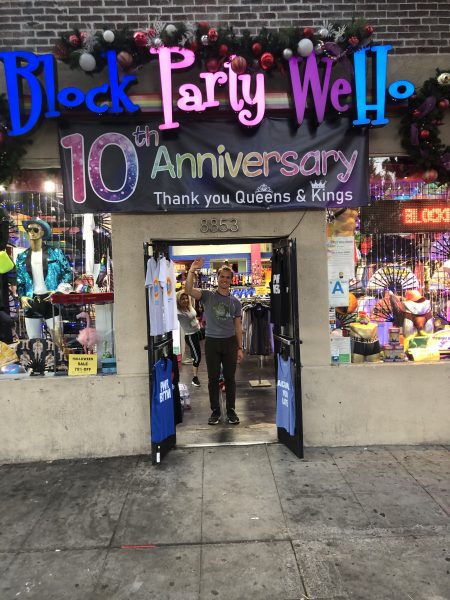 On Monday, the WeHo City Council recognized the 10th anniversary of Block Party WeHo with a formal proclamation. The shamelessly provocative retail destination at 8853 Santa Monica Blvd. sells T-shirts reading "I Would Top You So Hard" and "PWR BTTM," amongst other sexual, and often politically liberal, phrases.
After owner Larry Block, his employees and City Council members posed for a photo, Mayor John D'Amico said, "Block Party is known as 'the gayest store on earth' on what might be the gayest block in the universe."
Block read out the names of 10 of his employees so that they would become "part of the city record."
"It's 10 years, and it's hard to believe," said Block, who wore a black T-shirt proclaiming "I Heart WeHo." He was emotional as he reflected on his journey to start the business after recovering from eye surgery. He recalled that he had been worried that American Apparel was going to beat him out on getting the lease on the space that had housed the iconic A Different Light bookstore, which closed in 2009. But Block got the lease and Block Party opened.
Block recalled that people walking by his new store on his very first day in business caustically said, "They'll be gone in six months." But that didn't happen. "It feels really good to be here 10 years later," Block said, smiling.
"I just want to thank everybody," he said. "We celebrate West Hollywood. We make West Hollywood T-shirts. We love the community."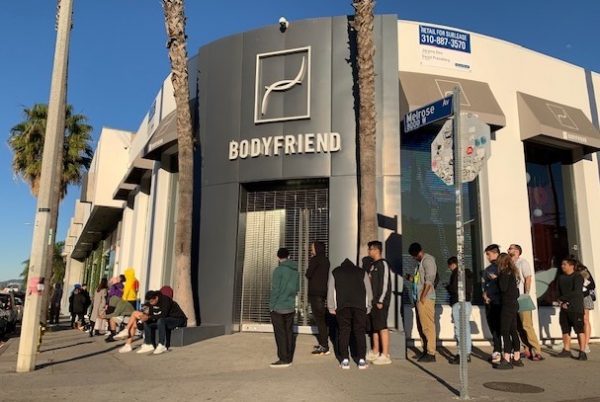 On Melrose the Living Is Yeezy
I was driving past the Adidas store at 8009 Melrose Ave. this past Saturday morning around 8:15 a.m. when I noticed a long line forming out front. So I pulled over, put on my reporter hat, and pulled out my iPhone.
Two 30-something Latino guys were first in an ever-growing line that soon numbered close to 50 people. When I asked why they were there, I got a laugh from 30-year-old Joey, along with this answer: "To get some shoes."
Being first came with a price, though. To get that spot they arrived more than two hours earlier, at 4:58 a.m. Their objective? A pair of hot new Yeezys.
I asked for more info, saying I wasn't up on sneaker culture. Joey could only give me a blank stare. "Ummm…," he began.
His somewhat older friend jumped in with a soft-spoken, "Kanye West."
Further research revealed the sneaker-hip-hop-superstar collaboration began in 2013, though West started his brand in 2009. Forbes wrote this past July that Kim Kardashian's husband is perhaps setting his sights on achieving what Michael Jordan did with his sneaker line: $3 billion in annual sales. West's revenues currently sit at about half that, according to Forbes.
How much does a pair of Yeezys sell for? "Two hundred dollars," said Joey, who said they were for him and not for resale. I asked if he had a "whole collection." The man of few words replied: "Mm-hmm."
Another High-End Design Showroom
Wallpaper  reports that Italian furniture brand Molteni & C has partnered with architectural design house Dada on opening its West Coast flagship showroom on the southern border of the design district at 147 N. Robertson Blvd. near Beverly Boulevard.
In a word: modern.
In another: expensive.
Wallpaper's Sujata Burman writes that the "7,600 sq. ft. space melds the Antwerp-based architect's purist flair with the warm California energy of midcentury history."
Data: Retail's Hottest Trend
"Retail designed for discovery," reads the mission statement of retail disruptor b8ta.
On Nov. 15, WeHo residents and visitors alike will be able to experience what such disruption looks like at Forum, b8ta's new retail venture opening at 8406 Melrose Ave.
Trade journal Retail Info Systems  broke the news, saying Forum will be "a new social marketplace built for community, connection, and discovery."
What's that mean? Forum will be a blend of what Fred Segal and many upscale retailers have done for decades, inviting unique brands into their stores, combined with the latest technology aimed at optimizing consumer experience and retailer profits.
It's all about the data. In its dressing rooms, Forum will have RFID technology. "Brands will be able to adjust the dressing rooms' backdrop to reflect their aesthetic," RIS writes. And shoppers will be able to learn about brands and products, "as well as request different colors and sizes through the in-room digital display."
Parent company b8ta will also install its Retail as a Service software platform to measure "in-store engagement," allowing brand partners to evaluate metrics such as guest counts and "how often a piece goes into the dressing room."
Phillip Raub, co-founder and president of b8ta, says, "[With Forum, b8ta] wanted to create a new experience tailored to today's consumer who seeks real-life connections and social engagement with brands that share similar values."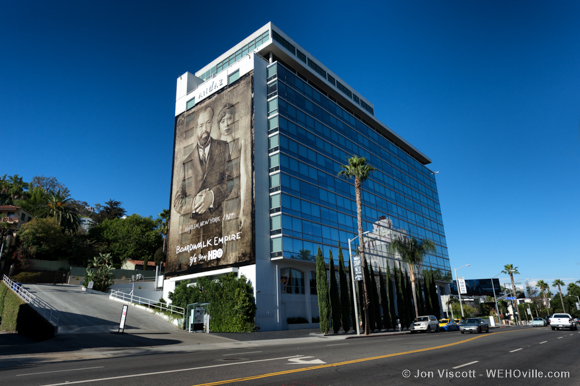 Sunset Strip Executive Shuffle
Two new senior hospitality execs have joined the Andaz West Hollywood, the hotel perched like Mount Olympus at 8401 Sunset Blvd. Hotel Online  reports that Matt Ojinaga and Denise Sy are the new directors of sales and marketing, and director of business travel and entertainment sales, respectively.
Hotel general manager Nate Hardesty said, Ojinaga's "vast hotel experiences, which range from boutique properties, to resort and convention properties, will benefit Andaz West Hollywood" and "Denise's experience at hotels in both Los Angeles and San Francisco…will make her a stand-out leader."
Ojinaga has received various Hyatt leadership awards, including Sales Team of the Year (2017) and Sales Elite Performer (2015).
Sy earned a BS in Hospitality Management from Cal Poly Pomona and won Marriott's President's Circle award.
Ganni: Scandinavian for Fashion
Paper  recently reported that "in the past few years, Danish contemporary brand  Ganni  has emerged as one of fashion's biggest sensations."
Well, now WeHoans will be able to see what all the fuss is about.
On Oct. 25, Ganni Melrose opened at 9004 Melrose Ave., becoming the clothing brand's first West Coast store.
The debut is part of "an aggressive U.S. expansion plan," wrote Paper, where "Ganni is finally making its full offerings and experience available to fans outside of Europe."
"The Ganni mission is simple," reads its website, "we fill a gap in the advanced contemporary market for effortless, easy-to-wear pieces that women instinctively reach for."
Tortillas, Tequila, La Cienega
At 826 La Cienega Blvd., between Waring and Willoughby, WeHoans now have another Tex-Mex kitchen to whet their burrito-and-margarita-craving palates. Say hola to the newest location of El Tejano.
The press release states "Tex-Mex classics like grilled Mexican street corn, Frito pie, tacos," even a "Southwest quinoa bowl and…Carne Asada Tater Tots" are on the menu.
For beverages, look for domestic and foreign craft beers and "an extensive selection of tequilas, mezcals, and specialty margaritas." Oh, and happy hour is "all day, every day," meaning your second "Texas-sized" drink is only $2.
Open seven days a week until 2 a.m., El Tejano has two additional LA locations: North Hollywood and DTLA. Ole!
Sex Ed That You Never Got in High School
"Suck it. Lick it. Love it." That's the name of the free, in-person sexual education course that lept out at me from the flyer I was reading at (where else?) The Pleasure Chest on Santa Monica Boulevard.
There's also: "Ceramic Dildo-Making Workshop with Pot" and the more run of the mill sounding "Intimate Partner Yoga." There seems to be something for everyone — cannabis lovers and those who stretch into bizarre positions.
Educational events are one of the key ways the famous sex shop has brought in new and repeat clients over the years.
In our 2017 interview, head of operations Sarah Tomchesson told WEHOville, "…The very first time I taught a strap-on class here it was the largest, the most diverse mix of people I have ever encountered. That's what's amazing about teaching at the Pleasure Chest. You're never just speaking to that audience you think the class is about."
Skittish about attending such a class in-store? "Let us bring the party to you!" reads another section of its flyer. The Pleasure Chest hosts private workshops "at your party, home or office."
Now, that is pleasing, I have to say.