Visitors know West Hollywood for its restaurants and bars. But in a city where there are a lot more dogs than children, it's the pet places that stand out among the locals: The dog parks, the boarding spots, the doggie salons, the pet supply shops and, of course, the dog doctors. Here's the Best Of in several pet-related categories, as chosen by the readers of WEHOville.
This is the latest report on the winners of the 2019 Best of WeHo contest. You'll find the previously published lists of best beauty shops, barbershops, skin care salons, spas and dentists here. The best art galleries, cannabis shops, and dry cleaners here. The best bakeries, burger shops, restaurants with international menus and outdoor dining spots here. And the best coffee shops and a selection of bar categories here.
Pets / Best Boarding
1. Posh Pet Care
The pet care here is clearly posh. Consider it a stay for your dog at the Sunset Tower hotel rather than the Holloway Motel.
"Here at Posh Pet Care we apply the same philosophy and attention-to-detail with our boarders as we do with our daycare doggies," says Posh Pet Care. "Your pet will be pampered and their care is customized to your specific needs.
"Leave everything up to us! We have beds and blankets, just drop your dog off and they will enjoy a daycare-style experience through the night!"
Posh Pet Care, 8218 West Sunset Blvd., www.poshpetcare.com, (323) 655-7674
2. RockStar Rover, 7701 Santa Monica Blvd., www.facebook.com/RockStarRover/, (323) 656-7625
3. West Hollywood Animal Hospital, 9000 N. Santa Monica Blvd., www.wh-ah.com, (310) 275-0055
Pets / Best Groomers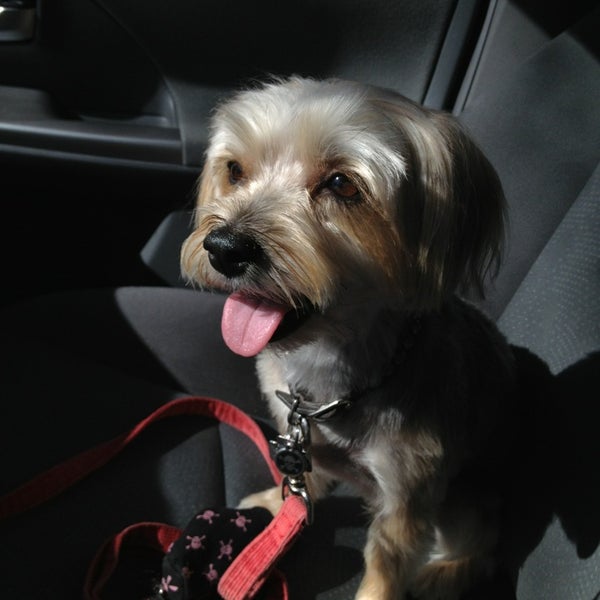 1. RockStar Rover
RockStar Rover rocks according to reviews from its customers on Yelp. Need some help getting that pigeon poo off your pup? RockStar Rover does it, and leave doggy smelling quite lovely. And what about a faux hawk? While they appear to be on the decline in the hip homo sapien community, RockStar Rover can make it happen. The City of West Hollywood officially calls dog owners "dog guardians." RockStar Rover's customers call its dog groomers "dog stylists."
Rock Star Rovers is open 9 a.m. to 5 p.m. Tuesdays through Saturdays.
Rock Star Rover, 7701 Santa Monica Blvd., www.facebook.com/RockStarRover, (323) 656-7625
2. Dogue, 8278 Santa Monica Blvd., www.facebook.com/doguespa/, (424) 303-2027
3. Posh Pet Care, 705 N. Harper Ave., www.poshpetcare.com, (323) 655-7674
Pets / Best Pet Store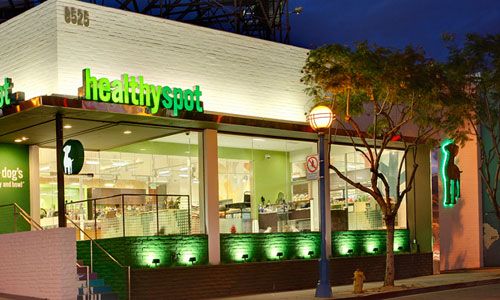 1. Healthy Spot
Healthy Spot offers a range of products and services, including grooming, daycare, teeth cleaning, and nutrition consultation. Looking to stimulate your pup's appetite? Take a look at its Jerky Turkey dog treats, freeze-dried raw canine chicken, and bowls of Chompies dog treats.
Healthy Spot also contributes to the community with that glass-fronted doggie play area facing Santa Monica Boulevard, which attracts both selfie-takers and those looking for a reason to smile, which happy dogs always provide.
Healthy Spot, 8525 Santa Monica Blvd., www.healthyspot.com/pages/west-hollywood, (310) 657-2400
2. Collar & Leash, 8555 Santa Monica Blvd., www.collarandleashla.com, (310) 657-6638
3. Tailwaggers, 801 N. Fairfax Ave. #108, www.tailwaggerspets.com, (323) 658-2222
Pets / Best Veterinarian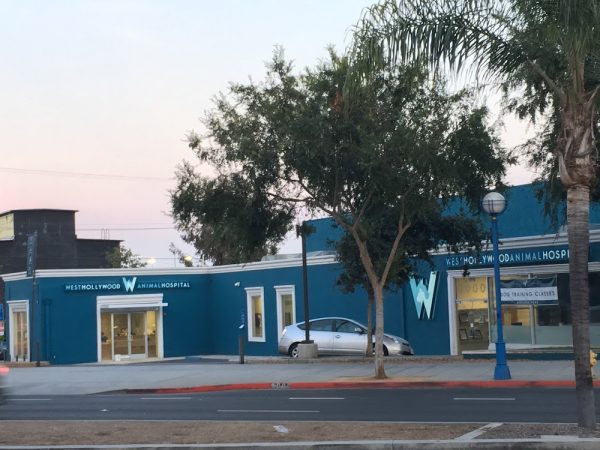 1. West Hollywood Animal Hospital
This vet hospital has it all: Daycare, pet grooming, grooming supplies and other pet products, and the issuance of international and domestic health certificates if you plan to take your pet on a trip. And of course, there's health care. Your pup can get the vaccinations he needs, advanced dental care and an array of specialty services that include orthopedic surgery, internal medicine, and radiology.
West Hollywood Animal Hospital is open 8 a.m. to 8 p.m. daily.
West Hollywood Animal Hospital, 9000 Santa Monica Blvd., www.wh-ah.com, (310) 275-0055
2. Laurel Pet Hospital, 7970 Santa Monica Blvd., www.laurelpethospital.com, (323) 654-7060
3. VCA TLC Animal Hospital, 8725 Santa Monica Blvd., www.vcahospitals.com, (310) 859-4852