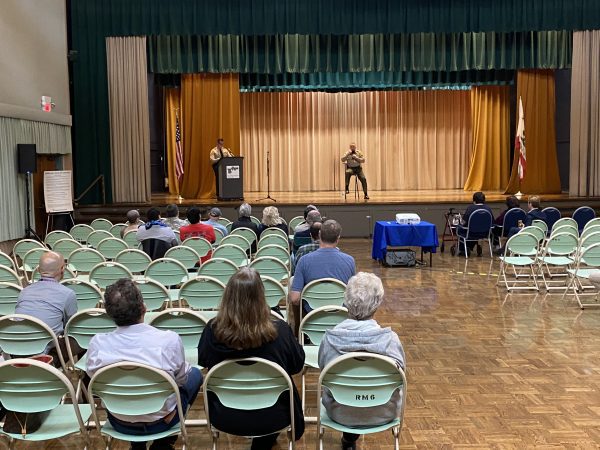 Los Angeles County Sheriff Alex Villanueva spoke to issues ranging from the investigation of Ed Buck to the impact on law enforcement of Prop. 47 at a community meeting tonight at West Hollywood's Fiesta Hall.
The meeting was one of 23 that Villanueva has held through Los Angeles County since he was elected to office in November 2018. Since taking office, Villanueva has been strongly criticized by the Los Angeles County Board of Supervisors, the county's Sheriff's Civilian Oversight Commission, and county Inspector General Max Huntsman for re-instating deputies who had been removed for misconduct by his predecessor, Jim McDonnell, and for refusing to provide access to information involving the discipline of deputies, despite that being required by a state law that took effect on Jan. 1. Villanueva actually has launched an investigation of the Civilian Oversight Commission and Huntsman, who have been investigating his management of the Sheriff's Department.
None of those issues were raised at tonight's meeting, which had a small turnout. Several of those attending complained that the City of West Hollywood had not publicized it. Mayor John D'Amico and City Council members John Heilman and Lauren Meister attended. Councilmember Lindsey Horvath met privately with Villanueva but did not stay for the public meeting. Councilmember John Duran did not attend.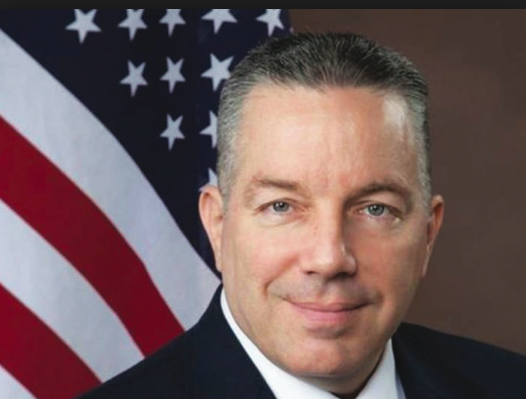 Villanueva called out changes he was making in the Sheriff's Department to promote community policing and emphasized that the department is focusing its hiring efforts on residents of Los Angeles County, who he believes are more likely to understand its communities and issues. Villanueva also said he has implemented a "merit-based" approach to choosing the captains who head the various Sheriff's stations and other major units.
Villanueva said the Sheriff's Department isn't judging its success "by how many people go to jail, but by how safe the community is, and how many people don't go to jail."
One of the first questions to Villanueva from the audience was about the Sheriff's Department's investigation of Ed Buck in the July 2017 drug-related death of Gemmel Moore and the drug-related death in January of Timothy Dean. Both black men were found dead of methamphetamine overdoses in the Laurel Avenue apartment of Buck, a gay white man known for his financial support for local and state Democratic Party candidates.
After an investigation into Moore's death, District Attorney Jackie Lacey decided not to file charges against Buck, saying there wasn't sufficient evidence to ensure his conviction. However, Villanueva said tonight that Dean's death on Jan. 7 gave his investigators an opportunity to "double down and go back all the way to the beginning of Gemmel Moore's tragic passing."
After that renewed investigation, Villanueva said Sheriff's investigators decided they needed to get Lacey's office to defer the case so that they could take it to the Assistant United States Attorney. If convicted on felony charges by Lacey's office of battery causing serious injury, administering methamphetamine and maintaining a drug house, Buck would have faced a possible sentence of five years and eight months. But if tried and convicted in federal court, Buck faced being imprisoned for a minimum of 20 years and a maximum of life without parole.
Villanueva said that the push for Lacey's office to hand the case off to the Assistant U.S. Attorney "for some reason… languished for many months." But then there was a third incident, in which a man who overdosed in Buck's apartment escaped and called 911 for help.
"That's what got the whole thing rolling, where we were able to get the D.A. to file the local charge and then defer and get the federal attorney to file the federal charges," Villanueva said. Buck currently is in federal prison without bail awaiting a trial scheduled to begin in August.
Villanueva also took questions regarding the Sheriff's Department's treatment of sex workers. West Seegmiller, who works for the Sex Workers Outreach Project, attended the meeting. Villanueva said he wanted to find a way to help people engaged in sex work to move out of that practice rather than penalize them. "But the flip side is, if you're a home owner you don't want to see this happening around your home," he said, acknowledging that there are situations where prostitutes are arrested.
When asked about SB 233, a law that grants immunity to arrest for sex workers who are victims of crime, Villanueva said he's aware of it and he supports it.
Villanueva criticized Prop. 47, a ballot measure passed in 2014 that converted many nonviolent offenses, such as drug and property offenses, from felonies to misdemeanors that carried lighter sentences.
"One of the side effects is that by decriminalizing a lot of the drug laws, we lost the capacity to use the carrot and a stick approach to get people into treatment (because they no longer could be arrested for felony charges)," Villanueva said.
Prop. 47 has often been cited by law enforcement officers as a reason they don't arrest people for minor drug possession or shoplifting. However, Villanueva acknowledged, in response to a question from WEHOville, that under Prop. 47 people actually can be arrested for misdemeanor crimes and can be sentenced to up to 365 days in jail. He was uncertain as to the size of the maximum fine (which is $10,000.) He also acknowledged that an issue is that the county doesn't have sufficient room in its jails for people convicted of such misdemeanors. If convicted on felony charges, they would be assigned to state prison.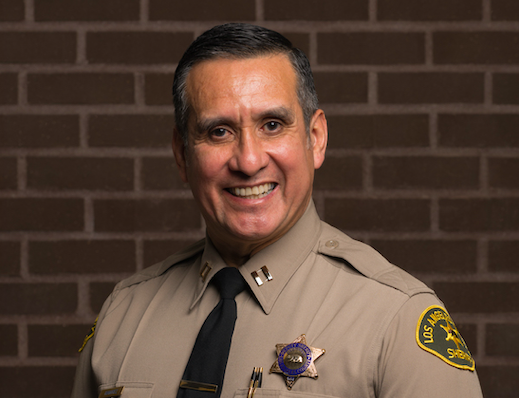 Capt. Ed Ramirez, who heads the West Hollywood Sheriff's Station, addressed other questions at the meeting. One was about the involvement of former Lt. David Smith, who recently pled guilty to charges that he had alerted the owner of an Asian massage parlor in West Hollywood to a possible investigation by Sheriff's deputies.
Ramirez said that the Sheriff's Station had been investigating alleged illegal activity at local massage parlors for a number of years and suspected that someone had been tipping off parlor owners, who would abruptly close the business before investigators arrived. He acknowledged that Smith had been determined to have tipped off one and possibly two massage parlor owners.
In response to another question, Ramirez said the Sheriff's Station has not been investigating the 10 illicit Asian massage parlors in West Hollywood on allegations that the women working there are victims of sex trafficking. However, he said that he and the city's Code Compliance office have investigated them to ensure they comply with city and county regulations, most of which are focused on health and safety issues.
Ramirez also talked about undercover investigations of car burglaries, which have been a major issue in West Hollywood and other cities on the west side of Los Angeles County. Many of those burglaries, he said, have been committed by gang members coming from Oakland. Ramirez said he has been working with law enforcement officers from Beverly Hills, Culver City, Santa Monica, UCLA and the Los Angeles Police Department's Wilshire Division on the issue.