West Hollywood's latest cannabis business is opening next week. The Artist Tree will offer recreational cannabis products and feature an art gallery, a cannabis lounge, and a "cannabis learning center." It also is licensed to deliver cannabis products to customers.
The Artist Tree will occupy the space at 8625 Santa Monica Blvd. that once was home to the Front Runners store. It is owned by Lauren Fontein, Aviv Halimi, and brothers Avi Kahan and Mitchell Kahan, who also own the Green Easy and MMD Marina del Rey cannabis dispensaries in Los Angeles and have a minor stake in MMD Long Beach. The owners plan to open other locations in Riverside County and Los Angeles in the next 12 months.
The Artist Tree is the only applicant to qualify for West Hollywood's cannabis licenses in all five categories, which include recreational cannabis sales, medical cannabis sales, cannabis delivery, operation of a cannabis lounge offering edible products, and operation of a lounge where cannabis smoking and vaping is permitted, and edible products can be consumed. It will be the second new cannabis business to open this year. Lowell Café, the nation's first cannabis consumption lounge, opened in September on La Brea Avenue
"Cannabis makes concerts, museums and pretty much everything more fun, said Lauren Fontein. "The Artist Tree will enhance your perception of the arts and change how you experience cannabis. Art of all kinds and the best cannabis product available are integrated with interactive educational hubs throughout the space. Shopping with us is an immersive experience unlike anything in the world."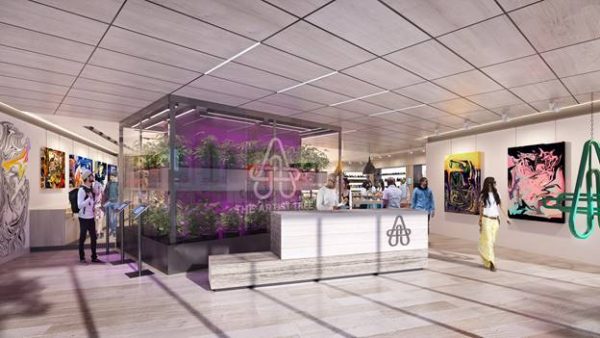 The Artist Tree will offer a variety of cannabis products, including vape cartridges and edibles and pre-rolled joints. The Cultivation Learning Center is a 10 x 15 enclosed glass room, highlighting cannabis clone plants at various stages of their development.
The opening exhibition at The Artist Tree was curated by Mandy Mitchell and features a variety of visual arts paired with cannabis memorabilia that encourage conversations about the fusion of cannabis and elevated art. The exhibition includes original murals, mixed-media and works by Monica Ahanonu, The Couto Brothers, Ellierex, Noah Emhurt, Jake Vanden Berge, Claude Morais, Jahlil Nzinga, Jay Shells, Cody The Creative and the Art of Chase. All of the works are available for sale with 100% of proceeds going directly to the artists. During the first day, 10% of all sales will be donated to Project Angel Food. The Artist Tree will celebrate the opening day with a ceremonial planting in the Cultivation Learning Center.
The Artist Tree retail and art space will be open daily from 6 a.m. to 10 p.m.  The Artist Tree delivery service will launch shortly after opening, accepting online orders at TheArtistTree.com. Details on The Artist Tree's upcoming consumption lounges will be announced soon.