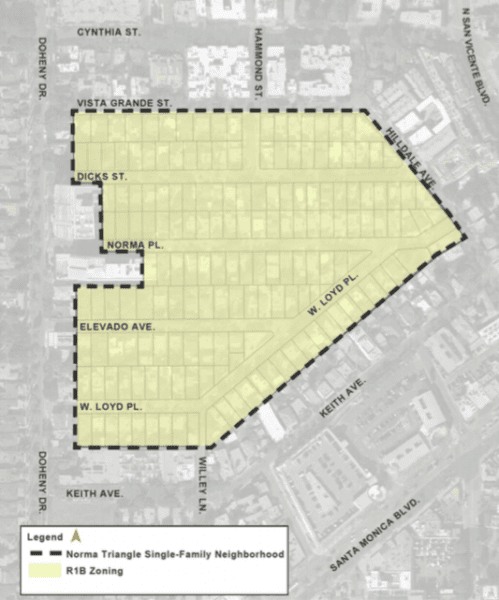 Residents of West Hollywood's Norma Triangle neighborhood are coming together to protest loud music being played into the early morning hours from bars and nightclubs.
In emails to one another, to city officials, and to City Councilmember Lauren Meister, those who live in or near Norma Triangle have called out dozens of incidents and criticized the city for not appropriately responding. Norma Triangle covers the area north of Santa Monica Boulevard and south of Sunset Boulevard between Doheny Drive and San Vicente Boulevard.
"This has been an issue disrupting the quiet enjoyment of our homes for a long time," said Ramin Bastani in an email to WEHOville. "It's an ongoing game of the 'cat chasing the mouse' that leaves the neighbors apathetic … after not getting help from the city. It's gotten worse over the last few months / this year."
Another neighbor, whose name is not being disclosed, said "I have been a resident in this neighborhood for nearly 30 years and I have never heard the level of noise from the clubs as I have in the past six months. It is so bad at times that I have had to keep my bedroom window closed and used earplugs to sleep. I have great concern about the noise this summer particularly with the addition of more commercial venues. The clubs obviously are not doing enough to curb the noise nor is the City of West Hollywood enforcing policy. This is becoming intolerable."
Neighbors who are organizing themselves as "WeHo Noise" have complained that the city's Code Compliance officers aren't strictly enforcing West Hollywood's noise ordinance, which bars "the using, operating or permitting to be played, used or operated between the hours of 10 p.m. and 8 a.m. of any radio, musical instrument, stereo, television set, or instrument or device similar to those heretofore specifically mentioned for the production or reproduction of sound in volume sufficiently loud as to be plainly audible at a distance of 25 feet or more therefrom." 
A business found guilty of violating that ordinance typically is issued a warning and can be fined for refusing to comply with the law. The fines range from $1,000 for a first offense to $5,000 for a third offense.
While the ordinance cites "plainly audible at a distance of 25 feet or more" as a violation, an interpretation on the city's website alters that, saying that violations come from sounds not only audible but that "are so loud, prolonged and harsh as to be annoying to reasonable persons of ordinary sensitivity and to cause or contribute to the unreasonable discomfort or disturbance of any persons within the vicinity."
Bastani told WEHOville that one code compliance officer told him that "if we can't hear the music from our home with the windows closed, then it's not a violation" and "unless the music is audible for a continuous amount of time, it's not a violation."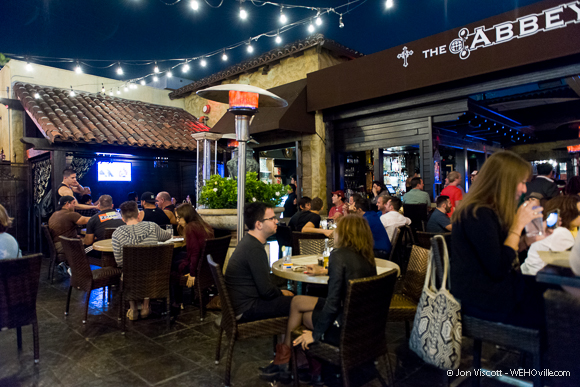 The Norma Triangle neighbors have called out the Abbey Restaurant and Bar for most of the noise. The Abbey and its adjacent bar, The Chapel, attract large crowds and have a lot of outdoor space with a large patio fronting Robertson Boulevard. A request for citations of clubs and bars for violating the noise ordinance this year has turned up only four, all in March, involving Mickey's, Trunks, the Penthouse at the Factory, and Flaming Saddles.
David Cooley, owner of The Abbey and The Chapel, said it seems unlikely that the noise is coming from there.
"We've always kept a great relationship with West Hollywood residents, including the Norma Triangle," Cooley said. "We work with Code Compliance regularly to make sure our sound system doesn't exceed the set levels. Multiple times, Code Compliance has confirmed the noise is not coming from The Abbey. Every time a resident reaches out, we check the levels with our own sound meters to make sure we are staying compliant.
"There are many nightclubs and bars in the area and we've always tried to set a responsible example by respecting our neighbors and our community. Some outside promoters don't run day-to-day businesses here, and just don't care as much as we do about West Hollywood. We have been an active part of the community for almost three decades. We always try to do the right thing for the West Hollywood."
Councilmember Meister has suggested that Danny Rivas, who heads the city's Code Compliance Division, organize a meeting of bar owners and neighbors to discuss the issue. Rivas is in the process of organizing a meeting of bar and club owners. Rivas declined a request from WEHOville to attend the meeting and said it will not be open to the public.