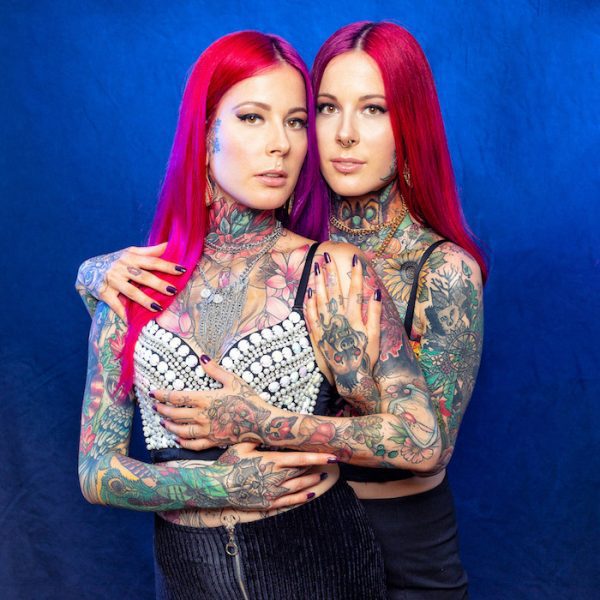 Try to tell Aline and Alena Petunia apart. Perhaps the only things separating these twins are the colorful designs they've purposely injected into their skin.
The 24-year-old twins hale from Germany and moved to Los Angeles last week to open not just one, but two, tattoo parlors. Both are called Petunia Twins Ink, one stands at 7928 Melrose Ave. near Fairfax, just outside of West Hollywood, and the other is at 142 S. Flores St. at Kings Rd. in Beverly Grove.
In opening two parlors, they apparently are following a trend of other brands like Moscot eyewear. "One of them is for celebrities and more private," said Alena. "The one on Melrose is more open for the crazy guys."
Our phone interview was conducted in English, however, the twins' first language is German. So some of their responses sounded rather innocent, and perhaps a bit more to the point than what one would hear from a native-American speaker.
For example, when asked why they chose Los Angeles to start their businesses, Aline replied, "Hollywood is a very big part and a famous part of California and we want to get famous." [laughs]
But at 24, perhaps they can be forgiven for declaring their desire for celebrity so openly. The sisters grew up in and around Stuttgart, which has influenced their art. "We grew up in a small village in Germany and we lived in nature," Alena said.
Their designs rely heavily on flora and fauna imagery, as well as bright colors beyond the common dark green and black we see in so many tattoos. These European "tattoopreneurs" offer a service that could be a big hit within hip, woke LA: vegan tattoos. (You didn't know tattoo inks and creams have traditionally been made with animal bone?) Requests for vegan tattoos are not terribly frequent so far, Aline said. But, "it's not difficult to choose some vegan products. It's very easy today."
Another unique value proposition the twins offer seems to be the comfort and trust they provide their female customers. "Many women or girls want to get a tattoo from…a female tattoo artist." It's not about sensitive areas of their bodies, they said, "it's more about the conversation."
The twins are financing their dream with their own money and investments from family members. In the future, the tattoo mavens want to expand by welcoming guest artists and occupying larger spaces.
Pizzana Bake Sale Raises $6k in Three Hours
On the Sunday before Thanksgiving, Candace Nelson, co-owner and pastry chef of Pizzana at 460 N. Robertson Blvd., was busy. Not only had she brought together more than half a dozen other LA-area pastry chefs for a robust bake sale fundraiser, she simultaneously Instagrammed about the event as I waited to interview her.
"I gotta do my part of the marketing and make sure people keep coming," she said.
The beneficiary of the event was No Kid Hungry, a nonprofit whose mission it is to end childhood food insecurity. A mom herself, Nelson said, "What they do is they go into schools and they provide breakfast for kids who otherwise wouldn't get that, which allows them to learn and feel secure."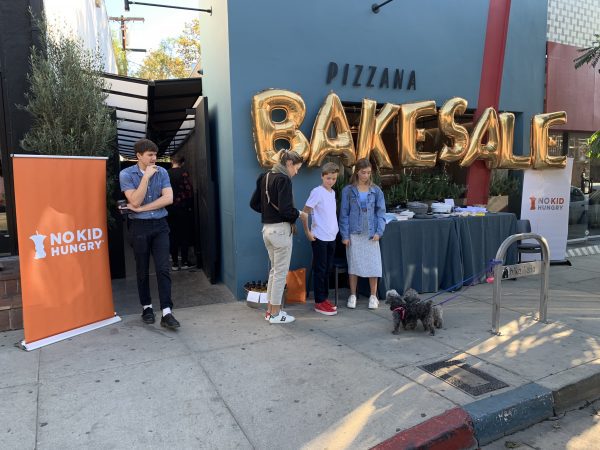 By the end of the three-hour event, which took place from 9 a.m. to noon, Nelson had raised more than $6,000 for the charity.
You may recognize Nelson. She started Sprinkles cupcakes in her home on Hancock Avenue before moving to Beverly Hills. "I was literally selling Sprinkles cupcakes out of that townhouse…so West Hollywood is an important place to me."
Pizzana West Hollywood opened earlier this year, taking over the space by longtime beloved institution Ed's Coffee Shop. Eager to make sure readers understand, Nelson said with a nervous laugh, "We had nothing to do with [Ed's] going out."
Bruce Vilanch Feels Up Rounderbum
Bruce Vilanch, the multiple Emmy award-winning comedian and LGBTQ rights advocate, appeared at undies-for-men retailer Rounderbum this past Saturday.
The reason? The West Hollywood Chamber of Commerce's Small Business Saturday, an American Express-created annual promotion to stimulate patronage of small businesses across the country.
Why? "Well, I love West Hollywood," he said. "And I love brick-and-mortar. Part of the charm of WeHo is the urban village. And part of that is little, kind of like mom and pop shops."
Vilanch held true to form, pausing for just a second before dropping a one-liner. "Of course, a place selling sexy underwear isn't exactly a mom and pop, unless, you know, you grew up with strippers."
Jonathan Diersing, co-owner of Rounderbum, was on hand in a tight-fitting royal blue t-shirt with his brand's logo emblazoned on the front. Diersing said having Vilanch in his store was "pretty cool." "He's done so many things, from "Hollywood Squares" [to the] Tony's and everything like that…He really is a gem, a WeHo gem."
Rounderbum is known for selling men's underwear that is padded in the crotch and the rear, to enhance a guy's appeal. Its West Hollywood store is on the northeast corner of Santa Monica Boulevard and San Vicente.
Chamber membership director Tracy Passo was onsite, too, smiling as she watched Vilanch and Diersing pose with two scantily clad underwear models in front of a step-and-repeat wall.
Speaking to the diversity of businesses the Chamber champions, Passo said, "I think it's really amazing that we can bring Rounderbum in. We can push the edge a little bit in West Hollywood."