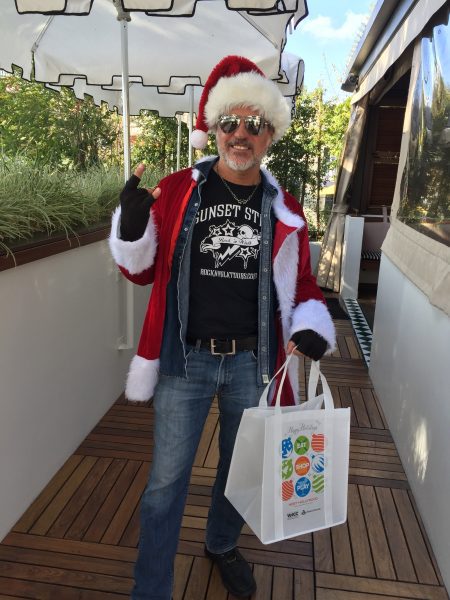 The beard is more likely to be a bit gray than white, and he will be wearing that Southern California tan. But you can still call him Santa when you step onto the West Hollywood Pick-Up Line free shuttle or the Sunset Trip shuttle over the next few weeks.
Rock 'n Roll Santa will be riding the Sunset Trip shuttle as part of a promotion by the City of West Hollywood and the Chamber of Commerce of "Eat Shop Play for the Holidays," He's onboard starting tonight from 5 to 9 p.m. and will also be there on Saturday and the next two consecutive Fridays.
The Sunset Trip is a free shuttle that takes residents and visitors along the Sunset Strip to stop at various restaurants, nightclubs, and bars and connects to Santa Monica Boulevard.
And then there's Hunky Santa, whose name suggests that he'll be more than a handful, riding the Pick-Up Line on Saturday nights beginning at 8 p.m. and on Sundays starting at 2 p.m.
The Pick-Up Line is a free shuttle designed to help people easily get to bars, nightclubs, and restaurants on Santa Monica Boulevard, and curb the likelihood that they will be driving while intoxicated. a campaign to promote local businesses.
A portion of proceeds from various businesses participating in the East Shop Play program will go to the Los Angeles LGBT Culinary Arts Intern program, which helps place homeless youth and seniors in hospitality-related businesses as a pathway for employment and career development.
The Santas will be handing out shopping bags, courtesy of Athens Services.
If you want to meet a specific Santa, here's the schedule:
Hunky Santa on the Santa Monica Boulevard Pick-Up Line: Saturdays, Dec. 7 and Dec. 14, from 8 p.m. to midnight; Sundays, Dec. 8 and Dec. 15, from, 2 to 6 p.m
Rock n Roll Santa on the Sunset Trip shuttle: Fridays, Dec. 6, 13, and 20, from 5 to 9 p.m. and Saturday, Dec. 7, from 5 to 9 p.m.