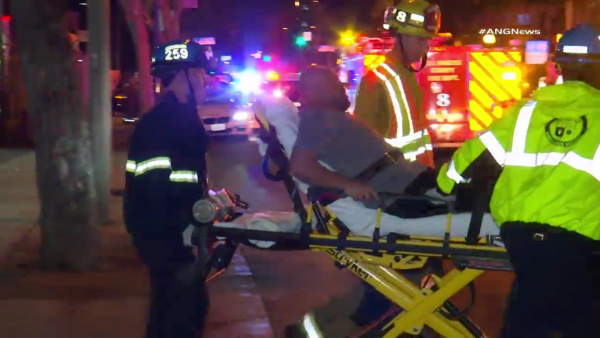 If you needed more evidence that you should take your eyes off your mobile phone and look both ways when crossing the street, consider that a recent report says West Hollywood ranked No. 9 in pedestrian accidents among all 88 cities in Los Angeles County in 2018. Perhaps more disturbing, WeHo ranked No. 1 in pedestrian accidents per number of residents.
The report, prepared by Pollard Bailey, a personal injury law firm, is based on data from the California Highway Patrol's Statewide Integrated Traffic Records System.
In 2018, West Hollywood experienced 60 car crashes involving pedestrians, with 57 of them including injuries to pedestrians and one resulting in the death of a pedestrian.
Los Angeles, the largest city in L.A. County with over 3.7 million residents, ranked No. 1, with 3,340 pedestrian crashes and 3,301 pedestrian injuries. Of those, 131 died. Los Angeles ranked No. 3 in the number of pedestrian accidents per resident.
According to the report, pedestrian crashes are more likely to happen early in the day and later in the afternoon.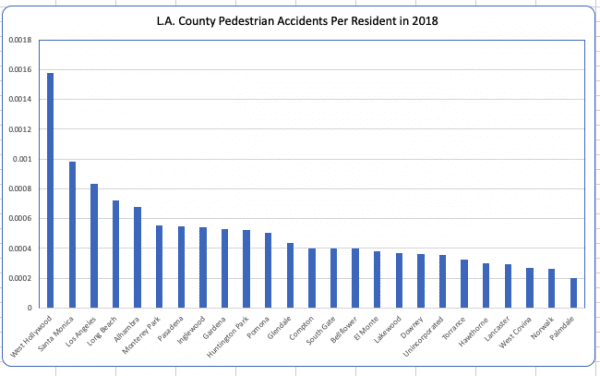 "From 7 a.m. to 9 a.m. is the first spike in pedestrian injuries, where everyone is presumably heading to work, dropping off their children to school, and starting their day," the report says. "The sudden spike in pedestrian activity (and therefore injuries) is dramatic: the time block from 7 a.m. to 8 a.m. shows a significant 114% increase in pedestrian injuries from the previous hour.
"The second spike occurs during the later rush hour period. Occurring from 5 p.m. to 8 p.m., this is the period with the highest number of crashes resulting in pedestrian injuries – the only hour periods where pedestrian injuries exceed 400 each hour. 6 p.m. to 7 p.m. is where pedestrian injuries were highest in 2018, with 450 pedestrian injuries."
"From 9 p.m. on, the number of pedestrian injuries follows a downward trend, until it hits the lowest point from 3 to 4 a.m. Map created by Pollard Bailey.
The Pollard Bailey report says the spike in pedestrian accidents between 3 and 4 p.m. – there were 386 – may reflect the fact that that is the time when most schools let out. "This leads to more foot traffic near school zones, greater congestion from parents picking up their children, and added potential for distracted driving."
The report suggests that the spike in pedestrian fatalities from 8 to 10 p.m. "could be attributed to additional foot and vehicle traffic as people go out and enjoy the nightlife."
Also worthy of note, the report says, is that " a majority of pedestrian accidents in L.A. County didn't occur at intersections: only 2,267 crashes occurred at or in the proximity of an intersection, such as a crosswalk – roughly 39% of all pedestrian crashes in the county for 2018.
"While this percentage remained roughly the same in pedestrian injuries, the difference in pedestrian fatalities between intersection and non-intersection collisions was significant: 52 fatalities vs 201 fatalities, respectively. This is likely due to general safety precautions at intersections to prevent such serious accidents. At non-intersections, there is a greater likelihood of unexpected things happening, such as pedestrians darting out into the sidewalk – which can lead to serious fatal consequences."