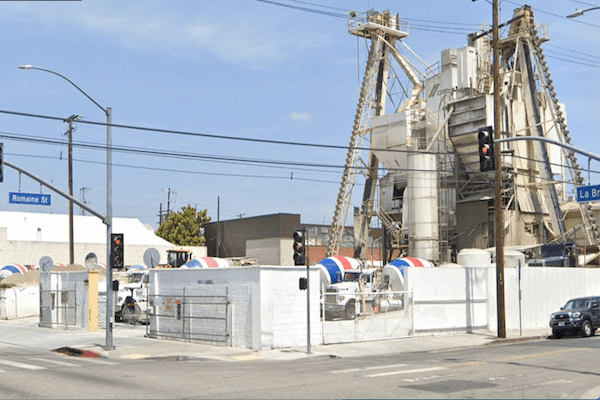 Beverly Boulevard on the south and Doheny Drive on the west, with Robertson Boulevard, La Peer Drive, and Santa Monica Boulevard in between. And now there's the lot at 1000-1028 N. La Brea Ave. occupied by the CEMEX concrete manufacturing plant. Jason Illoulian's Faring is sweeping from west to east across West Hollywood.
The Real Deal, a real estate industry news site, reports that Faring has purchased more than 70,000 square feet of land on La Brea Avenue in a series of deals for $29.6 million. That land includes the CEMEX site and Noble House Antiques, both located in West Hollywood, and 1011-1013 Sycamore Ave. and 7061 W. Romaine St., which are just outside the city's border in Los Angeles.
Eastern Gateway
While Faring will not disclose its plans for the site, the Real Deal says Illoulian issued a statement describing it as "an eastern gateway" to West Hollywood. Another part of that gateway will be a nine-story hotel to be developed by the CIM Group at 1040 La Brea Ave.
Faring's project, whatever it might be, will be the latest step in the evolution of a part of La Brea once notorious as a cruising area for prostitutes and drug dealers. Over the years that has changed with the development of a number of buildings including the Huxley and Dylan apartment buildings on La Brea north of Santa Monica Boulevard, and the Gateway shopping plaza south of Santa Monica Boulevard. The nation's first cannabis consumption lounge, Lowell Café, since renamed the Original Cannabis Café, recently opened on La Brea at Lexington Ave. South of Santa Monica Boulevard, outside of the West Hollywood city limits, there is the building at 925 N. La Brea that houses the WeWork shared office space. And on the southeast corner of La Brea and Romaine, a long-empty five-story building owned by Ben Soleimani's BMB Investments soon will house the first North America location of 1 Up, a gym and health club owned by Berlin-based McFit Global Group.
The CEMEX building sits on the northeast corner of La Brea and Romaine Street, at the very edge of West Hollywood's boundary with Los Angeles. Sand and other raw materials are brought there to be converted into as much as 60 truckloads of cement a day.  That cement has been used for projects such as The Grove and Cedars-Sinai Medical Center.
Just ahead of that property, on the northeast corner of Santa Monica Boulevard and La Brea occupied by the Avon car rental and Volvo car service businesses, the CIM Group plans to build a nine-story luxury hotel. CIM was the developer of the Sunset-La Cienega project, which was sold in 2017 to Pennsylvania-based Korman Communities and New York City-based Brookfield Properties and opened as the controversial AKA West Hollywood short-term stay hotel.
Other Faring Projects in West Hollywood
Faring currently is wrapping up the Harland, a 37-unit condominium project on Doheny Drive where one-bedroom units start at $2 million. It has received final approval from the City of West Hollywood for the Robertson Lane project, which will include a nine-story hotel with a total of 241 rooms, plus a rooftop restaurant and pool. Robertson Lane will also include ground-level retail and restaurant space, plus an underground nightclub.  Faring is hosting a community meeting on Wednesday to discuss its plans to demolish the nearby Bossa Nova and Hamburger Haven restaurants to build a three-story commercial building.
The design for Faring's proposed Bond Hotel & Residences on the northern block of Santa Monica Boulevard bordered by Orange Grove Avenue and North Ogden Drive will be reviewed by the Planning Commission's Design Review Subcommittee on Thursday.  On Thursday of last week, the Planning Commission gave its final approval to Faring's French Market project at 7985 Santa Monica Blvd.  at Laurel Avenue, which will include a three-story office tower at the rear of the property along with restaurant and retail space and a bar/nightclub and design showroom.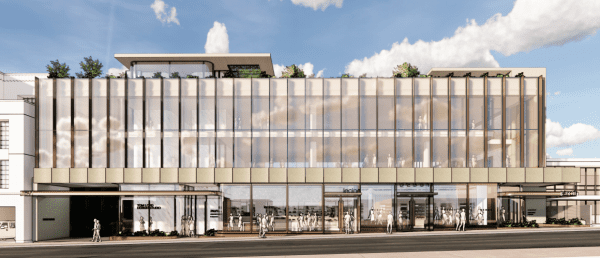 Another project in the planning stages is a three-story building at 637-651 N. La Peer Drive that would house a restaurant, outdoor dining space, retail shops, and design showrooms.
Still unclear is Faring's plan for five lots stretching from 8800 to 8806 Beverly Blvd. at Robertson Boulevard, 8816 Beverly Blvd. and 146 N. Clark Drive. Faring had once contemplated building a hotel there but then pitched the idea of a 10-story cancer center, which drew opposition from nearby residents.