The long-delayed opening of West Hollywood's Bottega Louie, which had been scheduled for Dec. 19, now has been pushed until March of next year.  The restaurant's employees, who have been training for weeks, got calls on Tuesday telling them that they have been laid off.
The restaurant has been under construction since 2016 at 8936 Santa Monica Blvd., once the location of Raffi's Jewelers, Balliamos dance studio and Unicorn Alley, an "adult" store.  It is an offshoot of the popular Bottega Louie restaurant in the Brockman building in downtown Los Angeles that is known for its Italian menu, gourmet market, and French patisserie.
The City of West Hollywood granted Bottega Louie the required permit in June 2016. Its owners, Chris Bollenbach and Kevin McKellar, partnered with David Cooley, owner of The Abbey, who had taken over the space to open a restaurant named Cooley's. They planned to open Bottega Louie in 2017.  A number of issues have delayed its opening, including opposition from Richard Giesbret, president of the West Hollywood West Residents Association. While the WHWRA did not take an official position on the matter, Giesbret objected that noise from the restaurant's rear patio, which faces West Hollywood Park, might upset homeowners in the area.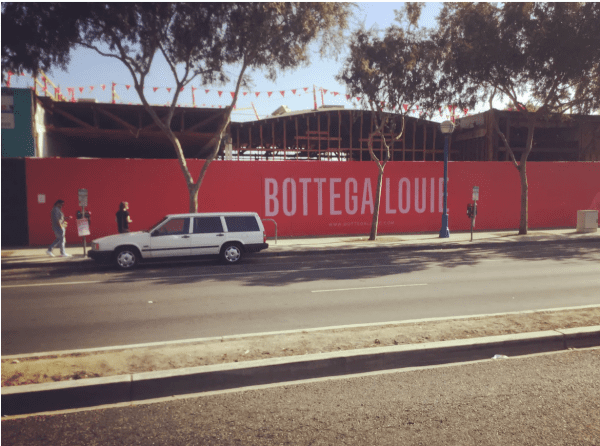 One employee of the restaurant, who asked not to be named, told WEHOville that the latest delay is because of construction problems.  He said there appeared to be problems with the heating, ventilation, and air conditioning system and that heating for the patio area wasn't working.
"We got screwed over," said the employee of the layoffs. He went on the payroll on Nov. 21, although he also had undergone some training in October when the restaurant was planning to open in November. "There are some employees who have no money and no other jobs," he said. He told WEHOville that those workers whose biweekly paychecks weren't set up for direct deposit have been told they must show up at Bottega Louie's West Hollywood location on Friday to pick up their final checks.
The employee estimated that the West Hollywood location had nearly 250 employees. He said they were told that they could reapply for their jobs when the restaurant finally opens but were not offered a guarantee that they would be hired.
The employee praised the managers of the West Hollywood location, including general manager Nick Schultz, for their work in training them. "We were starting to become a little bit of a family," he said.
The restaurant occupies an 8,900 square foot space and will have an estimated 200 seats and dining on the outdoor patio. Like the downtown location, it will include a patisserie, market, full bar, kitchen and dining area. The menus at Bottega Louie in West Hollywood will mirror that of the downtown location including breakfast, lunch, dinner and weekend brunch along with beer, wine, and cocktails.
WEHOville has reached out to Bottega Louie's Chris Bollenbach for comment on the delay but, as of publication, has not received a response.
EDITOR'S NOTE: An earlier version of this story stated that the West Hollywood West Residents Association had raised concerns about possible noise from Bottega Louie affecting neighbors. While Richard Giesbret, then the president of WHWRA raised that issue, the WHWRA did not take a position on it. The story has been updated to note that.