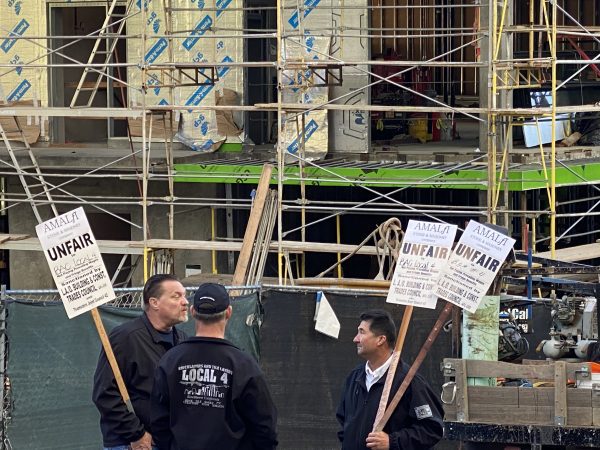 Workers from several unions rallied this morning outside the site for the Sunset Time on Sunset Boulevard, effectively bringing construction of the hotel and residential project to a halt. The strike was organized by the Union of Bricklayersand Allied Craftworkers (BAC) Local 4, which objected to what non-union workers of their craft were being paid by Amalfi Stone & Masonry Company, a non-union company working the general contractor, Hunt Construction.  The project is a partnership between Combined Properties and AECOM Capital
One of the union representatives, who asked that his name not be published because he was speaking without permission from a union lawyer, said members of BAC Local 4 were paid $60 an hour, an amount that includes benefits and union dues, to install brick, tile, marble, and stone in new projects. However, he said, those working on the site for Amalfi Stone & Masonry Company were paid $25 an hour and, in some cases, as little as $16 an hour for their work.  WEHOville has reached out to Amalfi for comment but as of publication has not received a response.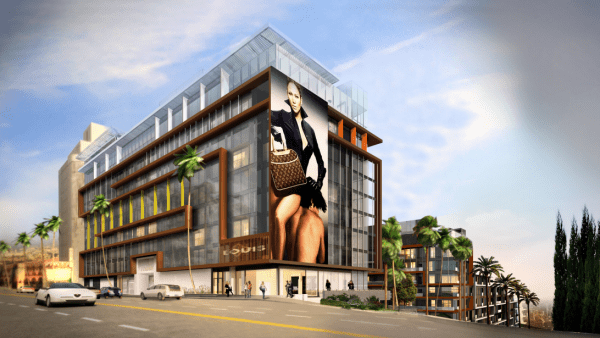 Other workers participating in the strike were those from Local 12 of the Operating Engineers Union, Local 18 of the Union of Elevator Constructors, Local 250 of the United Association of Steamfitters, Laborers Union Local 300, and Local 714 of the Carpenters Union.
Construction of the Sunset Time began in June 2017. The project extends from Sunset Boulevard south to Fountain Avenue. Facing Sunset Boulevard is the eight-story Pendry hotel, which will have 149 guest rooms, shops, and a restaurant and bar. Fronting Olive Drive and Fountain Avenue will be a 45-unit five-story condo building. The hotel building incorporates a 6,000 square-foot digital sign into its facade. It occupies the site that once was home to the House of Blues.
Sunset Boulevard has been the site of several union demonstrations in recent months, all focused on some of the many hotels that have transformed it from its famous rock 'n roll past.