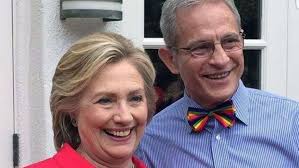 Right-wing media organizations used a photo of Hillary Clinton standing next to Ed Buck to promote a claim that Buck was a major donor to her campaign for president. Federal records show he donated only $2,750, the maximum individual donation allowed.
Now Fox News, Breitbart, the Washington Examiner, and the Daily Beast are calling out the appearance of Ed Buck's name on a list of those endorsing Elizabeth Warren's campaign for the Democratic Party nomination for president.
Warren's campaign, however, says someone added Buck's name with malicious intent.
Buck was arrested on Sept. 17 and has been in federal prison in downtown Los Angeles since then, awaiting trial on charges of providing drugs resulting in death and three counts of distributing methamphetamine. The deaths are those of Gemmel Moore, 26, a young black sex-worker, and Timothy Dean, 50, also black, who had worked at Saks Fifth Avenue in Beverly Hills.
In an interview with Huffington Post, a Warren spokesperson said the list was meant to include "alumni" of Barack Obama's presidential campaign. "This was a mistake considering Ed Buck was not staff or an alum. This was put together via Google doc by some Obama alums and they caught some non-staff that populated the list but obviously they missed one. They are removing it."
Those seeking signatures on petitions are not able to visit or contact Buck while he is in prison unless they are on a visitor list compiled by Buck and approved by prison officials.