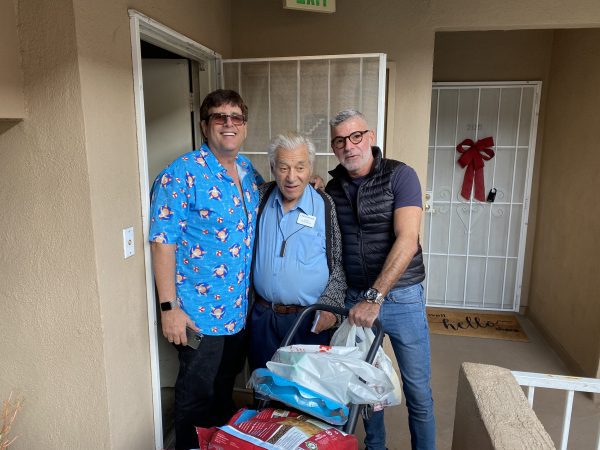 When was the last time you thought about making a wish? (The dictionary defines a wish as "a thing you want to make or have happen.") We send "best wishes" for holidays and birthdays, sometimes in a letter or card, to say that we hope someone will be happy, well, or successful.
Last week I was chatting with Larry Block, as I often do, about our WeHo community.  I congratulated him on his Block Party store winning a Creative Business Award and for his jubilant TV commercial celebrating Block Party's 10th anniversary in Historic Boystown. We talked about WeHo, the holidays, businesses that have closed, neighbors we have lost, and aging in place which touched very closed to home for me recently.
I told Larry about Yvonne, my neighbor, who lost her apartment after 45 years and would have lost her two beloved cats (Bellaface and Primo) if her longtime friend and neighbor Al Silverman hadn't offered to foster them temporarily.
Al is in his 80's with limited income and surviving on Social Security as are many of our seniors. His offer to foster the cats was a short term one while Yvonne was hoping to get permanent placement at the Motion Picture Home where she might be able to bring Bella and Primo.
A few weeks ago, Al found out that Yvonne will need back surgery, and it looks like he'll be keeping the cats indefinitely, which Al confided was a financial burden for him and that he might have to go back to work part-time at Petco.
Enter Larry Block and WeHo Wish. Larry said: "Go to WeHoWish.org and write in your wish for Al, and I'll run it by our board immediately."
I must admit, initially, it felt a little silly, and I wasn't exactly sure how to write a wish, but I sent in the following:
"My wish:
"My neighbor Yvonne lost her apartment after 40 years due to financial, health and hoarding disorders which I have spoken about at City Council. Thanks to JFS and David Giugni, Yvonne was placed in temporary assisted living awaiting permanent placement at the Motion Picture Home. Her neighbor and friend of 40 plus years, Albert Silverman, offered to foster her beloved cats, Bella Face and Primo for a short while but it looks like Yvonne will need surgery and Al (Albert Silverman) maybe providing a forever home for the cats.
"Al is a Section 8 tenant in his 80's with limited income, and fostering the cats is a huge financial burden for him. He stepped up to help his neighbor and friend and my wish is to help Al with food and care for the cats he has come to love and who are providing support and a purpose for him as well. I'm hoping WeHo Wish can provide a gift certificate and cat food and maybe some little toys for Bella Face and Primo, I peeked in Al's window the other night and saw him asleep on his couch with the cats in his arms.
"Thank you,
Marco"
24 hrs. later I received the following email from Larry Block:
"Dear Marco: The board affirmed your request for up to $400. Let's discuss the best way to grant the wish—"
Today Larry and I went to Petco and filled up carts with cat goods, supplies, toys, treats and a gift card for additional care and delivered all to Al's doorstep with our heartfelt "wishes" of joy and happiness to Al and his feline companions.
West Hollywood is a community and that's what I love most about WeHo, it defines us.
This from WeHoWish.org: "A neighbor helping a neighbor is very powerful. The spirit of community grows when all of us join together to lift our community from the bottom up."
So, go ahead and make a wish, not just for the holidays but every day. Wishes do come true.