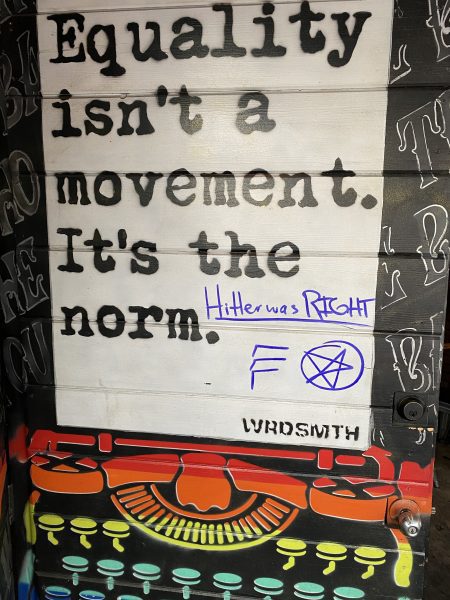 Graham Northwood, co-owner and manager of The Bayou WeHo, opened the New Orleans-themed restaurant and bar this afternoon to find an anti-Semitic message on the front door.
"Hitler was RIGHT," read the message, followed by an apparent (and inaccurate) representation of the Star of David and an odd letter that could be interpreted to mean the "F word." Ironically, the message was on a sign that read "Equality isn't a movement. It's the norm," which called out the Bayou's embrace of West Hollywood's gay community.
Northwood told WEHOville that he was searching for white paint to remove the scurrilous graffiti, which he said was very offensive.
The Bayou, which is at 8939 Santa Monica Boulevard between Hilldale and Robertson in the city's Boystown nightlife district, opened on Halloween night in 2012. It is owned by Northwood and Matt Chase. Northwood has been quoted as describing it as a "New Orleans-themed dive bar that is much more of a house party atmosphere."
The sign, he agreed, wasn't a great way to enter the New Year.