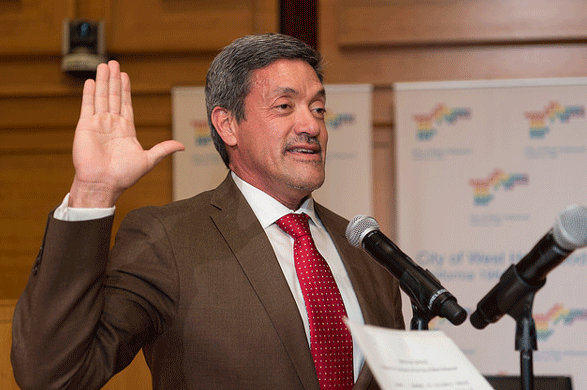 While John Duran's announcement that he would be seeking re-elections was not unexpected, it was as if he plopped himself into the proverbial holiday punch bowl.  This Grinch put the biggest downer on West Hollywood's holidays since the City Council banned Christmas in 1985.
I fully expected Duran to use this opportunity to announce his re-election team: Stormy Daniels serving as his treasurer, Michael Avenatti as his legal counsel, the Mani Brothers as his fundraising team.  Ed Buck would head up his list of endorsers.  He would be the first Council candidate with support from Labor garnering the endorsement of Local 69 of the Sex Workers Union. I heard he described his campaign consultant as some skinny, pimply-faced Korean.  Given that he is the only incumbent announced as a candidate for 2020, this would be an apt time for Duran to resurrect his old battle cry as his 2020 campaign slogan: "We're not all lesbians!"
Aside from the timing, his announcement was a bit strange in that he included an appeal for contributions.  Clearly, in Duran's campaign there will be no shortage of cash or chutzpa.  From day one Duran has been attempting to sabotage the city's recreational marijuana licensing program which was intended to keep the Council out of direct control over licensing and avoid the temptation for applicants to shower the City Council with campaign contributions.  Duran will be cashing in on his "free market" approach to licensing, which is making a mockery of the city's efforts to buffer the decision-making process from being influenced by money. 
Duran will also be cashing in on his support of allowing AKA West Hollywood to convert residential units into "extended stay" hotel rooms.  He will be amply rewarded for his support of the Townscape project on Beverly Boulevard with its $64 million dollar uber-luxury condos and for voting to allow the Center for Early Education to demolish an adjoining rent-controlled building to expand its playground.  The Arts Club won't forget that he led the charge to allow a parcel zoned for four stories to nine stories as well as being allowed to operate a boutique mini-hotel with an exemption from paying transient occupancy tax.  Duran's strategy is not so much to win the race as to buy it. 
What was missing from Duran's appeal was any sort of self-awareness of the damage he has wrought, not only to himself but to the reputation of our community. 
Frankly, other than having an ego-gratifying title, it is unclear why he is running.  His announcement states he wants to see the AIDS Memorial through to completion,  but I think that is simply because he just wants his name on the dedicating plaque.  Time after time Duran has shown that he has little interest in the actual job of City Council member, merely enjoying the perks and media opportunities of holding office.  It was common knowledge among city insiders Duran was on Grindr during public hearings for over a year before John D'Amico called him out on it.  I was not outraged that he was on a sex app during meetings; my outrage is that one's job as an elected official is to actually listen to public testimony before rendering decisions on city business.  Obviously, this guy could care less about what the residents have to say.  While other Council members have been dismissive of public input, they have at least had the good manners to pay attention and not be as obvious as Duran in his cavalier disrespect of the residents.  If you run for the job and reap the benefits, you should at least make an effort to be a good public servant.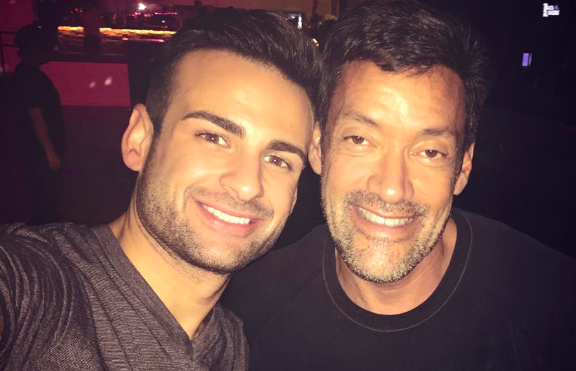 In Ian Owens' civil suit for sexual harassment, the former Council deputy alleged he was subject to harassment by Duran nearly every day. Duran's response was that he had an iron-clad defense because he only comes to City Hall three or four times a month.  While that is probably true, it should be noted that most of our Council members are at City Hall three or four times a week.  Clearly doing the people's business is not a huge priority with this guy. 
I have known and worked with John Duran for 30  years.  He has always been a narcissist, but it has only after he became a City Council member that his sense of entitlement allowed him to believe the normal rules of adult conduct that apply to the rest of us mere mortals do not apply to him.
For Duran, West Hollywood has merely served as a vehicle for self-promotion.  After two unsuccessful bids at running for the state legislature in Orange County, he moved to West Hollywood to run for the State Assembly in 1994.  Thwarted in that bid, Duran ran for City Council in 1997 and was defeated by Jeff Prang before winning a Council seat in 2001.  This guy did not come here to serve the community but rather to serve his own ambitions.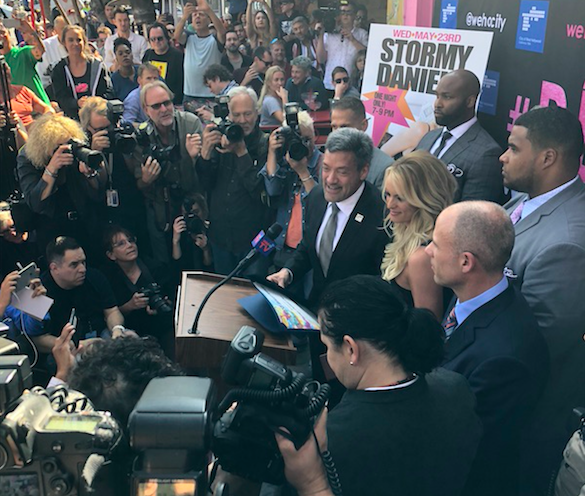 But the antics began almost immediately.  He was investigated by the DA's Office for abusing city credit cards and avoided criminal charges by paying back thousands of dollars to the city.  In 2013, when challenged by a young Sheriff's deputy, Chris Landovazzo, Duran personally threatened a member of the Gay and Lesbian Advisory Board with ouster because this member had endorsed Landovazzo.  This was completely over the top as Landovazzo did not represent a credible threat to Duran's re-election, but it speaks volumes about Duran's character.  The young man came to a City Council meeting and publicly resigned, citing Duran's electoral bullying.  Please note that John Duran is a self-proclaimed "civil rights" attorney. 
Of course, the City Council's silence on both of these issues was the beginning of a long history of enablement of Duran's self-indulgent conduct. 
Duran's fundraising for his campaigns as well as for the Gay Men's Chorus and the National Association of Latino Elected Officials, where he served as a board member, helped earn West Hollywood a well-deserved reputation for "pay to play" politics.  Duran's support for unbridled development has always been richly rewarded.  Indeed, he believed that his six-figure fundraising for the Gay Men's Chorus would entitle him to engage in aggressive sexual antics with impunity while the board turned a blind eye.  Ultimately that sense of entitlement lead to his downfall and ouster from the Chorus. 
While Duran's history of inappropriate and unethical conduct will be well documented in the coming campaign, his antics over the last four years began with the predictable sexual harassment lawsuit filed by his Council deputy, Ian Owens.  Duran met Owens on Grindr.  Duran immediately determined that the talented Owens was "highly qualified" to become his new deputy.  They hid their sexual relationship from our Human Resources Department even though Duran had a legal obligation to disclose their sexual encounter.  Hiring Owens without disclosing their tryst was an ethical and professional breach that Duran, as an attorney, consciously disregarded.  The $500,000 sexual harassment award speaks to the seriousness of the charge, and the decision to hide their prior relationship fatally undermined any defense the city may have had to that lawsuit. 
 Of course, you can believe that Owens was a liar and Duran was innocent of the charges, but a half-million-dollar settlement is far from being "nuisance value"; Duran was guilty and our insurance carrier refused to take the case to trial.  Subsequently, in a lawsuit arising from the termination of the Council deputy positions, Duran did testify before a jury.  He essentially bragged about his sexually charged conduct at City Hall but went on to lecture the jury that this was his right as a gay man to express his identity.  He rationalized his actions by claiming he is simply standing up for gay cultural values.
 Duran styles himself as a historian of the LGBT civil rights movement.  But, when he publicly stated that gay men need to be held to different standards of sexual conduct in the workplace than other people, he was echoing the sentiments of State Senator John Briggs, who launched a divisive initiative in 1978 to ban gay men from teaching in our schools.  Like John Duran, Briggs said that gay men could not abide by the same rules of conduct as other adults and therefore could not be trusted to teach our children.  Duran's shameful self-serving defense was an act of betrayal to the gay community and validated decades of homophobic tropes against our community.  Anyone who still believes Duran is a hero of the gay community is a fool.  Sadly, he has squandered years of activism and become a parody and a punch line.  Nobody is holding Duran up as a role model.
In 2019 Duran resigned as mayor in the wake of the crisis at the Gay Men's Chorus.  He then went on a radio rant, portraying himself as a victim who was betrayed by his Council colleagues, describing them as being joyless and sexless cretins jealous of his sexual prowess.  That interview led to a belated censure by the City Council.  That censure is unprecedented in the history of the City of West Hollywood.
If we could monetize John Duran's antics as some sort of reality television show, the revenue we would reap would probably allow us to stop issuing parking tickets.  We could ask Lisa Vanderpump to be the producer.  If West Hollywood Council was a reality TV series, then we would have to consider the value of allowing Duran to have another season.  Because you can bet money if Duran is re-elected there will be many more embarrassing episodes of the John Duran Show.