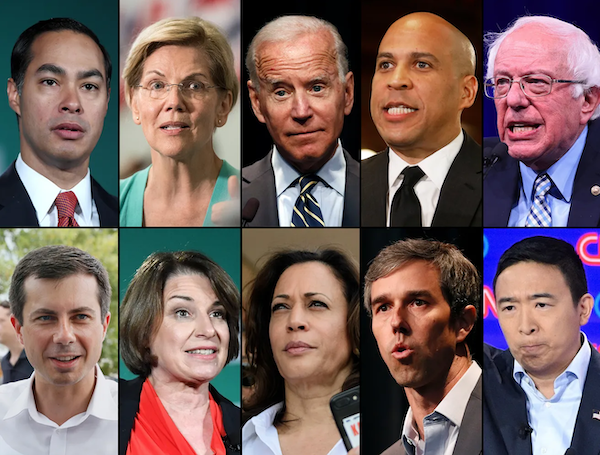 Who are West Hollywood residents going to vote for in the November 2020 Presidential election?
Obviously, it's too early to say at this point, with the actual election 10 months away.  (However, the Feb. 3 Iowa caucus will tell a lot for those in the Democratic Party).
But an analysis of campaign contributions by residents of West Hollywood does suggest the way our city's voters may be leaning.
Donations registered by the Federal Election Commission from 2017 to 2020 suggest that Pete Buttigieg is West Hollywood's choice for the Democratic Party's presidential nomination. Buttigieg's campaign has pulled in $158,414 from 510 West Hollywood donors. That's an average of $311 per donor.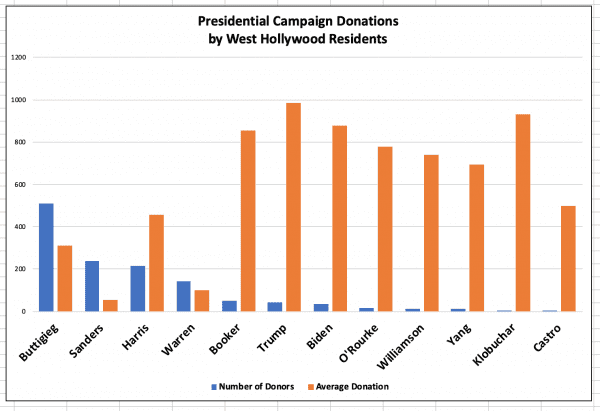 Buttigieg, the mayor of South Bend, Ind., is a political moderate and openly gay. That's likely a major reason for his support by West Hollywood residents, 33% of whom identify as gay men according to the city's 2019 Community Survey.
The next most popular candidate, in terms of number of donors, is Bernie Sanders, the U.S. Senator from Vermont who is an Independent vying for the Democratic Party nomination. FEC records show that 240 West Hollywood residents donated to Sanders' campaign. However Sanders, a progressive who identifies as a Democratic Socialist, attracted donations that averaged only $53 each, for a total of $12,646.
In number of donors, Sanders is followed by Kamala Harris, the U.S. Senator who recently dropped out of the race. Harris attracted donations from 214 people, with an average of $456 per donor. The total was $97,534.
U.S. Sen. Elizabeth Warren of Massachusetts, the other progressive Democratic Party candidate in the race, is next, with 144 donors who gave an average of $101 each for a total of $14,520.
The number of donors to Democratic Party candidates drops sharply after that, with U.S. Sen. Cory Booker of New Jersey attracting donations from 50 people. With an average donation of $857, those contributions totaled $42,825.
Booker is followed by Donald Trump, the Republican president whose re-election campaign has attracted donations from 42 West Hollywood residents. Those donations, which averaged $984 each, totaled $41,337. Other donations have been made by West Hollywood residents to the Republic Party committee dedicated to Trump's re-election.
Beto O'Rourke, the former U.S. Representative from Texas who has dropped out of the Presidential race, had attracted $13,234 in donations from 17 West Hollywood residents. The average donation was $778.
Former Vice President Joe Biden has had only 34 donors, who gave an average of $880 each for a total of $29,908. Marianne Williamson, who identifies as a spiritual leader and was a founder of Project Angel Food, has attracted a total of $9,611 from 13 donors. That is an average of $739 per donor.
The campaign for Andrew Yang, the entrepreneur who founded Venture for America, has attracted 11 donations totaling $7,624 from West Hollywood residents. The average donation was $693.
Six West Hollywood residents have donated a total of $5,600 to the campaign of Amy Klobuchar, the U.S. Senator from Minnesota. That is an average of $933 per donor.
And the campaign of Julian Castro, former mayor of San Antonio, Tex., and head of the Department of Housing and Urban Development under President Obama, has garnered a total of $1,000 from two WeHo residents.
Other candidates – U.S. Sen. Michael Bennett of Colorado, former New York City Mayor Michael Bloomberg, former U.S. Representative Tom Delaney of Maryland, U.S. Rep. Tulsi Gabbard of Hawaii, former Massachusetts Gov. Deval Patrick, and billionaire activist Tom Steyer – don't have any donations from West Hollywood residents listed in the FEC database as of publication of this article.