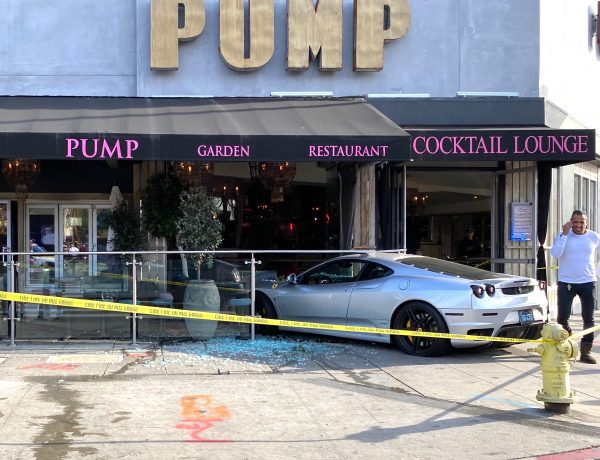 UPDATE: In an interview with TMZ, Ken Todd, Lisa Vanderpump's husband, said PUMP would remain open for the day. According to TMZ one woman suffered a minor injury related to the crash and was taken to the hospital.
A Ferrari crashed into the front of Lisa Vanderpump's PUMP restaurant and bar this afternoon, bringing a halt to a brunch and lunch scene popular with reality TV fans.
WEHOville was alerted to the crash at 2 p.m., shortly after it happened. A photo taken by someone near the scene shows the car crashed through the Santa Monica Boulevard side of PUMP, which is located on the southeast corner of Santa Monica and Robertson boulevards. Law enforcement officers and fire department rescue workers are on the scene. It isn't clear as yet if anyone was injured, however the man who appears to have been the driver was seen on the sidewalk yelling at Sheriff's deputies.
PUMP is one of several West Hollywood locations opened by Vanderpump and her husband, Ken Todd. Vanderpump is known for her appearances on Bravo's "The Real Housewives of Beverly Hills" and"Vanderpump Rules," and "ABC's Dancing with the Stars." She is an owner of Sur, a restaurant on Robertson Boulevard near Melrose, and recently opened Tom Tom at 8932 Santa Monica Blvd. That bar is expanding, with the new addition set to open soon.
WEHOville will update the story with more information as it becomes available.