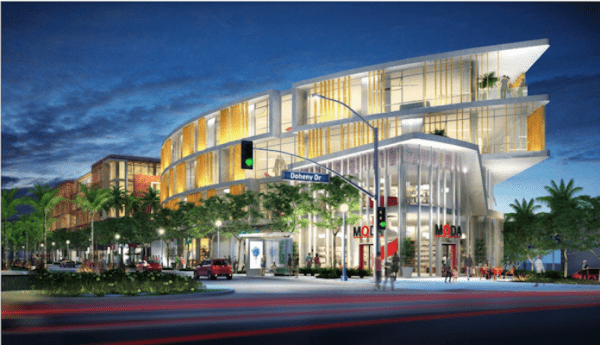 The developer of the Melrose Triangle project is seeking permission from the City of West Hollywood to make a major change that would focus the project more on offices than housing.
Melrose Triangle is a 117,000-square-foot property bordered on the north by Santa Monica Boulevard, on the south by Melrose Avenue and on the east by Almont Drive. The developer is System LLC, which is associated with the Charles Company, whose principals are brothers Mark and Charles Gabay. The original design for the project by Studio One Eleven was praised as a "gateway" into West Hollywood from Beverly Hills.
The original plan, which was approved by the City Council in October 2014, devoted 137,064 square feet to office space. The second largest use was residential, with 77,753 square feet used for 76 units, (eight of those for low-income residents and eight for moderate-income residents.) That was followed by retail, with 45,112 square feet to house shops. The developer also planned a 16,404-square-foot art gallery space and a commercial showroom of 12,303 square feet. The plan included 8,202 square feet for a restaurant.
In a modified project description submitted to the city's Planning and Development Services Department, the developer proposes to increase the amount of office space by 152% to a total of 345,328 square feet.  The 45,112 square feet of retail space would be reduced by 82% to 8,239 square feet.  And the space devoted to housing would be reduced by 87% to a total of 9,887 square feet, with all of that space used for low-income and moderate-income housing.  The inclusion of affordable housing allows the developer to increase the project by 10 feet in height from what is allowed in the zoning for that area.
The revised proposal does not include the art gallery or showroom spaces. It would still include space for a restaurant and public space. It would include 686 parking spaces, down 22% from the 884 initially proposed.
It is unclear why the developer is proposing these changes, which must be reviewed by the Planning Commission and approved by the City Council. WEHOville reached out to Mark Gabay but, as of publication, has not received a response.
One likely factor is the decline in demand for retail space in this era where more and more people shop online. The RealDeal, a real estate industry website, reported in October on a study by CBRE that found that the overall vacancy rate for retail spaces in Greater Los Angeles has increased and the rents have declined. There are exceptions in some areas such as Rodeo Drive in Beverly Hills and the Third Street Promenade in Santa Monica.