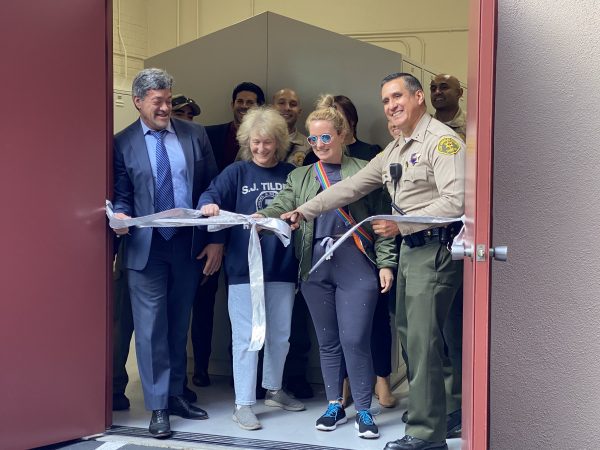 Merriam-Webster defines a "war bag" as a place where a cowboy keeps his personal possessions.  But at the Sheriff's Station, it's where a deputy packs his or her radio, flashlight and other important pieces of equipment to haul it from home to the car to work and then back again.
Until today.  The West Hollywood Sheriff's Station held a ribbon-cutting today to officially open a locker room to keep those supplies, which can weigh as much as 50 pounds. That's a lot to carry from home to car to station and back again said Capt. Ed Ramirez, who was happy to host the ribbon-cutting.
The locker room, which was paid for by the City of West Hollywood, is an important measure to keep the deputies' equipment safe said Ramirez, who noted that theft of such equipment can lead to a written reprimand or suspension of the deputy possessing it.
Ramirez was joined by a number of deputies and detectives, including Lt. Bill Moulder and Sgt. Jon Klaus, who are known for their interactions with the community. Also there for the ribbon cutting were City Council members John Duran, Lindsey Horvath, and Lauren Meister.