Crime in West Hollywood was down 10% in 2019 compared to 2018. Up until December, crime was down 17% for the year, but a rash of burglaries on the city's Westside in December pushed that number to 10%.
That's still less than in 2018, but more than officials were hoping for according to Captain Ed Ramirez of the West Hollywood Sheriff's station. Ramirez noted that throughout the greater Los Angeles region, burglaries typically go up in December.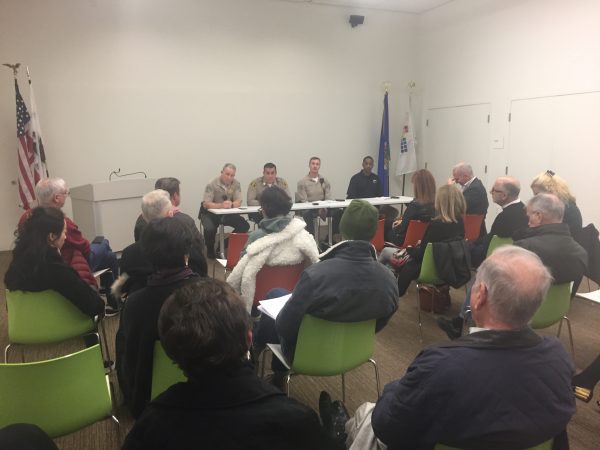 Ramirez announced those statistics Thursday night during a public safety meeting with residents of the West Hollywood West neighborhood. About two dozen people attended.
As for the individual areas of West Hollywood, Ramirez said that crime on the city's Eastside was down 26% in 2019 compared to 2018. In the Center City, crime was down 8% compared to 2018.
However, on the Westside, crime was up 1.5%. That increase was due to thieves grabbing unattended phones and/or purses in clubs and restaurants.
Ramirez stressed it is important to keep your valuables with you in clubs and restaurants, not to leave them unattended.
To deter burglaries in homes, leaving lights on, inside and out, is likely the best thing residents can do.
"Light is effective," said Ramirez. "People love working under cover of darkness."
If people don't want to leave outside lights on all night, then lights activated by a motion detector can be equally effective at scaring away criminals.
Another good deterrent is having a dog in the home. Burglars are scared away when they hear a dog barking inside or see dogs in the yard.
Vehicle burglaries account for a large percentage of the overall crimes in the city, with a total of 593 vehicle burglaries occurring in 2019. The items stolen from cars totaled about $1.9 million in value.
Ramirez advised people never leave items visible in their car. Lock them in the trunk instead. Even if it's a bag with dirty gym clothes, lock it in the trunk.
"Thieves don't know it's just gym clothes. They just see a bag in the backseat and grab it," said Ramirez. "They can do a Smash and Grab. It's probably a five-second crime."
In 2014, voters passed Prop 47, which downgraded many nonviolent crimes to misdemeanors, including vehicle burglaries. Thus, thieves have less fear of prosecution. And even when people do try to prosecute, a loophole in the law often requires car owners prove the car was locked, something frequently impossible to do.
Resident Manny Rodriguez reported he has had two car burglaries, but also admitted they were his fault as they occurred the two times he forgot to lock his car. Likewise, his bicycle was stolen from his backyard the one time he forgot to lock his back gate.
Rodriguez also reported that his security cameras reveal that each night, in the wee hours of the morning, people come down his street, pulling at car handles to see if the car is unlocked. In his case, the two times his car was unlocked, they quickly grabbed items in his car.
Cameras can be also be effective in deterring crime. And even when crimes occur, the camera footage can often help catch a criminal. The Ring doorbell security cameras are especially effective.  
Lt. Bill Moulder said residents should report crimes, even small ones, to the sheriff's station since video footage may be available to help catch the criminals.
In December, several cars in West Hollywood West were graffiti tagged with the numbers 666 or a pentagram. Ramirez reported that person was caught and is now in custody, but only after he tagged several cars in other affluent areas like Brentwood and Santa Monica, plus vandalized several Jewish schools.
It was a different person who left anti-Semitic graffiti tags on several businesses on Santa Monica Boulevard earlier this month since the person who tagged the cars was in custody at the time, Moulder reported.
Recently, there was also a rash of catalytic converter thefts from cars in West Hollywood West. Deputies are still investigating that, but urged people to report even the smallest of crimes.
Residents should also contact Block by Block, the private security firm which patrols the streets. Shae Gibson, the operations manager for the Block by Block Security Ambassadors, reported they do not carry weapons, but are trained to verbally deescalate a situation using "verbal judo" as he phrased it.
Block by Block officials cannot make arrests, but can contact the sheriff's station. More importantly, they can serve as a visual deterrent to crimes.
Contact Block by Block at (323) 821-8604. Contact the Sheriff's station at (310) 855-8850.