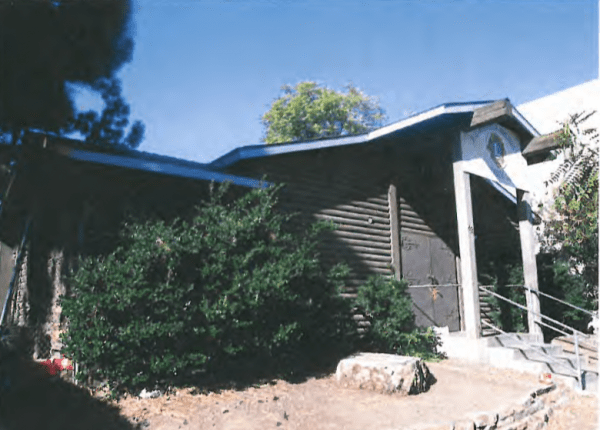 West Hollywood City Council members and members of the recovery community are expressing feelings of shock with the announcement that the City of Beverly Hills intends to demolish the historic log cabin on Robertson Boulevard that has long been the home for drug and alcohol recovery groups.
Beverly Hills has notified the Lions Club of West Hollywood, which owns the building, that it must vacate it by March 31. The City of Beverly Hills owns the lot on which the building is located. Its lease with the Lions Club expired on July 1, 1977, and was never renewed.
The building is located at 621 N. Robertson Blvd. and, while the land is owned by Beverly Hills, it is located within the West Hollywood city limits. City Councilmember John Duran and Mayor John D'Amico have raised the possibility of blocking the hasty demolition by requiring that the City of Beverly Hills submit its plan to the West Hollywood Historic Preservation Commission.

"This building and its meetings are a much beloved and important community resource, and the City of West Hollywood would like to hear from folks about this and so should the City of Beverly Hills," said Mayor D'Amico.
A survey of properties in WeHo that might qualify as historically or culturally significant says the rustic log cabin was built in 1928 to house Troop 27 of the Boy Scouts of America. (Other documents have described it as having been built between 1930 and 1939.) Eventually, it became home to the Lion's Club. And over years it has evolved as a meeting place for groups such as Alcoholics Anonymous and Crystal Meth Anonymous that help people recover from addictions.
The lot is said to have been used at one point by the Beverly Hills Water Authority, which is why it remains under that city's ownership despite being within the boundaries of West Hollywood. Last year the City of West Hollywood began negotiations with the City of Beverly Hills to acquire or lease the property.
It is unclear what Beverly Hills intends to do with the property., West Hollywood residents who are concerned about the possible demolition are advised to reach out to Beverly Hills City Manager George Chavez at citymanager@beverlyhills.org or elected officials at mayorandcitycouncil@beverlyhills.org.