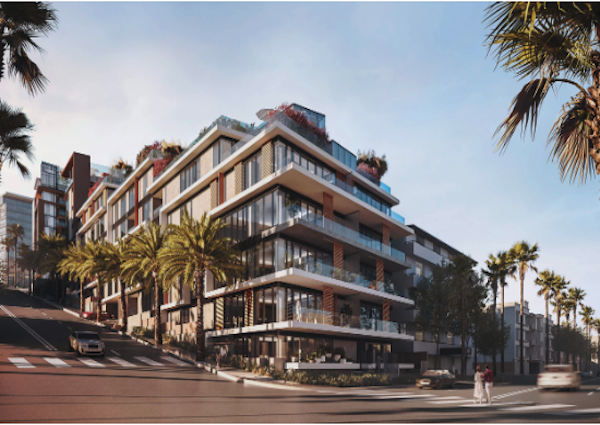 If $85 million, the projected price for a condo on the top floor of 8899 Beverly Blvd., is out of your price range, you might want to consider that $30 million condo now for sale as part of the Pendry Residences on North Olive Drive at Fountain Avenue.
According to the Robb Report, that is the price of one of the 40 condos in the building under construction behind the Pendry West Hollywood hotel (formerly known as the Sunset Time) on Sunset Boulevard. (On the low end, there are condos available for only $3 million). The building is expected to open this Spring.
The prices aren't the only aspect of the Pendry Residences that elevate them above the surrounding hoi polloi. "The residential building will be tiered along the slope of the block, providing owners with unobstructed views of the Hollywood hills and the layers of mountain ranges beyond, the twinkling lights of the city and even some vistas stretching to the ocean," the luxury lifestyle publication reports. The condos "manage to feel incredibly secluded despite being just steps from famed night clubs and shopping in the district."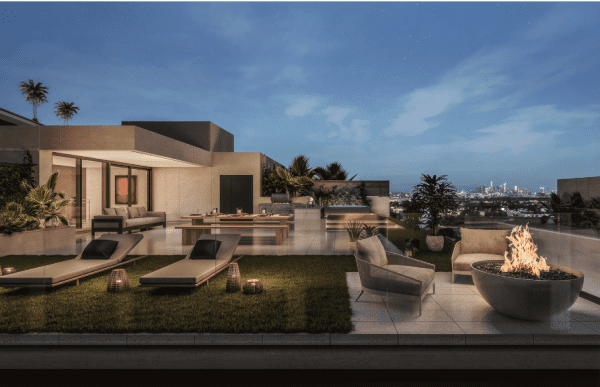 The condos, some dubbed "residences" and some "terrace estates," will range from "2,000-square-foot urban pied-a-terres to spacious, 6,000-square-foot condos with rooftop pools and substantial (some more than 2,500 square feet), landscaped outdoor living areas," the Robb Report says.
There also will be a valet on site to escort condo residents from their cars. And there will be no need to explore the neighborhood. The Robb Report says the project includes amenities "such as a rooftop pool for those units sans private pool, a fitness center, a wine room and lounge. In addition to the room service, housekeeping, catering, and in-house dining with the hotel chef, there will be an "intimate concert/music venue inside the hotel, as well as a screening room, bowling alley, a spa, and both casual and fine dining by Wolfgang Puck. Owners will have membership in the hotel's private social club as well, if desired."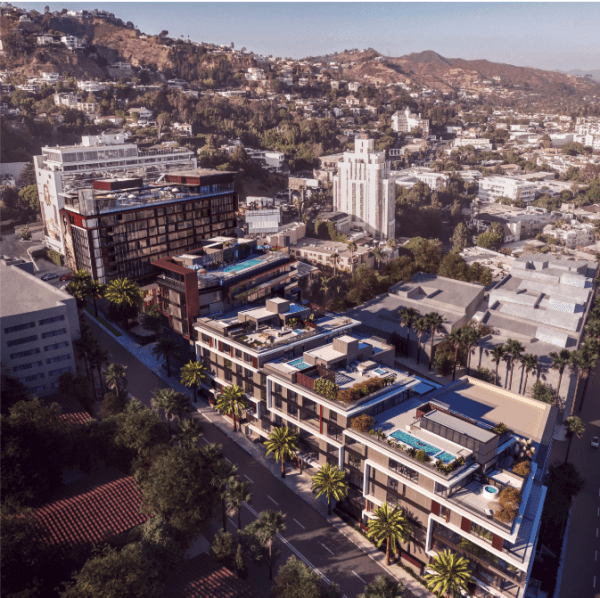 The Pendry Hotel and Residences are on land formerly occupied by the House of Blues and apartment and condo buildings behind it that stretched down Olive Drive to Fountain Avenue. One of the two-bedroom, one-bath units that was part of 1326 Olive bungalows had been on the market for $1.2 million before it was demolished for construction of the Pendry Residences.
The Pendry is a project of Montage Hotels & Resorts. Another recently opened hotel, the Marriott Edition on Sunset Boulevard at North Doheny Drive, also features 20 condos in a separate building behind the hotel and facing Harratt Street. Those one- to four-bedroom units are said to be priced at $5 to $8.5 million, with the penthouse on the market for $25 million.