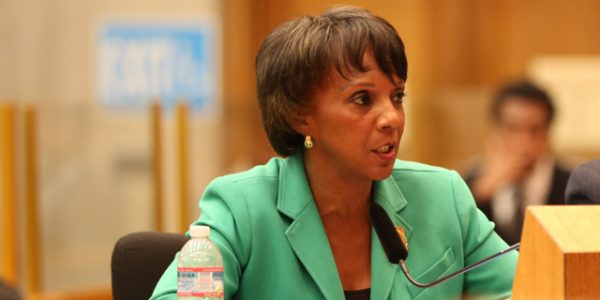 A Los Angeles federal judge Thursday dismissed Los Angeles District Attorney Jackie Lacey and one of her deputies from a civil rights lawsuit brought by the mother of Gemmel Moore, who was found dead of a methamphetamine overdose in Ed Buck's West Hollywood apartment in 2017.
In his ruling, U.S. District Judge Cormac J. Carney wrote that allegations could not be proven that Lacey was motivated by racial bias when she declined to investigate Buck even after Moore's mother, LaTisha Nixon, provided evidence allegedly showing that Buck was a predator who had a custom of drugging and assaulting black men.
Carney also dismissed Deputy District Attorney Craig Hum from the lawsuit, which was filed in Los Angeles federal court.
However, the judge gave the plaintiff two weeks to amend her complaint to show that the county has a purported history of under-investigating reports of crime when the reports are made by black women against white men.
Nixon "may be able to plead additional facts that make her claims of racial animus" against the county plausible, the judge wrote.
Nixon's lawyer, Nana Gyamfi, said that her client had allegedly been turned away by Lacey last February when she attempted to meet the prosecutor and hand over a 30,000-signature petition demanding an investigation into Buck.
Lacey and Hum were named as co-defendants for allegedly violating Moore's civil rights in their refusal to prosecute Buck.
Moore was the first of two men to die at Buck's West Hollywood apartment in less than 18 months. He was found dead of a crystal meth overdose in Buck's home on July 27, 2017. The coroner ruled the death accidental.
On Jan. 7 of last year, a second man died of methamphetamine toxicity at Buck's home at 1234 N.  Laurel Avenue. The death of Timothy Dean, 55, of West Hollywood was also ruled accidental.
Buck's attorney at the time, Seymour Amster, denied that his client — who allegedly was present at the location when both men died — had any involvement in either death.
Lacey declined to file charges against Buck regarding Moore's death, citing insufficient evidence. As for Dean's death, the District Attorney's Office has said that it remains under investigation.
Moore's mother, who said her son had been living with her in Texas, said Buck bought him a plane ticket to return to Los Angeles, which he did the day he died.
Buck has been a prominent donor to California political candidates and office holders. He has also been active in LGBTQ political circles and once ran for the West Hollywood City Council.
In an October speech to the Los Angeles chapter of the Stonewall Democratic Club, Lacey said errors committed by sheriff's deputies and a coroner's office investigator may have played a significant role in the decision not to criminally charge Buck in Moore's death.
Buck was arrested in September, more than two years after Moore's death, and charged with running a drug den. A short time later, Los Angeles federal prosecutors charged him with providing the drugs that led to both Moore's and Dean's deaths, as well as three counts of drug distribution.
Buck faces a minimum of 20 years in federal prison if convicted. He is being represented by Christopher Darden, a lawyer known for being part of the team that prosecuted O.J. Simpson and for defending the man accused of killing Nipsey Hussle.
The details of the federal indictment only intensified questions about why it took so long to charge Buck, despite the fact that several men had come forward and claimed Buck engaged in predatory behavior and injected them with drugs against their will.
State prosecutors cited an "inadmissible search and seizure" among the reasons not to prosecute Buck in connection with Moore's death when they filed a memo declining to charge him with manslaughter in 2018.