With a unanimous vote on Thursday night, West Hollywood's Planning Commission approved a new four-story retail-residential project at 7617 Santa Monica Blvd., near Curson, a site currently occupied by the Madison Car Wash.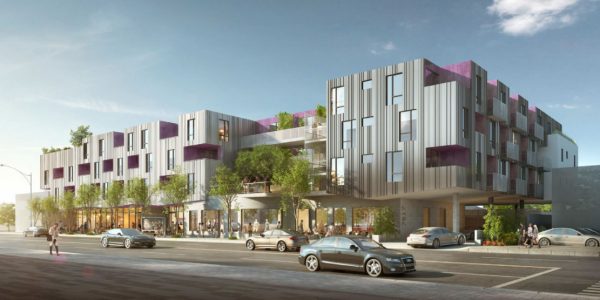 The 63,560 square foot, 45-foot-tall project will have 71 residential units, 11 of which will be set aside for lower-income residents. The ground floor will have 8,600 square feet of retail space and at-grade parking for retail customers. There will also be two subterranean levels for residential parking, for a total of 131 spaces in the project.
Designed by Christian Robert of the Culver City-based Office Untitled architecture studio (formerly known as R&A Architecture & Design), the project features four different courtyard areas for residents, plus a rooftop pool area. The exterior covering will be dark and light corrugated metal panels, combined with a white and fuchsia cement plaster, an element the commissioners especially liked.
Century City-based La Terra Development LLC, which has a dozen Los Angeles area residential projects, is the owner and developer. Real estate investor Charles Tourtellette is the founder and CEO of La Terra Development.
The commissioners were impressed with the design and appearance, several calling it "beautiful" and "thoughtful."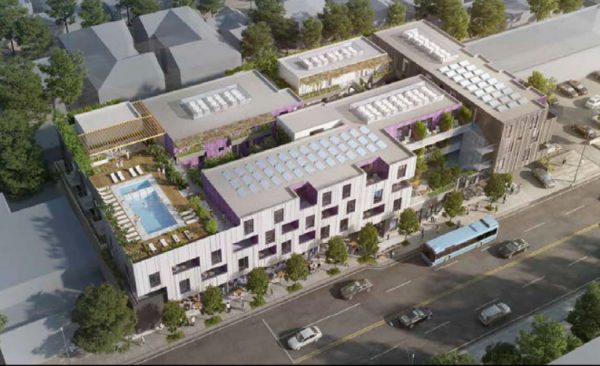 "I'm really pleased with this project," said Commissioner Lynn Hoopingarner. "I would say, 'Please more of these'."
Commissioner Rogerio Carvalheiro praised the design, feeling the project would vastly improve that section of the city.
"I'm somewhat sad to see the Googie-style car wash go. I think what we're getting in its place is far beyond," said Carvalheiro. "It sets a great example for Santa Monica Boulevard and elevates all of it."
Commissioner John Erickson concurred, feeling the building would create a standard for other projects in the area.
The commissioners were also pleased that it would activate an area that has very little pedestrian activity after dark while not tearing down any existing housing.
"How great is it that we are just adding housing without actually getting rid of anything. I think that is a really big plus to this project," said Commissioner Adam Bass.
Of the 21 people speaking during the public comment period, 16 fully supported it. They were glad it was bringing housing to the city. They also felt it would be an improvement to the neighborhood and were glad to see the car wash, a frequent spot for drug dealing, leave.
"It represents hope, inspiration, and it really will enrich our neighborhood," said Bob Scallian who has lived in the area since 1984.
Meanwhile nearby resident Kelly Stagg looked forward to the shops in the project and the visual improvement it will provide the area.
"It brings a complete facelift to this part of town," said Stagg. "West Hollywood is a city of progress and that area is not looking so hot these days."
Of the public commenters opposed, several were concerned how it would change the fabric of the neighborhood. Two others, who live directly behind it, were concerned how the four-story building would affect their privacy and as well as the potential noise from the building affecting their quality of life.
Commissioner Sue Bucker was absent from the meeting.