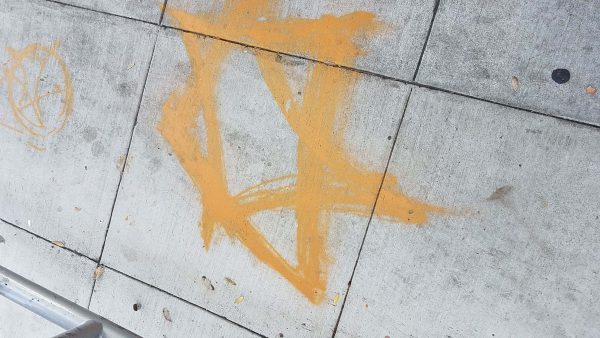 For the third time in recent weeks, what appear to be anti-Semitic images have been discovered on Santa Monica Boulevard in West Hollywood.
The images were discovered painted on the sidewalk southwest corner of Santa Monica Boulevard and Kings Road on Saturday. Jimmy Palmieri, a local resident who is active in civic affairs, took photos of what appears to be a Star of David and what some interpret as a Wiccan image.
Palmieri shared the photos with WEHOville, which has shared them with the West Hollywood Sheriff's Station, which is investigating the matter.
On Dec. 29, the Bayou WeHo, a popular New Orleans-themed restaurant and bar, opened to find graffiti on its door that read "Hitler was RIGHT" and included a five-point star that may have been intended to represent the six-point Star of David. On Dec. 31, an employee of the Block Party store on Santa Monica Boulevard opened the store to find two somewhat similar five-point stars scrawled on its window. The vandal also painted the letters GD and LK on the window.
Video obtained from Micky's, the gay nightclub adjacent to the Block Party, showed a young Caucasian man carrying a backpack and a plastic bag walking west on the sidewalk. He was filmed stopping in front of the Block Party and appears to be painting on its window.
An increase in anti-Semitic attacks across the country, including several in Beverly Hills and other West Los Angeles communities, has worried local residents. Rabbi Denise Eger of Congregation Kol Ami in West Hollywood has referred these incidents along to the Jewish Community Security Initiative, which was formed in 2012 to improve the security of Jewish residents of Los Angeles.
Lt. Bill Moulder of the West Hollywood Sheriff's Station has said that vandalism is a crime, and if the graffiti is interpreted to be anti-Semitic, it would be seen as a hate crime. He urged residents to alert the Sheriff's Station any time they seem similar scurrilous graffiti. That can be reported by dialing 911 or calling the West Hollywood Station directly at (310) 855-8850.