The Artist is a series of occasional profiles of interesting and creative artists who live in West Hollywood or whose work focuses on West Hollywood.
It was a flip of a coin (and the insufferable cold weather) that brought Brian Atchley here from Chicago almost three years ago
He had moved to the Windy City from Champaign-Urbana, Ill., where he grew up, and taken a job with the Leo Burnett advertising agency. And then, Atchley said, he "just stumbled upon painting by accident" and decided to make a move professionally and geographically.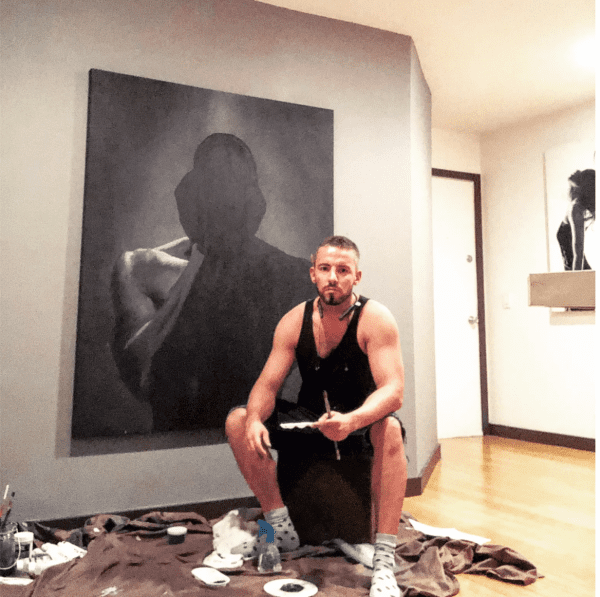 "I never took any classes, and I wanted to move somewhere warm, and it was either LA or Miami," Atchley said. "I literally flipped a coin, and that's why I moved to L.A. So, I packed up my Prius with everything I couldn't sell, and I just drove here from Chicago to L.A. It was like a five-day trip.
Today Atchley, 33, is one of a small number of people who live in West Hollywood and create art (and, in most cases, work side jobs to pay the rent).
West Hollywood bills itself as the "creative city," and there are a number of art galleries clustered in the Design District marketing expensive works by well-established artists. But with ever-rising rents, it is increasingly difficult for young, creative people to launch their art careers here. The city has, however, offered help through its Arts Division, which offers grants to visual artists, maintains an online directory of local artists, solicits applications from artists for work that is part of temporary art installations, and is putting on an "artist bootcamp" that offers emerging and mid-career artists advice on marketing their work and building a career as an artist.
How did Atchley begin painting? "I found this canvas in a dumpster in Chicago," he said, "and was like, 'Oh, somebody threw it away' and I wanted to paint, make affordable wall art.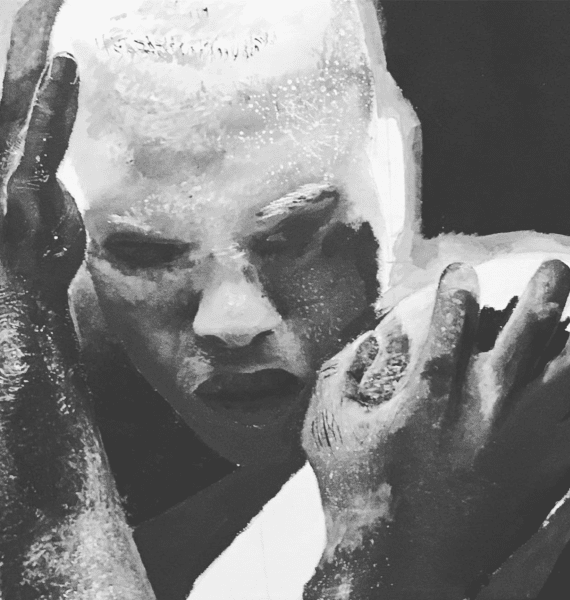 "I had this image (photo) that I had taken of a woman, and I was like, I'm going to paint this. I gridded it out, and I gridded out the canvas. And I went square by square, and I guess I never really felt I was done with one square until it looked like the picture … That kind of method of painting — it called me, first of all, because there's a certain challenge."
Atchley got his start in photography. "I come from photography. That's been my background and a lot of what I see in my art … looking at where the light is coming from. Where is the light focused? Where are your mid-tones? … Where is your blackest of black, and why is it here? All those questions I try to answer before I start a painting. They are all things that I asked myself when I developed photos in the darkroom, when I used to. So I'm very much informed by my experience as a photographer.
Atchley's work is what some might call hyper-realism or photo-realism. That's not a genre he's committed to, but he likes it.
"I say I'm a growing artist, so by that I mean hyper-realism, it's not something I've come to realize is my focus," he said. "It's kind of just been what I've done so far."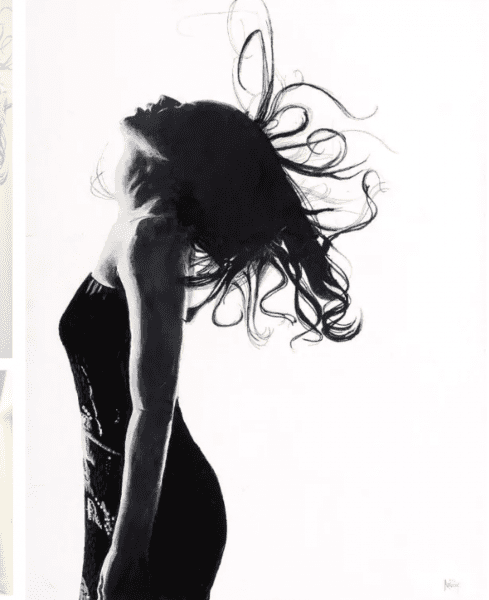 The appeal? "For me it's when it looks as detailed or even more detailed sometimes than the photograph it's referencing … There's a certain craftsmanship. When I see an artist's paintings that are hyper-real or just photo-real or whatever, I can see the blood and sweat that went into creating it. There's something impressive about it."
The detail of his work takes time, a month or more per piece. To date, Atchley has completed eight pieces, one of which is a triptych. His next venture is a work commissioned by a friend from Chicago who is flying to L.A. to be photographed by Atchley, who then will transform that photograph into one of his incredibly detailed hyper-realistic paintings.
Atchley is interested in the impact of his work as well as how it looks. "I want to do stuff that has some kind of meaning, other than just looks good," he said. "I want to expose something or tell a story. I'm working on a series now that does that. It's a series where it's going to be at least four pieces, four to eight pieces, and they all kind of go together."
"Long term, I really don't know. I couldn't see myself only painting. I mean, that would be really kind of a boring, lonely existence. Some people do want to do that. I don't know. My goal would be to be able to sell my art."
One incident that has given Atchley hope for that was an offer by a real estate developer (and friend of Atchley's) to exhibit his work in an expensive house that was on the market. A prospective buyer was captivated.
"This guy came in and he was, I guess, a producer in a rap label," Atchley said. "He came in the first day and said, 'Cancel all your other showings, I'm buying this house. And I want to buy those pieces of art,' without even looking at the price." But then he canceled the offer.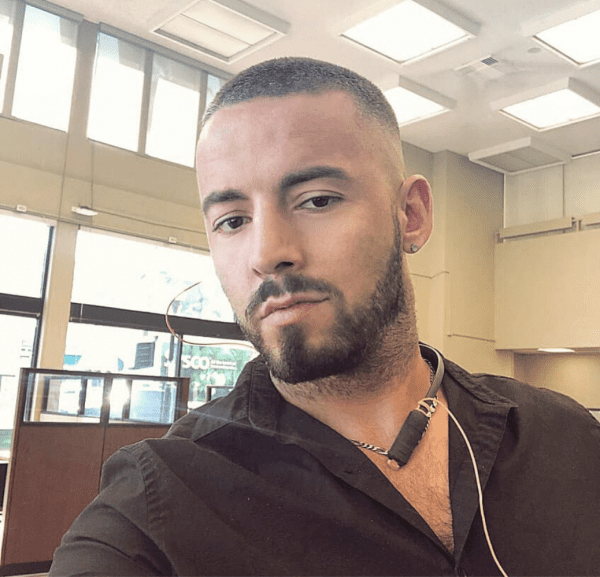 The real challenge that Atchley and other emerging artists face is marketing their work (he has applied to participate in the City of West Hollywood's artist bootcamp.)
"Sometimes I'm mad at myself that I haven't done more to promote myself and get into shows," Atchley said. "But it's always a fine line … It's always a question of time allocation. It's almost like promoting and trying to get into shows and galleries is its own job. And when you're doing that, you're not doing much work on stuff you love."
"I've been in a few shows," he said. "I haven't really done much. And by shows, they're more like benefits, not necessarily like proper galleries. I don't have a brick and mortar gallery that reps me. I've been in the Culver City Art Walk … My stuff hung in Louis Poulsen (the Danish light and design store in Culver City). There was a benefit at the W Hotel where it promoted queer artists."
Atchley has applied to have his work exhibited at the Beverly Hills Art Show, which takes place in May. Bonnie Rubenstein, who operates the Silo 118 gallery in Santa Barbara, has put images of his work on her website. And Batchley.com, Atchley's website offers a look at his art and the process he goes through to create it.
Meanwhile, Atchley continues to paint at his apartment, and work on the side as a server at Tortilla Republic to pay the bills.