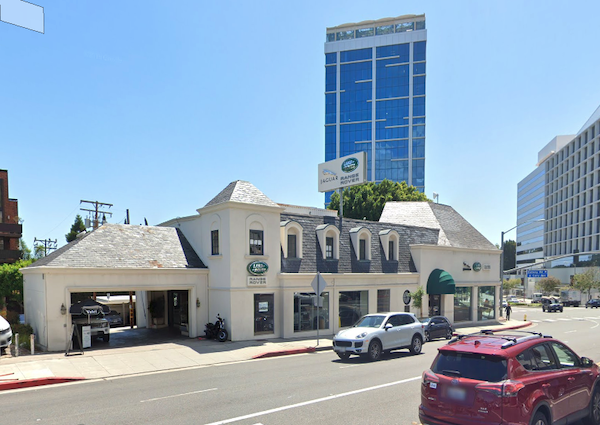 Faring, perhaps West Hollywood's most prolific real estate developer, is making plans to construct a five-story office building on land on Sunset Boulevard now occupied by Hornburg
Los Angeles, the luxury automobile dealer.
In its application to the City of West Hollywood for a development permit, Faring says the five-story building will be 90 feet tall with a total floor area of 53,030 square feet, and the majority of that (43,510 square feet) will be used for offices. About 8,380 square feet will be devoted to restaurant and retail use. It would have a 1,000-square-foot digital billboard. The site, whose address is 9160-9176 Sunset Blvd., is on the southeast corner of Sunset Boulevard and Cory Avenue.
The building is planned to include two levels of underground parking with about 100 parking spaces and 12 spaces for bicycles. It also will include 10,394 square feet of open space.  It will span three lots totaling 18,608 square feet. Office workers would enter the parking garage from driveways on Cory Avenue and on the rear lane off Carol Drive.
In its development permit application, Faring describes the project as "a visual and communal gateway to West Hollywood. Its curvilinear shape is contextual, but formally innovative. It recalls the vocabulary of streamline modernism without being literal or nostalgic." Actual images were not included.
The application was filed by LDRL CA 306 LLC, a limited liability company controlled by Faring. It is seeking a development permit, a permit to sell alcohol in the restaurant, and a permit to erect the digital billboard.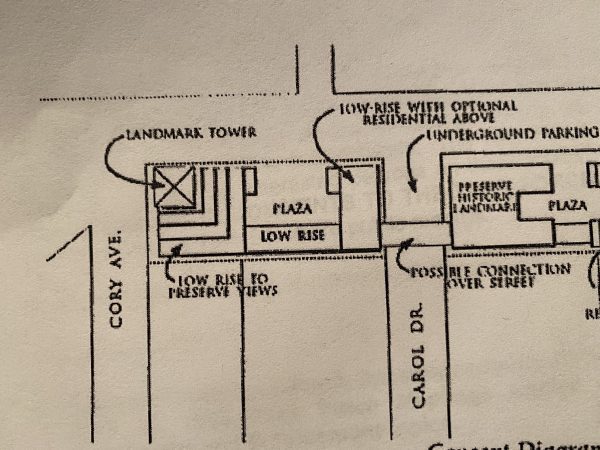 Faring has scheduled a public meeting to discuss the project. It will take place on Feb. 5 from 6 to 7:30 p.m. at the West Hollywood Park Sky Room, 647 N. San Vicente Blvd. south of Santa Monica. The project eventually will have to be reviewed by the city's Planning Commission and its Design Review Subcommittee for approval.
Farings' other projects include the newly completed Harland West Hollywood at 702-714 N. Doheny Dr., which has 38 condos selling for $3.6 million to nearly $5 million and 12 apartments for low-income tenants; Robertson Lane, on Robertson Boulevard just south of Santa Monica Boulevard, which will include a nine-story hotel and a mix of retail and dining; the French Market at 7985 Santa Monica Blvd., which will feature office space with a bar/nightclub, a restaurant, and a showroom; the Bond Hotel and Residences at 8555 Santa Monica Blvd., which would include hotel rooms, and residential buildings facing Orange Grove Avenue and Ogden Drive; and a building at 637-641 La Peer Drive that would include space for a restaurant, a design showroom and shops. Faring recently acquired the lot on La Brea Avenue and Romaine Street occupied by the CEMEX concrete factory but has yet to announce plans for its use. It has faced pushback from area residents to its proposal to erect a 10-story building at 8816 Beverly Blvd. that would house a cancer treatment center and restaurant.
Hornberg announced in March of last year that it was leaving the West Hollywood location, which Charles H. Hornburg Jr. opened it in 1974, 10 years before West Hollywood's incorporation as a city. Hornburg also opened a location that year in Santa Monica, and became the first importer of Jaguars into the United States. It is know for its mix of Range Rovers, Land Rovers, and Jaguars. The West Hollywood dealership is moving to South La Brea Avenue and 3rd Street in Los Angeles. It currently has locations in Newport Beach and Mission Viejo.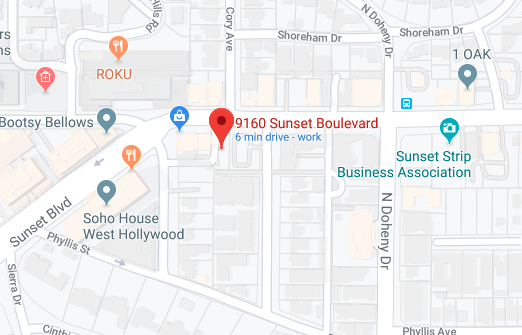 The Hornberg website chronicles the history of the business, initially a distributor rather than a dealership, with stories such as the coin toss between Clark Gable and publisher Hastings Harcourt that Gable won, allowing him to purchase the first Jaguar available in the United States. Other celebrities such as Frank Sinatra, Jerry Lewis, Burt Bacharach and Jayne Mansfield also became fans of the Jaguars that Hornburg imported.
"For nearly six decades, Hornburg has ranked in the top bracket of dealerships in the country," says the dealership's website. "In April 2001, the dealership was acquired by Pendragon North America Automotive. Since the acquisition, they have undertaken a complete renovation of the facilities and continue to develop the Hornburg brand."