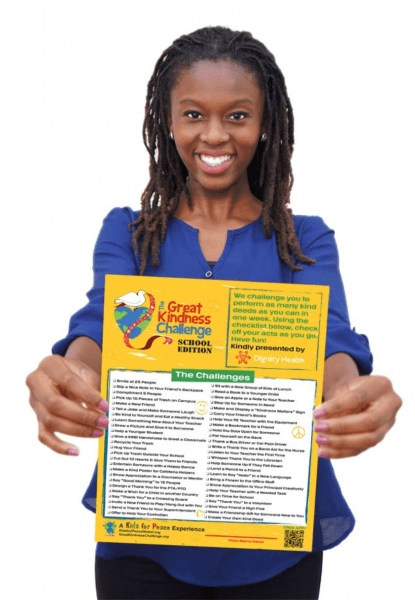 Students at West Hollywood Elementary School next week will participate in the 9th annual "Great Kindness Challenge," a week where students will do as many kind acts as possible, choosing from a 50-item checklist.
The challenge is organized by Kids for Peace, a global nonprofit. It started in 2008 with three schools in
2012 and has now grown to over 15 million students in all 50 states. An announcement of the event says it "will mobilize students nationwide to create school climates that are respectful, compassionate, happy, and kind."
The kind acts include things like "invite a new friend to play," "compliment five people," and "make a kind wish for a child in another country."
"With all that's going on in the country and in the world, there is a call for kindness," the announcement says. "Great Kindness Challenge answers that call and provides an opportunity for students to unite and demonstrate that KINDNESS MATTERS."
Kids for Peace added the Great Kindness Challenge to its agenda in 2011 in response to a request from a school that was concerned about bullying.
The weeklong events will include school wide service projects, "kindness recess stations," and school-wide service projects.. In addition to all students receiving a 50-item kindness checklist and doing as many kind acts as possible, West Hollywood Elementary is hosting complementary activities throughout the week.
West Hollywood Elementary, located at 970 Hammond St., opened in 1910 and is the only public elementary school in West Hollywood. It has more than 400 students in kindergarten through fifth grade classes.