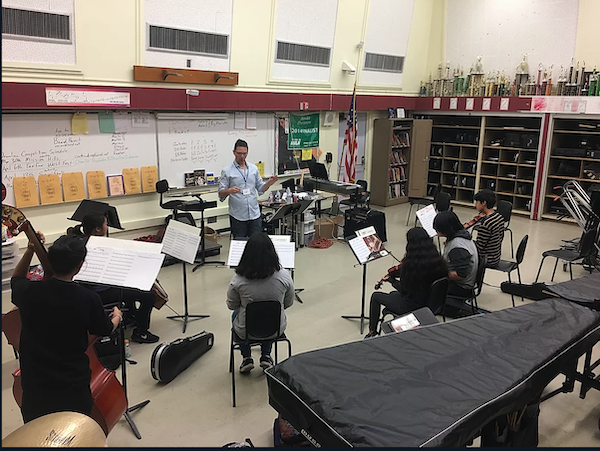 Music composer Nunzio Sisto is upset that students aren't getting music education in schools these days, notably not learning to play musical instruments. Rather than just bitch about it, he's doing something about it. In a big way.
Sisto is creating a West Hollywood Youth Orchestra with the purpose of supporting music programs at Fairfax High School and Hollywood High School. He has also devised a streamlined method for offering band and orchestra in schools across the nation.
"I want to ensure that all students have access to music education and instrument training," explains Sisto, a 34-year-old Staten Island native now living in Hollywood who credits school music classes with changing the trajectory of his life.
Sisto's plan is already underway. He's running afterschool music programs this semester at Fairfax High and Hollywood High, working through the LACER (Literacy, Arts, Culture, Education, Recreation) afterschool program. He hopes exposing those students to music and playing instruments will entice them to join the West Hollywood Youth Orchestra.
Then in the fall, he plans to start teaching band and orchestra at Fairfax High and Hollywood High using his streamlined method. He's working out the contract with Los Angeles Unified School District (LAUSD) now.
Fairfax High is the public high school serving West Hollywood residents, while Hollywood High is the public high school serving those students living in the Hollywood area.
Sisto reports that Hollywood High hasn't had a music program in 13 years. Meanwhile Fairfax High's music program has been on again off again in recent years, it currently being off thanks to the layoff last spring of music teacher Dr. Nathan Brown.
"LAUSD is the second largest school system in the country. They should have one of the finest music programs available," says Sisto who taught Latin and music for several years in New York City after getting his master's in education from Touro College. "My life's goal is to make sure every school offers music. One of the ways to do that is to give them a program that works."
Broadway Pit Style Orchestra
Sisto's streamlined method is based on the Broadway pit orchestra, which requires just 24 musicians. Accordingly, Sisto has rearranged musical pieces so just 24 instruments are needed.
"Every instrument is represented, including piano, bass, drums and saxophone. But you just need one of each," says Sisto, who reports he can play every instrument, but his personal favorite is the violin. "That works for the schools because it is super flexible. They just need 24 students to form an orchestra. One of the reasons larger orchestras can't last in high schools is because they need at least 60 students and have trouble scheduling a class that large."
Sisto says rearranging musical pieces for a 24-piece orchestra is practical for the situation, but barely noticeable to the listener. He primarily eliminates the duplicated instrument parts. For example, when a piece calls for four trumpets, he's rearranged it so only one trumpet is required, etc.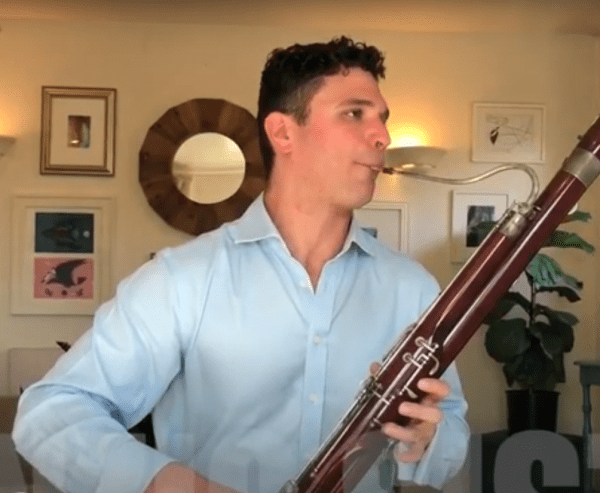 "Rearranging is basically keeping it the same, just changing the instrument voices," explains Sisto, who studied music composition at the Julliard Pre-College and earned his bachelor's degree at Mannes School of Music (now part of the New School University) in New York City.
As for the instruments, many schools already have them on hand, so it's just a matter of finding students to play them and music teachers to teach them.
"The schools have the instruments, the music rooms, sometimes even entire music buildings that aren't being used, primarily because of school budget cutbacks," he says. "My method will not only utilize resources they already have, but also teaches students to play the instruments."
Fairfax and Hollywood High have most instruments already but lack a few. Sisto is talking to retailers and suppliers about donating them, or at least making them available at reduced cost. He's also seeking monetary donations from the community to help purchase them. See his website for more information about contributing (www.cocla.org).
Many Styles and Types of Music
Among the pieces that Sisto has already rearranged are Rossini's "William Tell Overture" and Brahms' "First Symphony's First Movement" (one of Sisto's personal favorites). He's also done more contemporary songs including Elton John's "Your Song," Queen's "You're My Best Friend" and Britney Spears' "Toxic."
As students join the WeHo Youth Orchestra and offer suggestions for what songs they want to perform, Sisto will work on rearranging them for the 24-piece orchestra. He hopes for a wide range of musical styles, classical, rock, jazz, r&b, etc.
"West Hollywood Youth Orchestra ensemble will be uniquely able to play every style and period of music; thus allowing for true diversity of music," says Sisto. "We'll get musical suggestions from students and parents. From day one, our students are invested and receive a higher reward for their input effort, all without sacrificing musical integrity."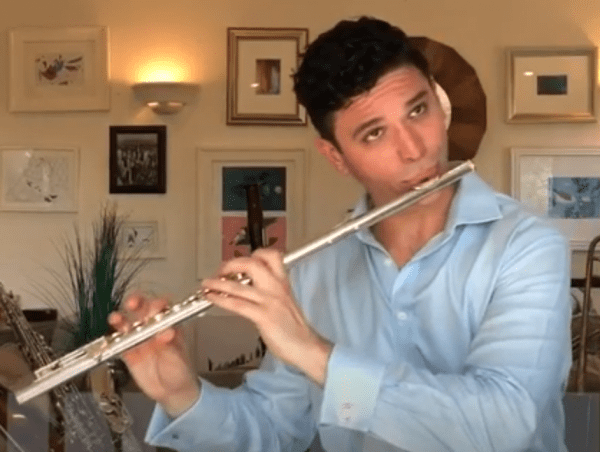 The beauty of his Broadway pit style streamlining work for school orchestras is that any school can adopt it. So, schools across the nation could potentially be using it get music education to students again.
Likewise, the Broadway pit model also works for adult community bands. Consequently, Sisto has also created a local community orchestra for area residents. The Community Orchestra and Chorus of Los Angeles (CO&CLA) is now forming. Interested residents should visit his website for more information.
"Having all that flexibility and being able to play all that world of music with only 24 people, is going to change the landscape of community music as we know it," he says proudly. "It's not just for the schools. This will change music for everyone."
Sisto's website is www.cocla.org