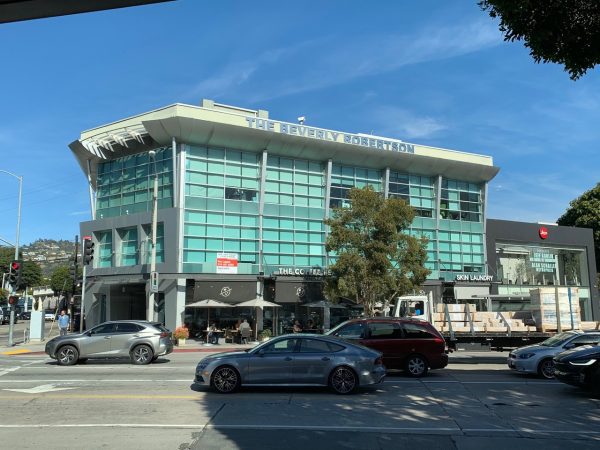 Verve, Miss Melbourne, eight Starbucks, a couple of Alfreds…the list goes on and on, including West Hollywood Magazine's own survey of 20 coffee places just a couple years ago.
But WeHo's strong coffee culture also includes constant changes: shut downs as well as debuts.
Last year, the Coffee Bean & Tea Leaf at Santa Monica Boulevard and Hancock Avenue brewed its last cup.
Is it now time for the sister location at 8793 Beverly Blvd. to move on?
Adhered to the overhang on the front of the Beverly Robertson office building at said corner hangs a familiar sight: the near-ubiquitous red-and-white for lease sign from commercial real estate broker Jay Luchs of Newmark Knight Frank.
Is it really possible the neighborhood java joint will vacate the premises?
"Landlord told me they were leaving and asked me to lease it," said Luchs in an email.
Competition may be fierce. "I have some other coffee tenants, ice cream shops and a smoothie operator all looking, so we'll see where it goes," Luchs added. "Hopefully something great for the community."
Calls and emails to Coffee Bean corporate have not been returned. But while we wait to find out what happens, we can report that Coffee Tomo opened on Jan. 1 within the Avalon Apartments at 7316 Santa Monica Blvd.
"Tomo" is friend in Japanese, and the brand sure has a lot of pals with nearly 900 Yelp reviews for its West L.A location alone. It's in Irvine, too.
Manager Kevin Sung said business at the new WeHo location has been "okay" and is "getting better and better." Asked what makes Coffee Tomo unique, he told me about their large gourmet pretzels made with mozzarella, sweet potato and jalapeno. Check out the LA Times review here.
Opening Ceremony Closing Unceremoniously
Fashion trade magazine Women's Wear Daily reported on Jan. 14 that fashion brand Opening Ceremony will close its four retail locations sometime this year. That includes two stores in New York City and one each in West Hollywood and Tokyo.
Co-founders of the company, Carol Lim and Humberto Leon, who met in college at UC Berkeley, sent a letter to stakeholders saying that they will now concentrate on new designs and expanding the Opening Ceremony collection, rather than their own retail operations.
"Our stores in New York, Los Angeles, London and Tokyo have connected people from around the world together and brought so much joy into our lives and to the lives of those who have come through our doors," said the co-founders in their letter. The first Opening Ceremony store opened in 2002.
New Guards Group has acquired Opening Ceremony's trademark and intellectual property.
Perhaps Not A Grassy Knoll, But One That Has Been "Refreshed"
For the first two weeks of this year, the Knoll showroom at the corner of North Robertson Boulevard and Ashcroft Street was closed. Butcher paper stretched across windows preventing passersby from looking in and a sign taped to the front door said a new collection would be unveiled Jan. 20.
According to store manager Bella deLeon, that's par for the course. They do it "every January," she said. "It's not really a new line. Every year we do a refresh."
What did this year's refresh bring in? "If you were here last year, we used a lot of color. I think we used every crayon in the box," deLeon added, laughing. "Now you're gonna see light palettes on the floor: whites, neutrals, grays. A lot of heavy hand on mohair and velvet. It's just a really nice elegant, glam vibe in here."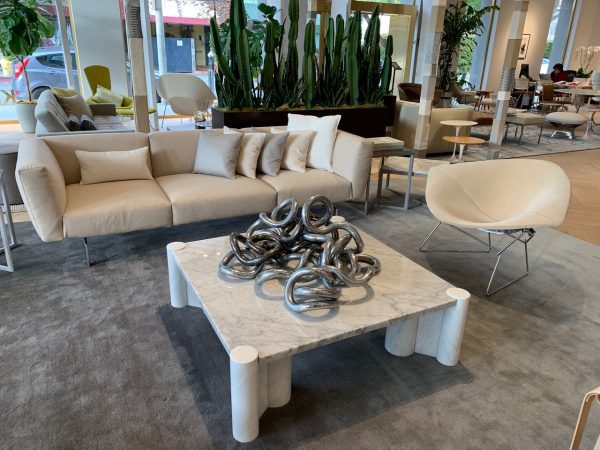 Knoll is a well-established furnishings brand with 15 international showrooms focused on commercial design (restaurants, office buildings, hotels), including one in downtown Los Angeles.
But West Hollywood is, well, unique. The 314 N. Robertson Blvd. storefront has been there just two years and is one of only two U.S. residential showrooms, the other being in New York City.
How has the WeHo location been received? "Fantastic," deLeon said. "I think people were anticipating and expecting us."
Although most of their customers are in the design trade, deLeon said her showroom welcomes the retail "end user."