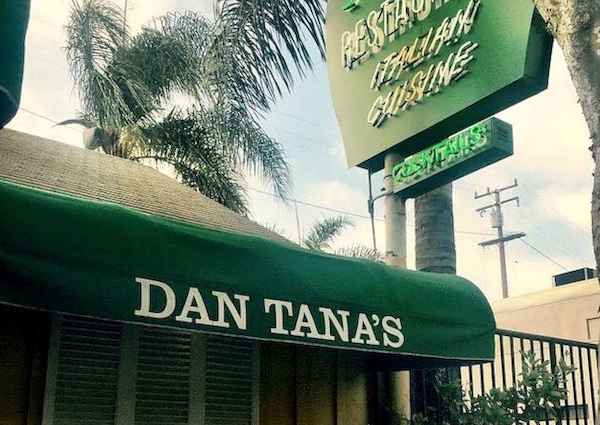 In its 56 years on West Hollywood's Santa Monica Boulevard, Dan Tana's has not only been celebrated for its Italian-inspired menu but for its celebrity clientele.  George Clooney, Richard Burton, Leonardo DiCaprio, Kathy Hilton, and Ryan Phillipe are just a few of the many known to dine there.
But now it's likely to draw a different sort of attention, with the recent publication of allegations that the owner has been the recipient of millions of dollars from Russia disguised as real estate purchases and funneled through offshore companies.
The allegations are in a report titled "Troika Laundromat:  Unreal Real Estate" published by Organized Crime and Corruption Reporting Project (OCCRP), an investigative news organization funded by Google, the Rockefeller Brothers Fund, and the U.S. Agency for International Development, among others.
The story follows the somewhat obscure career of Mihajlo Perenčević, a wealthy Croatian businessman. The story says that after Croatia declared independence from Yugoslavia in 1991, he worked in Libya for a factory belonging to a Yugoslav construction company. At one point he headed a British company that had lucrative contracts with Transneft, a Russian state-owned oil transport company. Eventually he made the move to Russia, and since 2010 has been head of Velesstroy, a Russian construction company that also has valuable contracts with Transneft.
Mihajlo Perenčević apparently still maintains a home in Lošinj, a Croatian island that is a popular destination for German, Italian, and Slovenian tourists. OCCRP says he has drawn millions of dollars from Russia to finance entities such as Jadranka, a local tourism developer. Jadranka was acquired by a company with ties to a prominent Russian bank, joining a list of companies in Lošinj that are owned by companies controlled by Russian interests.
Perenčević has been honored by Russian president Vladimir Putin for his work in creating economic cooperation between Russia and Croatia. In 2017 Putin gave him an "honorary certificate of the President of the Russian Federation" for his work. OCCRP reports that Velesstroy has rented part of an estate on the Black Sea called "Putin's Palace," which it describes as an effort to help finance it.
Using data leaked from Ukio Bankas, a Ukrainian bank, OCCRP tracks a list of incredibly complicated transactions between shell companies controlled by Russian interests that are headquartered in different countries. Those transactions, OCCRP reports, are designed to keep secret the owners of the money so as to avoid taxation, thus the use of the term "The Troika Laundramat" in the story's headline.
The West Hollywood connection is that Mihajlo Perenčević purchased Dan Tana's in 2009 from Dan Tana himself, who opened the restaurant in 1964. Dana Tana is an émigré to America from the Serbian part of old Yugoslavia. The restaurant is now held by and managed by a company controlled by Mihajlo Perenčević's wife, Sonja Perenčević.
The Dan Tana's purchase came after Mayco Financial Holdings, an offshore company registered in the British Virgin Islands, made nine transfers of money totaling $24.2 million between 2008 and 2010, OCCRP reports. Six of those accounts were owned by people associated with Perenčević. OCCRP reports hundreds of millions of dollars in other transactions.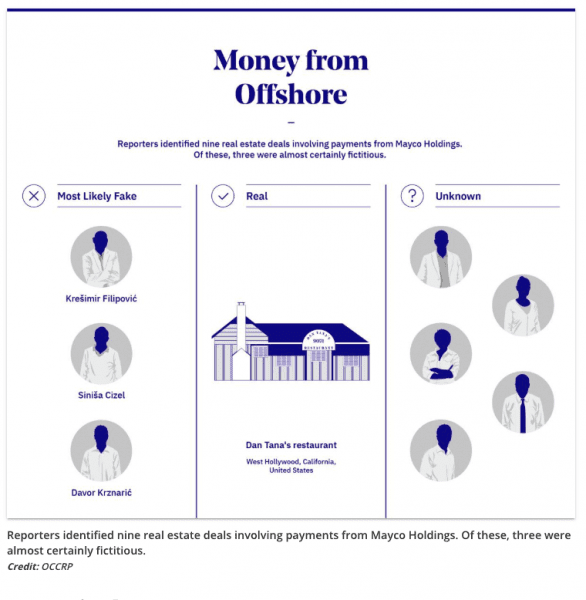 OCCRP's story illustrates the Russian connection by calling out various real estate transactions where money was paid but no real estate actually was transferred. One of those transfers of money ($2.1 million) from Mayco was to Krešimir Filipović, vice president of Velesstroy, the Russian construction company that Perenčević runs
The OCCRP story notes that the ultimate source of all the money is hard to trace because of the number of offshore companies it has been transferred to. But it notes that reporters have discovered that a large amount of it was funneled through a money-laundering network that had been used to hide funds stolen from the Russian State budget. 
A Russian lawyer, Sergei Magnitsky, exposed the people who took the money by filing fake requests for tax refunds.  But after revealing the scandal, Magnitsky himself was arrested and then found dead in jail in 2009.  That sparked reactions from other governments, including the United States, whose Congress passed the Magnitsky Act in 2013. The bill's passage was intended to punish Russian officials responsible for human rights violations such as Magnitsky's death by freezing their assets and banning them from entering the United States.
WEHOville contacted Dan Tana's for comment on this story. An employee of Dan Tana's told WEHOville that Sonja Perenčević was not available to address questions about the OCCRP report.