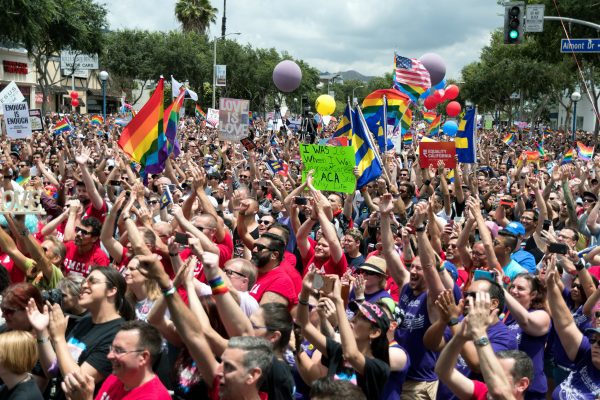 An analysis of the finances of Christopher Street West, the non-profit that puts on West Hollywood's annual LA Pride event, notes that it is the largest such event in the Los Angeles Basin, attracting visitors "throughout the area and beyond."
But consultant RSG says the resulting attendance and economic impacts to West Hollywood "are less certain, particularly as the city's contributions relative to both festival admissions and other fundraising efforts have increased significantly … RSG recommends the city consider the findings of this report and policy around the nature and condition for its contributions going forward."
City Hall staffers, in a report including the analysis that notes a loss of $92,250 in 2018, are more positive about CSW's future. Despite that loss, CSW "is in a substantially better position than it was several years ago," says the report, which goes before the City Council on Monday. "This is also shown through the preliminary financial data that the city received from 2019, which shows CSW was in positive financial territory for the year (approximately $700,000)."
RSG was engaged by the city to analyze CSW's finances of the past few years, which involved reviewing itsfederal tax returns. The review said reasons for that included increases in non-program related expenses and fees for services as well as a $200,000 settlement to end a contract with a. font board members. That was Craig Bowers, who resigned from the CSE board that year. Bowers had entered a contract with CSW that raised legal and ethical questions about a conflict of interest because it guaranteed him a 20% commission on sponsorships for the Pride event for three years, and because Bowers' business partner, Chris Classen, at the time was the chair of the CSW board.
CSW sustained a major loss ($415,000) in 2016 under Classen's leadership. That, and a decision by him and Bowers to recast the event as a music festival, sparked protests in the community that led to their resignation. Classen was replaced as board chair by Estevan Montemayor, who recruited Madonna Cacciatore from the LA LGBT Center as its first full-time executive director.
The report to the Council from City Hall requests that the city increase its financial support for the June 2020 LA Pride to $3.05 million, up 46% from the $2.09 million last year. That event will take place from June 12 to 14.
Most of that increase would cover an increase in public safety costs, which not only involve the LA Pride Festival area, which now covers part of Santa Monica Boulevard, and the parade route, but also the rest of the City of West Hollywood. That includes Sunset Boulevard, Melrose Avenue and the city's Eastside, which are outside the Boystown gay entertainment district where the Pride events are centered. Those costs grew from $955,782 in 2018 to $1.83 million in 2019, an increase of 92%. The report projects those costs to total $2.64 million for the 2020 Pride event, with more than half of that ($1.4 million) going to the Los Angeles County Sheriff's Department.
"Public safety costs have risen steadily over the past ten years due to increased contract rates and liability charges from Los Angeles County as well as the additional deployment of personnel, including specialty teams, tactical planning, intelligence, and arson/explosives," says the City Hall report to the Council. "In today's world, the city must prepare for threats to its events – both accidental and intentional.
"As more people attended both the Pride Festival and the surrounding entertainment venues, more neighborhood patrols were added to address quality of life concerns and prevent crimes of opportunity. … In addition, to alleviate the burden on area hospitals, and on Cedars (-Sinai Medical Center) in particular, a medical tent was added to serve both patrons from the Pride festival and surrounding entertainment venues. "
RSG questioned some of the findings of an earlier study by Beacon Economics of the 2019 Pride events. That study, commissioned by CSW, found that the 2019 LA Pride had increased economic input in L.A. County by $74.7 million, of which $27.7 million was concentrated in West Hollywood. Beacon also reported that the event supported the annual equivalent of 830 jobs in L.A. County, including 397 in West Hollywood and 191 in the City of Los Angeles. And, it said, LA Pride brought in $896,100 in tax revenue to WeHo, which depends on hotel room occupancy taxes for much of its general fund income.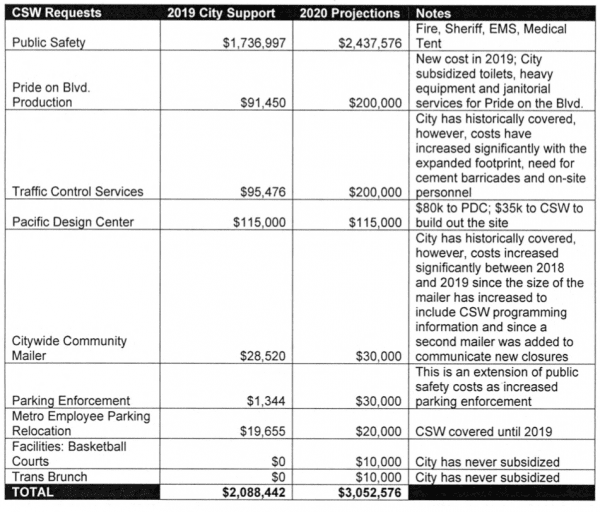 RSG suggested that Beacon's use of the IMPLAN economic analysis tool may not have been wise because it is normally used for regional analysis. It questioned Beacon's statement about Pride's economic impact on West Hollywood and noted that its attendance estimate includes those attending the Pride Parade, who don't have to acquire tickets and aren't easily counted. RSG says that festival admission revenue suggests there were less than 50,000 paid attendees.
RSG recommends that the City of West Hollywood take several steps to more carefully monitor its sponsorship of LA Pride. They include:
Request that CSW have a city representative on the board if the city is a primary contributor to the LA Pride event.
Reconcile attendance records with CSW based on festival ticket purchase data, donated festival passes, and other sources of information (Sheriff estimates, other city data) to ascertain that the size of the festival and the ensuing benefits are calculated accurately by CSW or any other party that may do so in the future.
Consider capping the total amount of in-kind donations made by the city relative to the size of other fundraising and/or festival admissions provided. City Hall questions whether this should apply to public safety costs.
Consider implementing a policy in which additional city costs are reimbursed by CSW in years where the festival and CSW make a specified amount of profit (either a specific dollar amount or percentage of expenditures). This arrangement would likely require additional study, and would need to be negotiated between the two parties.
Weigh whether the fiscal and economic benefits of the festival are critical to the policy behind the city's financial participation.
In response to that, the City Hall report says Pride is a long-standing tradition in West Hollywood, attracts customers to local businesses and "is a direct representation of the city's core values and provides a space for people from all over the region and country to feel welcome and accepted for who they are, which is something they may not be able to experience on a daily basis in other areas. For these reasons, staff believes that the LA Pride Parade and Festival are very important to the city and its residents."
The City Council will consider the report and the funding recommendations at its meeting on Monday, which begins at 6:30 p.m. at City Council Chambers, 625 N. San Vicente Blvd., south of Santa Monica. Parking is free in the five-story structure behind the Chambers with a ticket validated in the lobby.