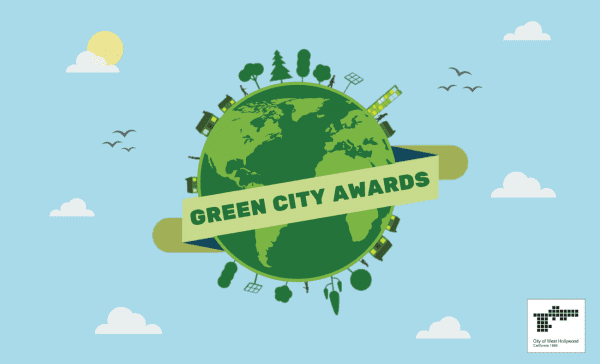 The City of West Hollywood has opened nominations for its inaugural Green City Awards, a new environmental sustainability annual awards program. Applications are due by March 31 at 11:59 p.m. More information about the Green City Awards, including eligibility and award criteria, can be found online .
A total of three awards will be given, recognizing one individual, one business, and one organization or school. The inaugural Green City Awards event is scheduled to take place on May 13 at 6:30 p.m. at the City Council Chambers,  625 N. San Vicente Blvd.
The awards program will be administered by the City of West Hollywood and its Public Facilities Commission. Nominations are open to all; anyone interested is encouraged to apply. Applicants can self-nominate or elect to nominate their friends or favorite local business. Considerations for the award are broad and may include energy, water, waste, materials, trees and plants, and much more.
An announcement of the awards says "In the spirit of 'think globally, act locally,' the City of West Hollywood hopes to inspire more green projects and more green leaders in the community. Local green actions are one way the city builds its community resilience and collectively contributes to combating climate change."
"There's so much we can do at the local level to reduce adverse impacts on the climate," said Mayor John D'Amico. "In 2007, the City of West Hollywood adopted one of the nation's first mandatory green building ordinances to ensure buildings in our community are built to be healthier for residents and use less energy. In 2019, we approved an update to our Green Building Program that's impactful, achievable, and responsive to current climate action priorities. Our Green City Awards are an exciting extension of this work. These awards will give our city new opportunities to recognize people and organizations in our community that work to make a difference in protecting our environment."
"West Hollywood is a trailblazer," said City Councilmember John  Duran. "While people may think of LGBTQ rights or civil rights when they think of West Hollywood, we're just as progressive when it comes to sustainability. Environmentalism is not just a goal in West Hollywood, it's a reality that's grounded in our core values and in the policies we develop and implement. The Green City Awards will highlight those in our city who are leading the way on sustainability in areas such as conserving energy and reducing waste. Every action matters in helping our community decrease its carbon footprint."
The announcement says "the City of West Hollywood is dedicated to sustainability and preserving our environment," citing as an example the fact that in 2011, the city released its Climate Action Plan, which is designed to address climate change and reduce the community's greenhouse gas emissions at the local level.