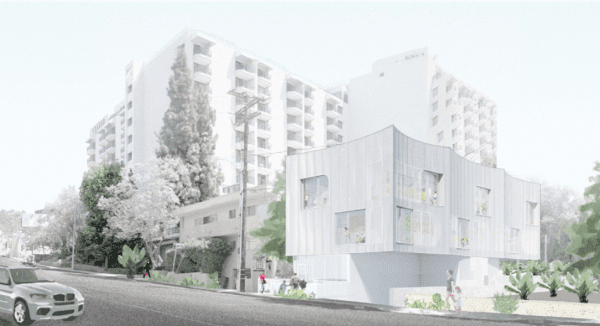 With a 3-1 vote on Monday night, the West Hollywood City Council rejected an appeal of a Planning Commission approval of a preschool on San Vicente Boulevard. With that decision, the preschool is allowed to proceed with construction plans.
In September 2019, the Planning Commission approved the three-story preschool, located at 972 N. San Vicente Blvd., two lots south of the London Hotel. Designed by architects with the Lorcan O'Herlihy Architects firm, the 8,300 square-foot preschool building will have six classrooms and outdoor areas for both play and learning activities in the rear. It will have space for a maximum of 72 children, aged 18 months to 5 years.
The building also will have a subterranean parking garage with a circular driveway for dropping off/picking up students. The new building would replace a single-family home built in 1905 and a detached rear garage and upstairs apartment built in 1946.
Although Preschool owner Nasim Pahlavan presented traffic studies showing the school would have minimal impacts, resident Annette Kazmerski appealed the Planning Commission's approval saying the traffic studies were flawed and the traffic on San Vicente would worsen during morning and evening rush hours.
Pahlavan's study indicated traffic rarely backed up below Harratt Street and the school would only add one vehicle length to the traffic during peak hours. Kazmerski contended the cars routinely were lined up much further down San Vicente waiting to turn onto Sunset Boulevard.
Kazmerski also argued that parking is already bad in that neighborhood during the day. She noted that parents of students at West Hollywood Elementary School, located directly across the street, ignore signs and park anywhere, including red zones, long enough to walk their children into that school.
Kazmerski also said the crosswalk at Harratt Street, directly in front of the preschool, was dangerous even for adults.
During the public comment period, several residents supported Kazmerski's claim regarding traffic and parking. Resident Jon Viscott, who lives nearby, noted the preschool has minimal parking in its underground garage, so parents will end up parking in the neighborhoods. He also said that traffic waiting to turn onto Sunset sometimes backs up as far south as Cynthia Street.
Resident Jerome Cleary noted San Vicente has aggressive drivers who sometimes take unsafe risks. He said the school was a "bad fit for this location." Meanwhile resident Elyse Eisenberg noted she had nearly been hit by a driver while she walked on the narrow sidewalk in front of the school.
Resident Mikie Friedman commented when the city added the dual right turn lane from San Vicente onto Sunset, it finally got traffic moving. "It's working now, don't screw it up [by adding the preschool]," she said.
Councilmember Lauren Meister accepted the traffic and parking argument, saying "it's not the right location [for a preschool." She noted the lot could have an 11-unit apartment building instead.
Even though the area is zoned R4B for residential housing, city laws allow a few businesses, including a preschool, to open in a residential zone provided it gets the proper conditional use permit (CUP).
The other Council members noted the school likely would increase traffic some, but the overall impact would be minimal. They were pleased with the preschool design and happy to support it.
Kazmerski also contended the preschool's presence so close to the Sunset Strip could impact adult businesses on the Strip. For example, city law prohibits adult-oriented businesses from being within 500 feet of a school, cannabis shops from being within 600 feet of a school and tobacco shops from being within 1,000 feet.
Councilmember John Heilman dismissed that concern, saying, "In my mind if we have to choose between an adult cannabis business or nightclub versus a preschool, we should be investing in a preschool that is going to be providing a service for children rather than prioritizing adult uses."
Of the 21 people speaking during public comment, 14 supported the project, although only about half of those supporters were WeHo residents. Nonetheless, those supporters spoke about how much the area needs good preschools and what an outstanding teacher Pahlavan is.
In fact, Jason Smilovic of Highland Park said Pahlavan was so good, he intended to bring his child to preschool there when it opened.
Councilmember John Duran recused himself from the hearing as he lives directly across the street from the preschool.