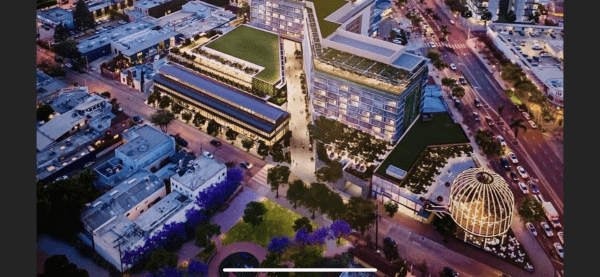 Faring, the real estate developer with many projects in various stages in West Hollywood, is seeking $375.2 million in financing for its Robertson Lane hotel, retail and restaurant
development.
According to the Commercial Observer, a commercial real estate publication, marketing of that loan by Cushman & Wakefield describes a project with 182-room hotel, a private members' club with 19 guest rooms and high-end retail, restaurant, office and banquet space. That is a deviation from the plan already approved by the city, which includes 241 hotel rooms and doesn't include a private members' club. 
Commercial Observer reports that the loan would have a five-year term and a floating interest rate.
News of the possible change in the number of hotel rooms has concerned some residents who opposed the Robertson Lane project, citing the 114-foot height of the nine-story hotel building.
Jake Stevens, Faring's community engagement director, told WEHOville: "We have no plans to change the approved hotel project to add a private members club."
As to a possible change in the number of rooms, Stevens said "Robertson Lane will exceed the hotel room occupancy tax revenue the city expects."
The proposal approved by the City Council said the project would pay .75% above the standard Transit Occupancy Tax (hotel room tax) over the next 25 years, for a total of approximately $5 million.