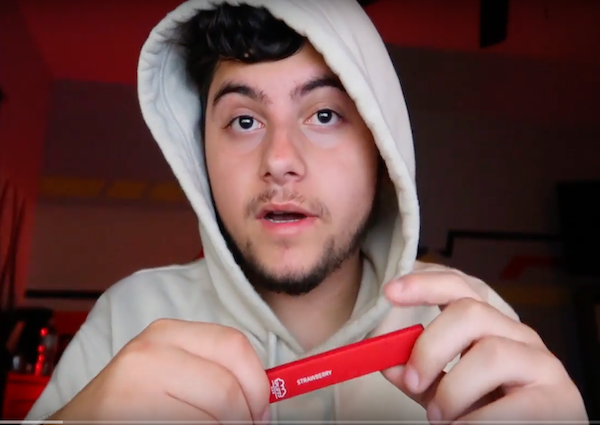 A proposal by City Councilmember Lindsey Horvath and Mayor John D'Amico to ban the sale of flavored tobacco products in West Hollywood has alarmed owners of local tobacco shops, one of whom says it will put him out of business.
A statement on the proposed ban notes evidence that tobacco causes a higher risk of cancer, heart disease, and strokes. Nationwide campaigns to educate people as to the risks of tobacco have resulted in a dramatic reduction in the purchase of conventional cigarettes. However, in recent years the tobacco industry has evolved to offer flavored products delivered via vaping devices, which are the primary source of revenue for many tobacco retailers.
"The federal government introduced a plan to temporarily ban many candy- and fruit- flavored e-cigarettes," the statement notes. But "the ban is limited and does not extend to refillable, tank-based vaping systems purchased in most vape shops."
"Smokeless tobacco products, including chewing tobacco, snuff, snus and nicotine solutions consumed via electronic smoking devices, such as electronic cigarettes) come in dozens of flavors, such as cotton candy, chocolate, and bubble gum, which mask the harsh taste of tobacco," the statement says. "Due to tobacco companies' marketing efforts, youth, communities of color, low- income populations, and members of the LGBTQ communities are significantly more likely to use menthol cigarettes and other flavored tobacco."
The proposed ordinance would also prohibit the use of tobacco coupons and discounts. Tobacco retailers would not be allowed to honor or redeem a coupon to allow a consumer to purchase a tobacco product for less than the full retail price or sell any tobacco product to a consumer through a discount program.
Mani Merabi, owner of Smoke for Less, the tobacco shop at 8205 Santa Monica Blvd., said the ban would put him out of business and effectively bankrupt him.
"I opened the store when I was 20 years old, over a decade ago," Merabi told WEHOville. "I've now signed a new 15-year lease. I have a personal obligation on my lease. If I close, I lose everything I own."
Merabi says he has carefully obeyed tobacco sales regulations and has never received a citation for violating them. He stressed that he has never sold tobacco products to anyone under the age of 21.
Merabi said that he and other local tobacco retailers were upset that no one had informed them of the proposed ordinance, which is on the consent agenda for the City Council's Tuesday meeting. The many items on the consent agenda typically are passed in a single vote by the Council, unless a particular Council member asks that an item be pulled for further discussion.
Arthur Corona and his business partner Derek. Wong, owner of Teagardins at 8532 Santa Monica Blvd. questioned why the city couldn't consider more carefully regulating the sale of flavored tobacco products if they were a concern. Corona said he saw a dichotomy in the City of West Hollywood's embrace of the sale of cannabis, a drug illegal under federal law, and the desire of some Council members to ban a legal and regulated product like flavored tobacco. The City of West Hollywood has issued licenses to eight applicants in five categories of cannabis sales and delivery. "If we can regulate something like cannabis, we can regulate tobacco," he said.
John Piliposyn, owner of Santa Monica Smokes at 8161 Santa Monica Blvd., said the ordinance, if passed also would have a major negative impact on his business.
"It would be terrible," said Piliposyn, who noted that he has customers coming in every day shopping for Puff Bars. If we are forced to stop, they will start buying cigarettes."
Puff Bars are similar to the very popular Juul e-cigarette, but are designed for one-time use. They come in many flavors, including O.M.G (Orange, Mango, Guava), but are not subject to the new federal policy regulating flavored e-cigarettes such as Juuls because they are disposable.
The City Council will meet at 6:30 p.m. on Tuesday at the City Council Chambers, 625 N. San Vicente Blvd., south of Santa Monica. Parking is free in the adjacent five-story structure with a ticket validated in the lobby.