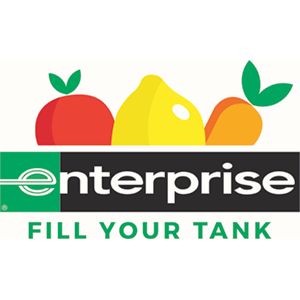 Project Angel Food has received $30,000 from the Enterprise Rent-A-Car Foundation to address food insecurity in Los Angeles County. The donation is part of a program – called
Fill Your Tank – that celebrates Enterprise Rent-A-Car's 60th anniversary by providing $60 million over six years to fight hunger around the globe.
The Fill Your Tank program donations made locally are determined by local Enterprise operations. Beyond donations, Enterprise Rent-A-Car is supporting the Fill Your Tank program with a hunger awareness and local engagement campaign. "Hunger is often invisible and the campaign helps make hunger in our communities more visible," says the Foundation in an announcement of the donation.
In presenting the donation, Valerie Brandon, regional vice president, said, "Enterprise Rent-A-Car is woven into the fabric of the Los Angeles County community and food insecurity is an issue for our community. This donation to Project Angel Food of $120,000 over four years will support those in our community who need a little help to reach to their full potential."
Globally, one in nine people don't get enough food to be healthy and lead an active life, according to the World Food Program. Today, more than a third of households served by Feeding America include at least one child. And, according to Food Banks Canada, 13 percent of Canadians live in a state of food insecurity, which means they do not have reliable access to adequate amounts of safe, good-quality, nutritious food.
Richard Ayoub, executive director of Project Angel Food, said, "Project Angel Food is grateful to have received $120,000 from Enterprise Rent-A-Car in the past four years. The Fill Your Tank program has special meaning for our clients. Having a "full tank" of food can make it easier for critically ill patients to take their medications, and the weekly deliveries of the medically tailored meals reduce the stress of knowing where their next meal is coming from."
Since its inception 30 years ago, Project Angel Food has prepared and delivered 12 million meals – currently 15,000 per week – free of charge to men, women and children living with critical illnesses. Project Angel Food has expanded its initial mission from serving people living with HIV/AIDS to include medically tailored meals, prepared by the staff and volunteers, for those combatting cancer, kidney failure, diabetes and congestive heart disease. The mission has always been to feed and nourish the sick by delivering healthy nutritious meals throughout 4,400 square miles of Los Angeles County.