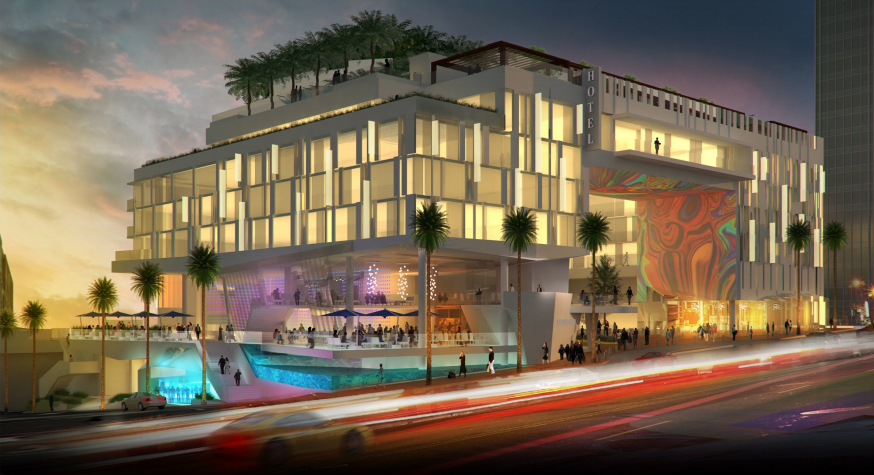 It's back! A proposed hotel at 8950 Sunset Blvd., a project that has been in the works for about 20 years, will go before the West Hollywood Planning Commission on March 5.
The proposed 168,583 square-foot mixed-use hotel development would contain 165 guest rooms, four residential units, restaurants, bar, spa, retail and meeting room uses, and 432 underground parking spaces. It would be located on Sunset between Hilldale Avenue and Hammond Street, just east of the newly opened Marriott Edition hotel.
In 1999 the site was announced as the location for the Astra hotel. It then was purchased in 2005 for $16.5 million by the James hotel chain. But in 2013 a European hotel group bought the property for $28 million.
The hotel will be adjacent to the 9000 Sunset Blvd. office tower owned by the Mani Brothers Real Estate Group. It will contain 165 rooms in six stories as opposed to the 195 rooms proposed when the James hotel was contemplated for that site..
An evaluation of the project in April 2014 by the Design Review Subcommittee of the city's Planning Commission was largely favorable. "Its signature feature, an opening approximately 50 feet tall by 80 feet wide (is) a grand gesture to the street," said Stephanie Reich, the city's urban designer. "The design is a forward-looking modern design. With attention to detail and successful execution, it has the potential to become a jewel box highlighting the best qualities of the Sunset Strip."
The prospect of another hotel on. Sunset Boulevard has raised concerns by some residents.  Michael Cautillo, a real estate agent and former candidate for a City Council seat, posted an objection on his Facebook page. "Oh, GREAT West Hollywood! Just what we need, another fricking hotel. God forbid we build places where people could actually live. I'm disgusted."
Among the many hotels already on Sunset Boulevard is the new Pendry at 8430 Sunset, across Olive Drive from the Mondrian and facing the Andaz, which is expected to open soon. It will be the 22nd hotel in the City of West Hollywood, whose largest single source of revenue for its general fund is the hotel room occupancy tax.
The Planning Commission will review developer's request to extend and amend already approved entitlements, or exceptions to zoning rules, for the project. The March 5 meeting will be at the City Council Chambers, 625 N. San Vicente Blvd., south of Santa Monica. It will begin at 6:30 p.m. Free parking is available in the five-story structure behind the Council Chambers with a ticket validated at the meeting.